The symphony orchestra as we know it today has changed little since Beethoven's time. Yet this institution rooted in 19th-century Europe continues to inspire contemporary American composers like the nine attending the Minnesota Orchestra's Composer Institute as well as the program's director, Aaron Jay Kernis.
"I love the sound of the orchestra," says Kernis. "It might take a lot of time to write for orchestra with the number of notes and players, but it continues to excite me a lot."
Kernis is a Philadelphia-born composer who first emerged in the 1980s with a style influenced by everything from medieval music and Tchaikovsky to the piano-rock of Jerry Lee Lewis and Cuban salsa rhythms. His work has also taken on deeply provocative themes such as the Persian Gulf War, in his Symphony No. 2, and the Holocaust in his work "Colored Field."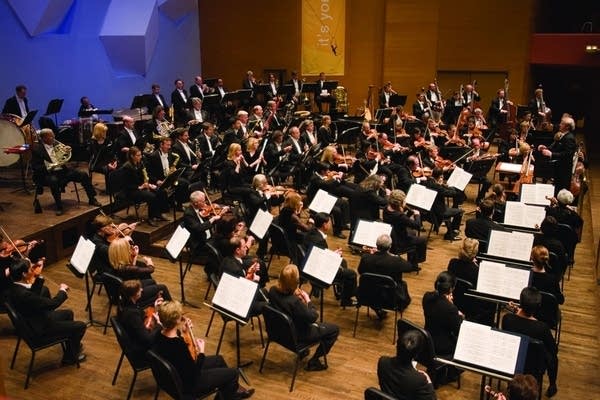 Aaron Jay Kernis's relationship with the Twin Cities goes back to 1989 when the St. Paul Chamber Orchestra commissioned his first symphony. Kernis later served as the SPCO's composer-in-residence before the Minnesota Orchestra hired him as new music advisor in 1998.
Kernis says the Minnesota Orchestra has had a tremendous influence on his life as a composer. "Nearly every year the orchestra continues to play a piece of mine, large or small," he says. "Also, my relationships with the musicians continue to transform how I write for the orchestra. It's always a learning process and a process of renewal and this orchestra plays a huge part in my development as a composer."
As new music advisor, Aaron Jay Kernis is the Minnesota Orchestra's advocate for contemporary composers. He suggests commissions and what should be programmed for the concert season.
Aaron Jay Kernis isn't the only new music advisor with a major American orchestra. Another Pulitzer Prize-winning composer, Steven Stucky, has a similar position with the Los Angeles Philharmonic.
Writer, teacher and classical music historian Joseph Horowitz is an artistic consultant for the Pacific Symphony's American Composers Festival. He says any orchestra can benefit from a new music advisor, especially one like Minnesota's.
"When you've got a Finnish music director, relatively new to the United States, you need somebody to advise and confer on new music generally and new American music specifically," he explains. "There are orchestras that don't have any such advice at hand and it's sorely needed."
Minnesota Orchestra Music Director Osmo Vanska says Kernis provides that critical link. "We need someone to give us information on what's going on in the contemporary music world," he says. "There's a lot of new music that I don't have time to check out and Aaron has a very large view. He has done an excellent job and I'm really thankful for all he has done."
Kernis himself measures his success as new music advisor by the diversity of the Minnesota Orchestra's programming. This season the orchestra performs seven works by living composers along with several examples of challenging 20th century music.
Another measure is the growth of the Composers Institute. This year, for the first time, the institute will culminate in a public concert led by Osmo Vanska. Ultimately, says Kernis, the orchestra's commitment to new music is decided by Vanska.
"I just hope he'll continue to be interested in pieces I bring to him," he says. "Osmo will choose some that he likes and other things will fall by the wayside. But it's a measure of his interest that he's conducting nine brand-new pieces Friday night and meeting with the composers a number of times. He is thrilled about the future of music."
Among the new works the Minnesota Orchestra has programmed this season is Kernis's "Newly Drawn Sky." Vanska will conduct that piece in May.