My family is from El Salvador, where winter is not nearly as dark as in Minnesota. Still, light is a big part of our holiday celebration. When the clock hits 12 on New Year's Eve, my mom quickly hugs and kisses my sister and me and runs off to light three candles.
She says there's a red one for love, a green one for money, and a silver or white one for health. On little pieces of paper, she writes a wish for each, puts the wish under the candle, and lets the candles burn until they die out.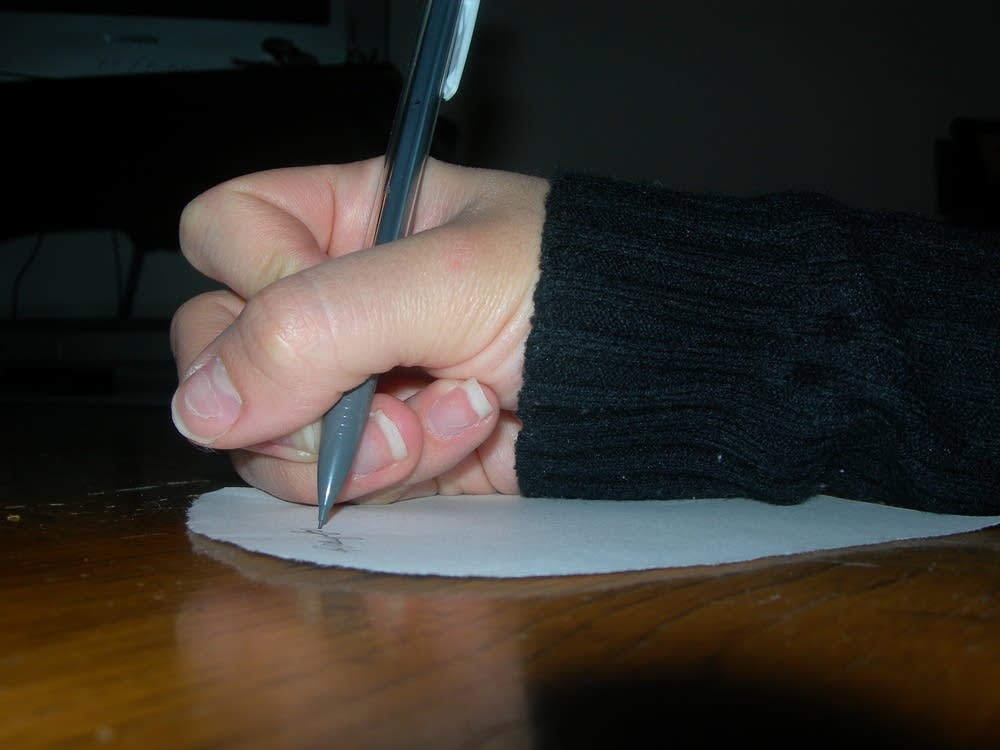 My mom puts all her faith for a better new year in those flickering flames. The light captures her hopes and dreams.
And it's not just candlelight. On New Year's Eve my mom also cracks an egg into a clear glass filled with half a cup of water.
She leaves the glass on the balcony in the moonlight. By morning, she believes the rays of the moon will create an image from the egg white that floats to the top. In that image, she tries to read what the New Year will bring. One year she saw a sailboat. She's convinced the sailboat prediction came true. She met a boyfriend who took her sailing a lot during the summer.
My family is Catholic. These traditions, of course, are not. They come from ancient traditions of the native inhabitants of Latin America. Light is a symbol of hope.
In my new home in Minnesota, I don't have to look far to see how light and the holidays mix in other cultural traditions.
At Augustana Lutheran Church each year, families fill the pews as a young girl dressed in a white dress with a red sash walks down the aisle with a crown of candles on her head. The church is dark except for those lights, and the candles carried by a procession of children behind her.
"It's indescribable how moving it is. It's the high point of this season for many people here," says Nina Clark of the American Swedish Institute in Minneapolis. She's talking about the Sankta Lucia celebration in the Swedish community. Surprisingly, it involves an Italian saint.
Legend has it that Sankta Lucia, with her crown of lights, came to a Swedish town on a solstice night in the middle ages during a famine. Clark says the tradition has survived in Scandinavia because of the extreme winter darkness.
"This Lucia tradition is about bringing light into these darkest times," she says. "It's lost any of its association with the saint herself, and just a way to embrace the light."
Clark says in ancient times, the darkness of the winter solstice was seen as dangerous. Light was a way to keep evil at bay. Sankta Lucia's crown of light was associated with safety, community, and warmth.
Clark says Swedes consider the celebration held on Dec. 13 as the real start of the Christmas holiday.
In a newer wave of immigration to Minnesota, the Hmong from Southeast Asia have brought their traditions of light and holidays to this season.
During their New Year's celebration, they burn incense, candles, and ceremonial paper money. The eldest person in the family invokes the spirit of their ancestors by lighting sticks of incense. The smoke calls in their spirits.
Pakou Yang's family moved to St. Paul in 1996. She says her family burns yellow paper money to honor the spirit of their elders.
"We're burning them (paper money) to wish us luck for the upcoming year and giving them (the ancestors) money for thanks for giving us a good crop." according to Yang.
While it's tempting to think the urge to light up this season is truly universal, there is at least one important exception.
This month, the Muslim community is celebrating Eid al-Adha. The holiday honors Prophet Abraham's willingness to sacrifice his son Ishmael for God and it marks the end of the Pilgrimage to Mecca.
"If you were to walk into a mosque, even the most elaborate of mosques, you would see a large open hall with minimal decorations, usually traditional prayer rugs, some archways, some architectural artwork. But beyond that, you likely won't see too much decoration," says Murad Mohammad.
Any candles?
"Definitely not," he says. "I can't remember the last time I saw candles in a mosque. For Muslim people, candles don't hold any special religious significance. It's not something that's used to worship God, it's not something that's used to enhance the religious experience at all. This concept has not been incorporated into the religion at all."
Mohammad, who is an attorney in St. Paul, says the reason light doesn't play a big role during Muslim holidays is because it would mean adding elements and concepts not found among the core teachings of Islam. And that is considered a sin. Any use of light during the holidays is incidental.
Mohammad says the Quran, the Holy Book of Islam, has an entire chapter dedicated to light, not literal light, but spiritual light. In Islam, to carry a light is to have an openness to God, to be pious or simply a good human being. Mohammad says it's human nature to equate light to goodness.
Every year during this holiday season, Mohammad and his wife drive around the neighborhood to look at the brightly decorate houses. "It's beautiful to look at," says Mohammad. "We get some enjoyment out of it partly because we don't understand: is there any religious significance behind putting up a lot of lights or is it simply a holiday tradition with no religious roots?"
So lighting up the holidays is not a universal desire or practice across all religions and cultures. Yet, for many, it is a symbol of banishing darkness and evil, or of wishing for blessings in a new year; yearnings we all share for warmth, safety, and hope.
(This story was broadcast on MPR's "In the Loop" program.)