On bad days Col. Craig Lambrecht sees dozens of severely burned Iraqi children, too many for him to remember all of them by name. Some have traveled great distances with their parents to his battalion's makeshift burn center called Smith Gate Clinic.
Smith Gate is the only specialty burn center in Iraq. The kids come here because they don't have anywhere else to go. The clinic is little more than a metal shipping container with two exam tables. It's located at the edge of a transportation supply outpost called Scania, about a hundred miles southeast of Baghdad.
Lambrecht and the medical team he leads treats kids who were burned in explosions set off by suicide bombers. But most got their burns at home doing everyday tasks like cooking meals.
"They're using liquid propane, benzene-containing products that are all flammable," says Lambrecht. "Their cleaning compounds are flammable. They're using generators. And the children are all part of that environment. So it's a high-risk environment for the children."
Living conditions in Iraq are tough. There's minimal electricity, in part due to the fighting. But even before the war, many Iraqis didn't have it. They rely on antiquated gas stoves and other devices for cooking and heating. Lambrecht says Iraqi parents depend on their kids to help with chores.
"Children tend to make bad choices at times, especially when they don't want to do the work or they're in a hurry. And as a result, in that high-risk environment, they are just getting burned, burned, burned," Lambrecht says.
He does remember the name of one young burn victim. Abbas had been burned by either hot oil or scalding hot milk.
"Oh, it was just terrible for the guy," says Lambrecht. "We go through the debriding process where we have to change the dressing and clean them and we don't have a lot of pain medication for these poor children. As a result they kind of have to grit and bear it. And you can just about imagine how painful that is for these children."
Lambrecht's medical team took pictures of Abbas when he arrived at the military clinic. In the images, a cherry red, blistered burn stretches from near the top of the boy's scalp to below his right ear. The area is devoid of hair and part of his ear is gone. The hot liquid just missed his eye.
"I think in that one photo you can actually see the poor tears coming out of his eyes," says Lambrecht. "Poor guy. You know he wasn't doing well."
Burn patients require regular skin cleanings to prevent infections. Since there are no beds at the clinic, the kids return home after each treatment. Most of them need to visit the clinic for weeks, even months before they're healed.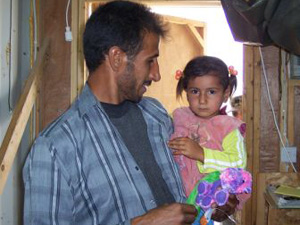 After Abbas's treatment, military doctors decided he needed reconstructive surgery in the U.S. Through donations collected in part by Lambrecht's clinic in Bismarck, they raised enough money to send Abbas to Shriners Hospital for Children in Boston. Some of the money also helped purchase pain medication for the kids.
Lambrecht and the Minnesota Guard's 1-125 Field Artillery Battalion, based out of New Ulm, are hoping to arrange similar trips for several other Iraqi kids in their care. They've got about three or four who need surgery.
In January, Lambrecht is scheduled to return to his job as an emergency medicine physician in Bismarck, North Dakota. He says his work at Smith Gate Clinic has been a positive experience. But it's also bittersweet.
"It's hard because there's been a lot of pessimism about what's happened in Iraq and for the people in Scania, there isn't much pessimism here. There isn't a feeling that things aren't going well. There's very much an upbeat feeling that the mission is going well, we're helping people. We've established a trusting relationship with this region of Iraq and we're making a difference, especially for these kids," says Lambrecht.
Lambrecht had planned to teach some Iraqi doctors the latest advances in burn care during his Iraq tour. But he says that has not been possible because of the fighting and the condition of Iraq's health care system.