Fear and uncertainty in Worthington follow immigration raid
Marco Ramos was working at the Swift plant in Worthington when U.S. Immigration and Customs Enforcement agents arrived. He says he was lucky he had his immigration papers in his wallet to prove he was here legally. He watched as many co-workers were hustled away.
"If you were white you weren't even asked for papers. But if you were brown looking then immediately you were asked for papers," Ramos says.
Ramos had his papers, but his wife did not. She was detained when she came to work to bring him lunch. She was held for some 20 hours before being released to care for the couple's children.
Ramos attorney and translator, Susana DeLeon, says she's talked to dozens of workers from the plant and believes U.S. citizens were detained in the raids. She says some documented immigrants were also arrested.
DeLeon wants the Department of Homeland Security to set up a grievance procedure to address civil rights issues related to the immigration action.
Marco Ramos says the immigration raid has cast a shadow over the town's Hispanic population.
Before you keep reading ...
Did you know that MPR News is supported by Members? Gifts from individuals power the headlines, clarity and context found here. Give during the Fall Member Drive to become a Member today.
"I feel bad, really bad. They rounded up workers, people who are workers there; they're not terrorists or anything bad," says Ramos. "And we feel like we are mourning."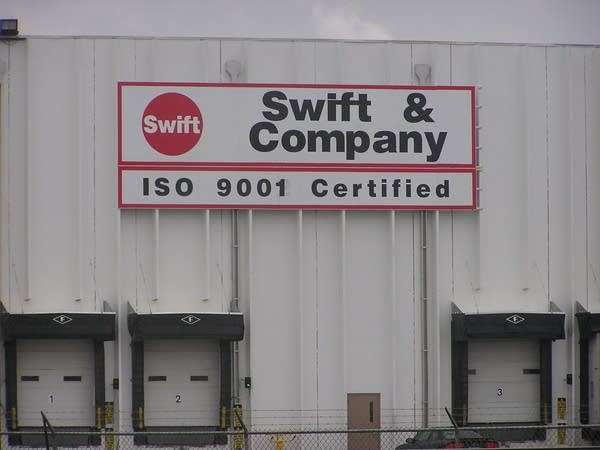 Worthington churches were an immediate source of assistance for people affected by the raid. Worthington minister Hector Andrade says many people were too scared to go home, and numerous children spent the night with him at at his church because both of their parents were in custody.
"Now they're separated because of the dad being taken by the immigration or mom being taken by immigration. So it's a very sad situation right now in the Hispanic community," says Andrade.
Andrade says many Hispanics are too frightened to even come to the church. He says they don't trust anyone. He says some have already left town.
They rounded up workers, people who are workers there; they're not terrorists or anything bad.
"I suppose most of the people who are afraid -- they've probably gone already, they probably moved to other cities or other places where they have relatives," says Andrade. "That's the sense right now in the community."
At the Worthington plant, about 10 percent of the 2,000-plus employees were arrested. The plant and five other facilities across the U.S. are back in production but at reduced levels.
Nationwide, nearly 1,300 Swift workers were arrested in what federal officials describe as an identity theft crackdown. All of the people arrested face immigration hearings before a federal judge. But immigration officials say 65 of the workers face criminal charges for identity theft or for returning to the U.S. after being deported. Further charges are also possible.
Marco Ramos says the emotional impact of the immigration action was stronger than what he expected.
"I cried much. Much I cried. All day long I cried. I cried for myself. I cried for my wife. I cried for the families and the community. I cried, I cried all day," says Ramos.
Ramos says now that his wife is back, his next concern is his job. While Swift officials say the plant will stay open, Ramos wonders how they'll be able to replace the arrested workers. He worries the plant, which sustains so many in this community, may be forced to close.
Gallery
1 of 1