Duluth's "new" crib washes ashore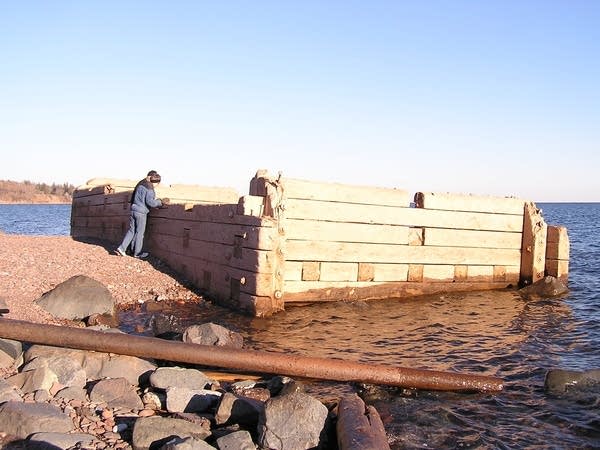 Lake Superior's notorious northeasterly winds pelted Duluth for several days in late November. One morning, people noticed a wooden structure about the size of a three-car garage wedged into a bed of gravel just below Duluth's Lakewalk.
Apparently the winds and waves ripped it loose from the bottom of the lake, just outside the Duluth harbor. It probably weighs 40 or 50 tons.
Peter Krieger surveys the structure.
"It's great to see the history of the harbor sort of coming back and presenting itself," he says. "We just think it's cool."
Krieger knows about things like this. His company, Duluth Timber, salvages big industrial buildings all over the country.
He's amazed at the timbers. They are a foot square and some of them 30 feet long. Some are notched together like a log cabin, others are held with iron spikes two feet long and an inch thick.
Before you keep reading ...
MPR News is made by Members. Gifts from individuals fuel the programs that you and your neighbors rely on. Donate today to power news, analysis, and community conversations for all.
"That's basically it -- it's just notched, mortised and spiked together," says Krieger. "I mean, this was old-fashioned brute-force building. And it seems to have held up!"
It's called a crib. It was built on land, and then floated into the water and loaded with rocks to sink it to the bottom. That formed the foundation for railroad tracks that ran to a grain elevator just off shore.
City Gardener Tom Kasper says it was built in the 1870s.
"There were elevators 'A' and 'E,' I believe, that were built out into the harbor by Jay Cooke's company to handle grain that was being shipped out of the harbor in the 1870s," he explains. "And then the top of the structure burned in 1880s and it's sat underneath the surface of the water since then."
Going by the number of rings, the trees were 150 years old when they were cut.
"This wood is actually older than the United States," Kasper says.
He wants to see the crib kept intact and anchored somewhere where people can see it as part of the history of the city.
Salvager Peter Krieger agrees.
"When you look at things like this and you remember what it took to build this harbor, this town, North America," he says. "To build the industrial base that we're just coming to the end of, these big structures like this, you remember that they didn't have big hydraulic equipment, they didn't have modern tools. If they were lucky they had steam, and that was about it."
Old growth timbers like these can be extremely valuable. But Krieger says he couldn't make any money trying to salvage this wood. He'd need heavy equipment to haul it away, and he'd have to get it across the freeway, the Lakewalk, and the North Shore Scenic Railroad. And how would he get those two-foot-long spikes out of the timbers?
"If you don't pull the spikes out first, you're going to destroy the wood as you try to pull it apart," he says. "This is not going to come apart easily. That's why it's still here!"
But no one knows yet what will become of this gigantic relic. Or who will pay for dealing with it.
The Coast Guard says it's onshore, so it's Duluth's responsibility. The city attorney is looking into the records to try to figure out who really owns this piece of land: the city, the state, or perhaps the North Shore Scenic Railroad.
In the meantime, the city is a bit nervous about what will happen if someone climbed on it and injured themselves. Already, daring teenagers make a habit of diving from the concrete box that sits at an odd angle in the water just off Canal Park. That's another remnant of Duluth's early harbor that Lake Superior turned into history.
And there's more history out there, according to City Gardener Tom Kasper.
"People will see, when they're out here kayaking on clear calm day, you can actually see some of these structures still in the water," he says. "There's still stuff out there besides this."
Kasper says with a laugh that a whole museum could float ashore.
Maybe next time, people will know what to do with it.
Gallery
1 of 2
2 of 2