Traffic in Windom moves at or below the posted limit, but on the information superhighway, the town travels at a different speed.
"We've got the ultimate six-lane interstate," says Dan Olsen.
"We're driving on the autobahn in Germany. We can go 130 mph and it's a nice safe road."
Dan Olsen is the man behind Windomnet - Windom's poweful telecommunications system.
When Windom's dominant phone company, Qwest, decided against setting up a broadband network a few years back, Dan says the town had a choice: get with the digital revolution on its own or be left in the dust. They chose to build Windomnet. It launched a little over a year ago and it cost close to 10 million dollars. But Olsen says towns without a strong telecommunications back-bone don't have much of a future.
"Rural communities are shrinking because the jobs aren't there. You've got to go to the cities for the jobs. Well, what does big city have that we don't? It's infrastructure you need to have the telecom part of it."
Now, nearly every home in Windom is connected to the net by fiber-optic cables. Some say it's the most powerful digital network in Minnesota, maybe even the country. Qwest set up its own DSL network to compete and suddenly, the town people feared would be left behind has taken the lead. All that's left now is for the people themselves to go digital. And getting hooked up has already changed more than a few lives.
There's the farmer who bids on cattle across the country using on-line auctions, and the grandmother who keeps up with her son in Iraq through e-mail.
"It was amazing, you know." Say Dianne Kuecker, whose son Dan served in Iraq.
"A letter from Iraq . . . I didn't even have to buy stamps."
Even the local grocery store is wired to automatically get prices directly from its distributors.
Kent and Nancy Kelly and their children are a poster family for the broadband revolution happening here. The Kelly kids are home schooled partly through on-line classes. And that, says their mom Nancy, has made a world of difference. Literally.
"The classmates are from all over the world" says Nancy Kelly.
"All around the US, the Dominican Republic, Canada, Romania. They are getting opinions and meeting kids that would never happen without the Internet. And I think that's really cool."
Her husband Kent grew up in Windom but spent years living outside of Minnesota. He says without the Web, his life here would be limited. Instead, he's able to keep up his hobbies, stay in touch with friends and even make new ones.
"I had a dialogue with a man from Greece" Kent recalls.
"And to have a man from Greece I never met call me his good friend . . . without the Internet I'd never have had that ability."
Dan Olsen estimates that almost half the town is now using broadband. It costs about 35 dollars to get hooked up. And experts say this kind of access will soon be the norm. As the cost of connecting goes down and more rural towns get broadband capabilities, the digital divide will eventually disappear. But even here in wired little Windom there's a new divide forming. Not one of access, but one of choice.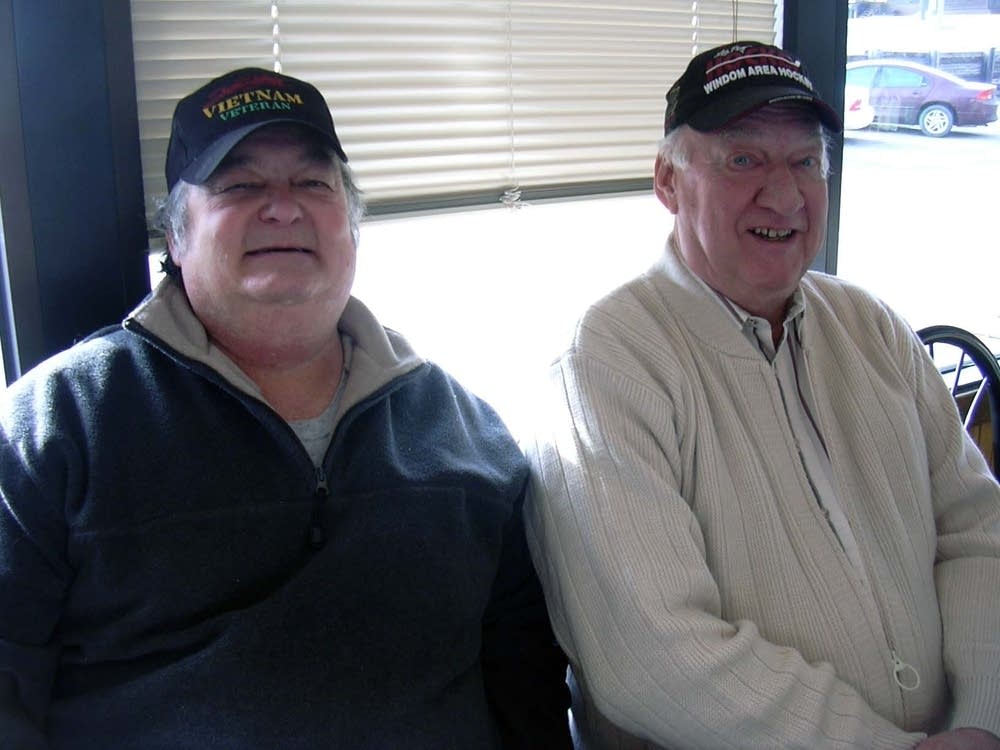 Half the town isn't on the Internet. Diners at a local restaurant have their theories on why that is:
"The rest of us are all CAVE people." says Don Fossing. He's referring to an acronym. C.A.V.E.
"We're Citizens Against Virtually Everything!"
Don Fossing is a Windom old-timer. He's 77 years old and proud to be one of the 22 percent of Americans who don't use the Web at all. He says he's computer illiterate and he doesn't mind.
Tom Muller is in his 40s and has two young children. He held out on getting a computer for years but got one recently at the urging of his friends.
"They convinced us that we're missing out on e-mail and all this "world of information" out there" Tom says. "So we gave it a try."
But he isn't impressed. He's satisfied with the resources of a small town. He prefers books and magazines to chat rooms and Wikipedia. He doesn't want cyber friends he can't have over for dinner. And he'd rather make phone calls than e-mails.
Like Tom, many folks in Windom prefer the old fashioned connections. The kind forged at the local church, diner or library. They don't want the global connections made possible by the Internet. Some people think that over time this difference in perspective will be the new digital divide. The one between those who make the most of the Internet and those who simply admit it exists. As one resident puts it, "We may share the same town but one day we'll be living in different worlds."