Mashout attracts hundreds of home brewers to Twin Cities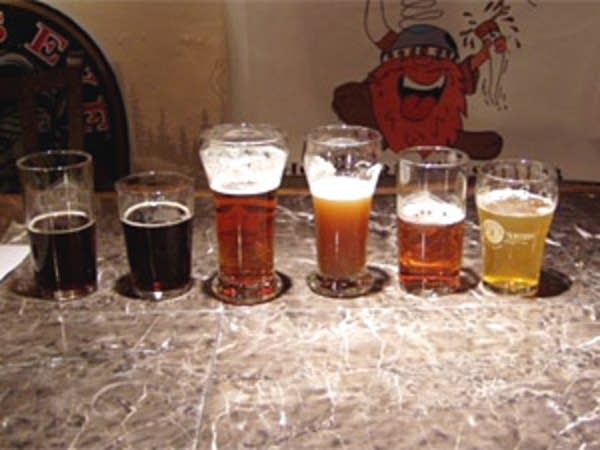 Blop, blop, blop is the sound of the process that puts the spirit in your beer. That sound is fermentation, or the feeding frenzy in which yeasts gobble up sugars and excrete alcohol.
"It's giving off CO2 which is what's bubbling here," says homebrewer Curt Stock, describing what's going on in a clear glass container called a carboy, that sits in the middle of his basement. It's a few weeks before the mashout.
The jug before Stock looks like a jug the size of a beach ball, full of murky liquid with clumps of ravenous yeast floating through it. A tube running out of the top of the carboy allows the CO2 to escape.
This is not beer yet. Right now it's a liquid called wert. In another two weeks it will be a cream ale -- one of several brews Stock will enter in the mashout.
"Competitions are a really good way to brew better beer. You can get your score sheets back and get great feedback from judges who aren't your friends," says Stock. "Your friends are, 'Yeah, that's great beer,' even if it's not. That was probably the thing that helped me out on bettering my brewing skills."
Stock's skills are apparently pretty sharp. His basement -- which is one part brewery, one part bar, one part classroom -- is adorned with scores of dozens of ribbons, medals and other trophies from past competitions. Stock and his wife have been brewing since 1997. They hold classes and tastings here on occasion.
Competitors in the mashout can compete in 34 categories encompassing 100 styles of brew. The entries will be judged on how well they match the criteria of what each style is known for.
Stock says he's brewed about 60 different kinds of beers, ales, lagers and others. He's got a half dozen or so tapped kegs of different brews in his basement, including a mead, a drink made by fermenting honey and yeast.
"It's a fruit mead. This one's got raspberries, blackberries, blueberries, black curants and strawberries."
The mead smells like a bowl of ripe fruit and flowers. And it tastes like an adult fruit punch. This stuff is good.
"That thing's a lot stronger. It's probably 15-16 percent alcohol," Stock says. "You can get into trouble with those."
About 10 years ago, homebrewing reached its height as a fad, according to Dave Turbenson, owner of Midwest Hydroponic and Homebrewing Supplies in St. Louis Park. Back then, Turbenson's store was one of 13 homebrew supply stores in the Twin Cities. Now there are only two.
Turbenson says homebrewing is easy to get into, but some people don't always stick with it.
"The equipment doesn't cost a lot to get involved in, and with the homebrewing part of it, it's slightly labor intensive. You can have three hours into a batch of beer, which is 54 12-ounce bottles -- two cases and a six pack. So for a lot of people they'll do it a few times and then they'll just decide they're going to buy their beer," says Turbenson.
Apparently there's a renewed interest in homebrewing, enough to help Turbenson recently move his store into a new 13,000 square-foot warehouse. The store was also a dropoff point for mashout entries. He says entries for the competition have grown from a few hundred to nearly 1,000 in a few years.
Back at Curt Stock's house, he's sticking his nose under the rim of a beer glass and quaffs his brew, the way a vintner might inspect wine.
"(It) has a little clove, banana, that yeast gives off a lot of esters," he says.
Stock says people get into homebrewing for many reasons. They might like the chemistry of manipulating yeast levels and grains, or they like tinkering with the brewing equipment. But mainly homebrewers are a unique batch of people who are willing to work for really good-tasting beer.
"They'll sit down with a pint and they could be there for 45 minutes to an hour before they finish it. So, it's the difference between having two or three beers, as opposed to a college student going in and slamming down as much as they can get their hands on."
The mashout is a regional competition and the winners qualify for several other events, including the Master's Championship of Amateur Brewing. That contest will be held in St. Paul next month.
Gallery
1 of 1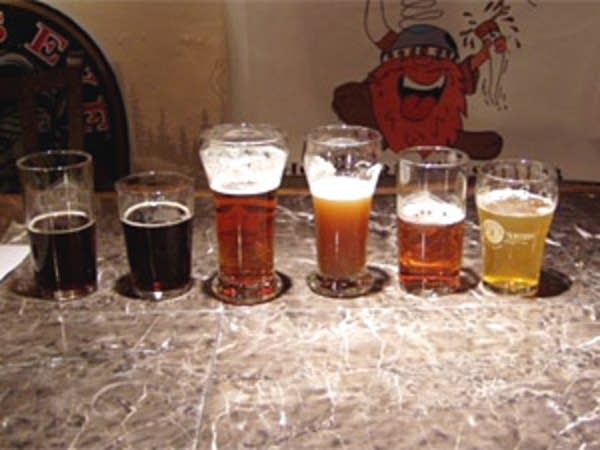 Your support matters.
You make MPR News possible. Individual donations are behind the clarity in coverage from our reporters across the state, stories that connect us, and conversations that provide perspectives. Help ensure MPR remains a resource that brings Minnesotans together.