Aunt Bessie just might be a composer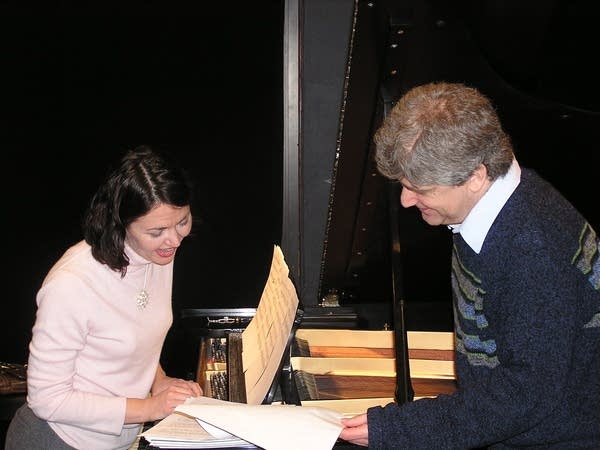 When the late Twin Cities composer Eric Stokes suggested that Zeitgeist establish a contest for amateur composers, the group was less than enthusiastic about the idea.
"We were aghast and a little concerned," Zeitgeist artistic co-director and percussionist Heather Barringer remembers. "A friend quipped that what we were worried about was that Aunt Bessie would be pulling a piece of music out of the drawer and then submitting it. That's precisely what happened, but as it turns out, Aunt Bessie can really write."
Since its beginning in 1994, the Eric Stokes Song Contest has attracted submissions from people ranging in ages from four to 89. Although it's called a "song" contest, the competition is open to Twin Cities composers writing in any musical genre. Barringer says the group has received works for orchestra, chorus, barbershop quartet and even rappers.
The winning compositions are chosen by an outside panel of judges and then arranged, if necessary, for Zeitgeist's instrumentation of clarinet, piano and percussion. A concert performance is the main prize, along with a $100 cash award.
Grow the Future of Public Media
MPR News is supported by Members. Gifts from individuals power everything you find here. Make a gift of any amount today to become a Member!
St. Paul physician Stanley Woolner, one of this year's three winners, writes mostly for solo piano and won for his work, "Composition April 1997." Woolner has been composing music most of his life, but only in recent years has his music been performed publicly.
Woolner says he appreciates the attention. "It is a solitary pursuit and at some point you can feel exhilarated and feel that what you wrote is beautiful," he says. "And at other times you can feel very strongly that it's not worth anything. And so to have support is very helpful and I think promotes the creative process out of the self and onto the paper."
Zeitgeist performed the winning pieces in the song contest last weekend and the ensemble will play them again in a second concert Saturday night at Grace University Lutheran Church in Minneapolis.
Edina High School junior Adam Warmansenn's winning entry is a suite for strings that he composed for his school orchestra and adapted for Zeitgeist. He's a violinist who's been writing music since he was 11.
Hearing Zeitgeist play his music gave him a new perspective on what he'd written. "Listening to the piece makes me really happy," he says. "But when it's played I hear things I don't like so much. It also helps me review my own music. Right after Saturday night's concert I came home around 9:30, went downstairs, turned on my computer and right away started changing what I wrote."
Zeitgeist has been around the Twin Cities for 30 years. Through its performances and programs like the Eric Stokes Song Contest, Zeitgeist is working to create an environment in the Twin Cities where contemporary music can flourish.
Another contest winner, Justin Busch, was a history teacher in upstate New York before he moved to St. Paul this past September to concentrate on composing.
"One of the reasons I came to St. Paul is because there's a very vibrant musical life here and there seems to be a real chance of getting things performed, moreso than in other places I might have lived," he says.
Busch wanted to be in a place where musicians were more likely to look at his music. One of the first pieces he wrote after coming to Minnesota won Zeitgeist's composition contest.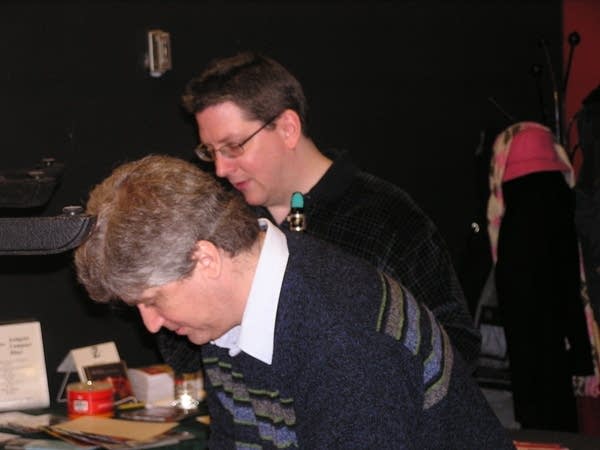 "I think it'll be a little bit easier to approach musicians and say, 'A professional ensemble of high standing thought this was worth looking at. Would you be willing to look at another piece of music?' It doesn't mean they'll play it, but it's that step of getting musicians to look at your music that's the hardest."
Zeitgeist's performances of Justin Busch's composition "B-Flat Minor" are the first time his music is being played in the Twin Cities. Busch hopes it's a harbinger of future success, but at the very least he says this is a good beginning as he tries to establish himself as a composer in Minnesota.
Gallery
1 of 2
2 of 2