This weekend's action is at the Concertina Bowl
Enter the world of people who go crazy for concertina accordions and you'll discover pretty quickly how tight they are.
"We are sort of a cult, because everybody knows everybody, I mean from one end of the country to the other," says Bob Novak, in what may be a slight exaggeration.
Novak, 68, is a concertina player and maker from Lake Elmo. He generally thinks of the concertina coterie he belongs to as family. And if it is, then Novak is the family genealogist.
Give him five minutes and he'll run through the entire 178-year history of the instrument, from the two founders of one of the more popular concertina manufacturers, Star Accordions out of Chicago, Walter Mojsiewicz and Walter Kadlubowski, to the names of the polka greats who inspired him years ago when they played at Schleef's Little City ballroom south of St. Paul:
"John Gaag played with the Little Fishermen, Jerry Schuft with the Earl Schmidt Band, Don Klaussner with the Babe Wagner Band, Ernie Coopman with the Jolly Brewers and so forth," Novak says.
There are two basic species of accordions -- the piano and the button. The concertina is a button accordion. Both types make music by using billows to push air through reeds. With the piano accordion, you press on a keyboard to hit the right note. With the concertina, you push buttons.
According to Novak, the concertina is much harder to master.
"Not everybody can play a concertina, he says. "It's a much bigger challenge. But they're so cool."
"Concertina cool" might an oxymoron to some, but not to Novak.
"They sit on your lap," he says. "They look so neat. They're a little square box, they're 10 inches square, and absolutely gorgeous music comes out of them."
Novak's pastime is building concertinas in his basement. He's been doing it since 1989, and makes just a few special order accordions a year, each going for about $8,000.
His partner is Michael Smieja, 78, of St. Paul, a retired truck driver who discovered, when his son was learning how to play, that he was born with a knack for making concertina actions work better.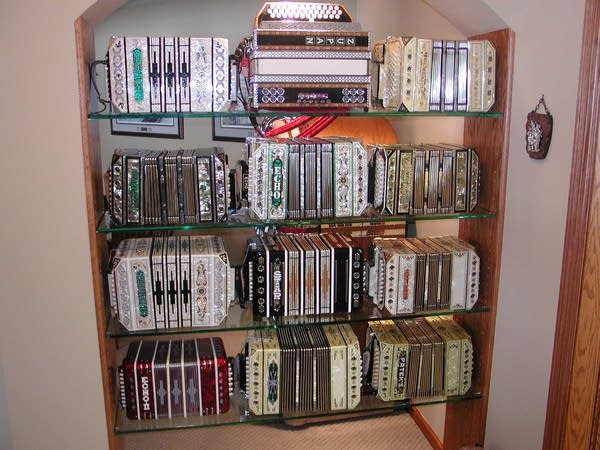 "I guess it's probably just the gift of God that give it to me to do it, and share it with everybody else," Smieja says.
The action takes over when you press the buttons. It's a complicated system of levers that makes the reeds vibrate.
Over the years, Smieja has redesigned the concertina action, and he says you can hear the difference. Or rather, it's something you won't hear. His concertina doesn't make a disruptive mechanical sound when you press the buttons.
"This action is designed so it doesn't do that," Smieja says. "It's real quiet, soft and real quick."
So many people have been curious about Smieja's system that he built an entire accordion out of plexiglass so they could observe the action -- in action.
"In this instrument you can see how it works," he says. "You can see the reeds move and everything in this one."
For their contributions to the instrument, Smieja and Novak have been elected to the World Concertina Congress Hall of Fame.
"Both Mike and I were inducted in the year 2004," says Novak.
But the two aren't after glory so much as concertina camaraderie and companionship. Spontaneous road trips to make it happen aren't uncommon.
"Like a week ago Thursday, driving down to Milwaukee and visiting with seven or eight other concertina players for a four- or five-hour visit and returning the same day. So we have fun with it," Novak says.
Novak and Smieja both laugh at the idea of getting into the concertina business full time. They say hours and materials would put the cost of their product out of reach for most people. And Smieja thinks turning their hobby into a job would ruin the fun.
"It's a labor of love," he says. "You gotta love to do it, because otherwise you're not gonna do it."
Saturday's 29th annual Concertina Bowl is being held at Brook Hall at Blainebrook in Blaine from noon to midnight. Novak promises 12 continuous hours of music and dancing, with a special appearance by Gary Brueggen, also known as "Wisconsin's Concertina Kid."
Gallery
3 of 3
1 of 3
2 of 3
Your support matters.
You make MPR News possible. Individual donations are behind the clarity in coverage from our reporters across the state, stories that connect us, and conversations that provide perspectives. Help ensure MPR remains a resource that brings Minnesotans together.