Talks aim to head off strike by metro janitors union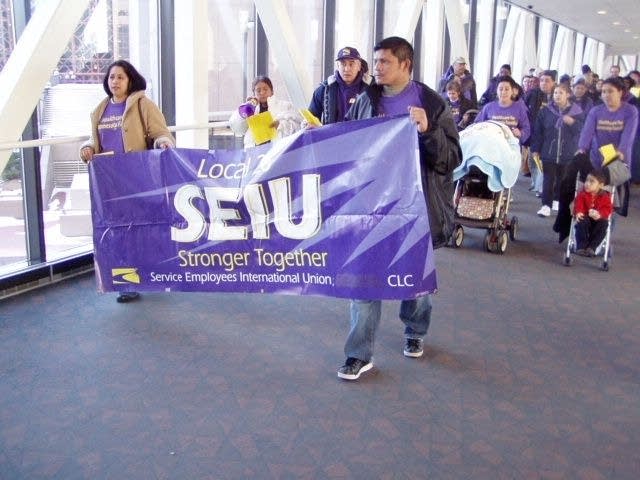 The janitors of Local 26 of the Service Employees International Union work at the airport and clean offices throughout the metro area in some of the most prominent buildings in downtown Minneapolis, including the IDS tower and the Wells Fargo building. Union officials say the majority of their members are ethnic minorities, mostly Latino immigrants. Ten percent are Somali. About 200 janitors and their supporters rallied at the Hennepin County Government center. Many of the janitors and supporters were decked out in purple t-shirts with SEIU logo. Some had attached signs on the backs of their jackets decrying the small number of janitors who carry family health insurance.
"I have two children and we don't have any health insurance," says Jamilo Ali, a Somali woman. Like many of the other dozen or so Somali women at the rally, she wears a purple union t-shirt over her hijab.
Ali is a full-time janitor who works in a St. Paul office building. She makes $12.50 an hour and brings home roughly $1200 a month. Her rent is $800. She says if she were to buy the family health care plan offered by her employer, the cost would be another $400 each month, leaving nothing for other expenses.
"Then I need to pay my bills, electric and my phone, so I think it's not enough for me -- the $1200. I can't afford health insurance."
Ali, who is two months pregnant with her third child, says her three year-old son hasn't had a checkup in more than a year. When he gets sick she turns to the emergency room for his medical care.
Union officials say the costs of family plans offered by the 18 service contractors who employ union members vary from company to company. The prices range anywhere from $400 to $1800 a month, according to the union. They say about 24 percent of all union janitors - about 1008 people - have health insurance. Union officials say 14 of the union's 4200 janitors who are eligible for family health coverage actually have it.
The union has proposed a family health plan that would cost the employee $20 per month and cost the employer around $360 a month, about half of what employers pay now, the union says.
"The most important thing to say is that we both agree that health care is important," says Alison Frailich, the spokeswoman for the association of cleaning contractors.
She says the association has a comparable health plan on the bargaining table, but but wouldn't release details. Fraelich says the difference between the two sides is centered on how much cost is passed on to the employee.
Frailich also couldn't go into detail about a proposed wage increase that the association has offered the janitors. She says starting wages for janitors in Minnesota are among the highest in the country. Frailich says the average wage for a full-time janitor working in the Twin Cities is $11.77 an hour, more than janitors who work in Chicago, Cleveland and Detroit.
Frailich says she's hopeful both sides can come to an agreement.
"The association remains committed to avoiding a strike. And we're very hopeful that the negotiations will result in a mutually acceptable resolution that's in the best interest of our employees and our companies."
It's not immediately known what kind of effect a strike would have on the buildings where union janitors work. For example, about 60 union janitors work at the IDS Tower. Management officials at the tower say while they don't want to see a strike, they do have a back up plan. They wouldn't say if that plan involved hiring replacement workers.
Gallery
1 of 1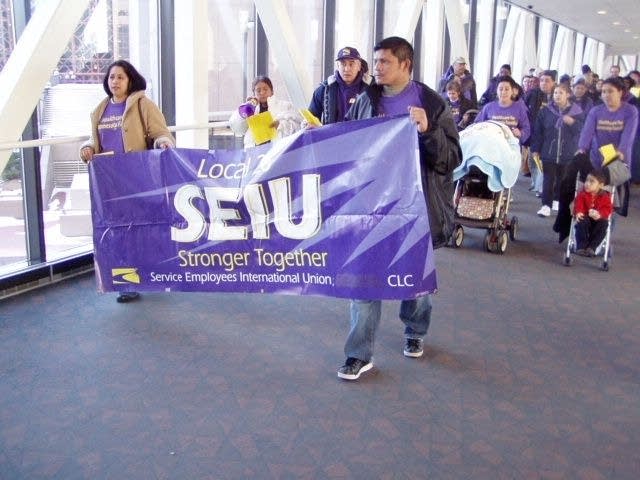 Your support matters.
You make MPR News possible. Individual donations are behind the clarity in coverage from our reporters across the state, stories that connect us, and conversations that provide perspectives. Help ensure MPR remains a resource that brings Minnesotans together.