Cristo Rey High School will open in the Colin Powell Youth Leadership Center on Lake Street on a block that was once an urban brown field, and now sprouts an expansive brick and glass building. The center is still under construction, so the first five students accepted into the school donned hard hats to tour the place.
"You'll come into here and there'll be a front desk, where you have a greeter. They'll make sure that you're up to dress code, you're not chewing gum," says James Nutt, a designer with Ryan Companies, a partner in the project.
Students don't have to wear uniforms, but they are expected to dress professionally. One day a week, they'll go to work. Every Cristo Rey school has a corporate internship program that places students in entry-level jobs at law firms, banks, and other businesses. The school's president, Father David Haschka, says the first Cristo Rey school in Chicago started the internships to help students pay the private school tuition.
"But all of a sudden, they discovered that this had a great impact on the education, that students got more interested in their learning, because they saw its application in the real world, they began to see a different vision of themselves, they said, 'I could be in this environment!"
Tuition at Cristo Rey costs upwards of $10,000 a year, but the corporate internships help students earn about 70 percent of the cost of the education. The school hopes families can contribute $200 a month toward tuition, although principal Kris Melloy says the school offers financial aid for students who can't afford that.
"We are well aware that some of our families won't be able to pay anything," she says.
At least 80 percent of Cristo Rey students are low-income, and the vast majority of students at the 11 existing Cristo Rey schools are Latino or African American. Schools in the network had a 98 percent graduation rate in 2005, with 95 percent of the students going on to a college or university. Melloy says Cristo Rey offers a rigorous academic curriculum designed to prepare urban students to go on to higher education.
"We anticipate that some of our students will be two to three years behind academically. And so we will have a rigorous tutoring program, we do have some supplemental reading programs..."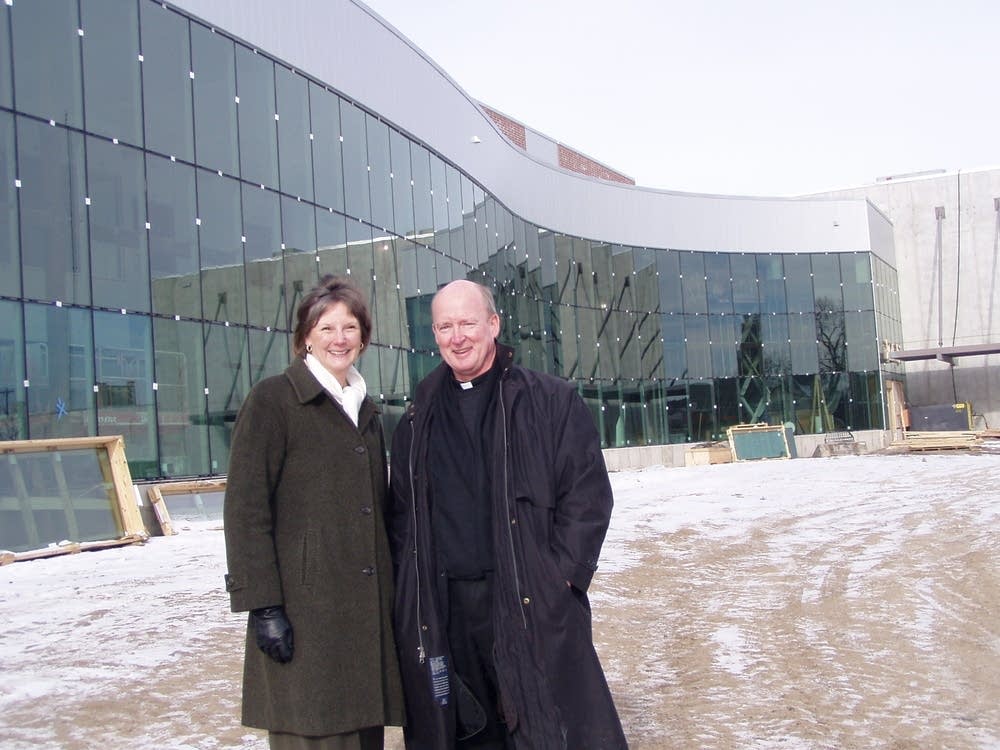 Students will take religion classes, but don't have to be Catholic to attend the school. Cristo Rey will also have a longer school day and a longer school year. Melloy told the school's first students that they'll start in August.
"You'll have three weeks of training to get ready to go to your jobs, your corporate internship program, and get ready to go to college preparatory high school."
School officials recruited the first five students from a nearby Catholic school, and hope to recruit another 120 students before the fall. One of the new students, eighth-grader Gabriela De Luna-Alonzo, says she's looking forward to the new school.
"I just like how it prepares you for work and for college, and how it can show you the future, and how to go into the world," she says.
De Luna-Alonzo says she'd like to do her internship at a law firm. She's always dreamed of being a paralegal or a lawyer, or maybe a doctor. She says her dad is a landscaper, and likes the idea of his daughter going to Cristo Rey.
De Luna-Alonzo could end up interning at Dorsey and Whitney, one of the 26 corporations that has agreed to hire Cristo Rey students. Dorsey and Whitney partner Stephen Lucke says the experience should benefit both the students and the law firm.
"Before we agreed to do this, I talked to lawyers in Chicago and other cities and other employers, and they had terrific experiences with these kids. Their enthusiasm for their job and for what they're doing is infectious, and in a way that working with them helps the employer as much as it helps them," he says.
Cristo Rey officials say they face many challenges before the school opens this fall. Besides recruiting enough students, they have to raise millions of dollars. But they're optimistic there's a niche for a urban high school that has a proven track record in other inner cities.