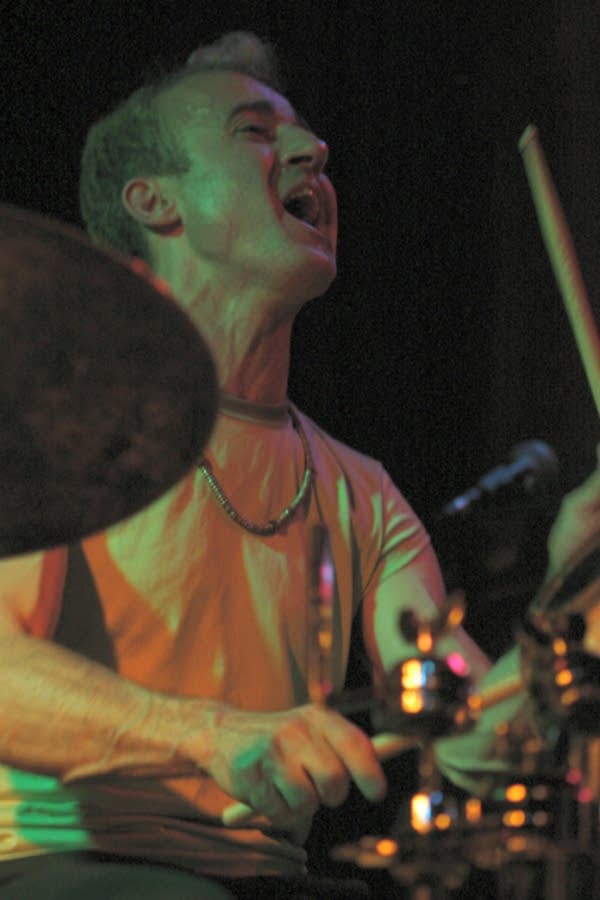 The Rose Ensemble usually sings in churches, sometimes performing by candlelight and sometimes to the accompaniment of simple hand percussion or a single, stringed instrument, but never to ferocious drumming and scalding, electric guitar. At least not until now.
"I can honestly say that we have never done anything like this," says Jordan Sramek. "And I'll even go one step farther and say that I don't think that anyone in my field has done something like this."
Sramek is the artistic director of the Rose Ensemble, a Twin Cities vocal chorus dedicated to authentic, historically-informed performances of ancient music. At the same time, Sramek says the group has an adventurous spirit and he said "yes" when Walker Art Center staff asked him to participate in a very inauthentic rendering of a 15th-century choral mass by Guillaume Dufay.
Virtuoso drummer Bobby Previte persuaded the Walker to commission the piece, which he calls "The Separation." Along with the Dufay mass, Previte rearranged organ music by 20th-century French composer Olivier Messiaen to create what he calls a "heavy metal requiem." It features the Rose Ensemble and Previte's band, the Coalition of the Willing.
Previte began by composing something more sedate for two pianos. "Then I decided, 'No, toss this crap. Let me write something really visceral.' This is almost a metal piece. This is almost a crunchy, compressed, distorted guitar, anthemic piece."
Previte's original idea in this composition was to explore the separation of church and state by replacing the traditional Latin mass text with passages from the Federalist Papers and other sources. His collaborator, writer/director Andrea Kleine, convinced him that would be incredibly difficult on a number of levels. Instead they took on the concept of separation by looking at the tension between the individual and society.
"It became more for me about conformity and this kind of push-pull between conformity and individuality. Like how much you want to be a part of the group verses how much you want to be separate," Kleine says.
What she came up with was a parable about a lost sheep discovering its fate.
The message in this new concept is less overt, but Previte still considers "The Separation" a political piece, although the drummer has mixed feelings about that definition: "I am always fond of saying, 'I really detest political music.' And I do. But I also detest pretty music. And I detest radical music. I detest all music that's trying to hard to be something," Previte says.
While the narrative story about a sheep's quest is threaded through "The Separation," Bobby Previte and Andrea Kleine say the music is what drives the production. They describe the performances at the Walker as concerts.
The Rose Ensemble's Jordan Sramek says the group's usual audience likely will be surprised by what they hear in "The Separation" and doesn't know how they'll react. "I don't think art is anything to ever apologize for," Sramek says. "We're going to be singing some fabulous medieval music. It just happens to be at the same time a thrashing guitar is playing. So, hey, you roll with it."
The Rose Ensemble travels with Bobby Previte's band for another performance of "The Separation" in Buffalo, New York. If the work has a life beyond that, Jordan Sramek says the Rose Ensemble would love to be a part of it.