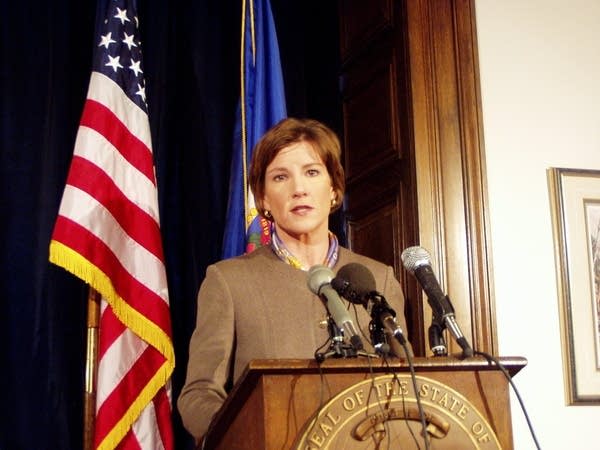 Swanson brought an unhappy Tyler Smith of Stillwater to her news conference. Smith says he thought he had signed papers to continue on a budget plan with Xcel Energy. But the retiree's natural gas bills never changed last winter. And he says he used less gas than he was charged for.
Smith was surprised to learn he was locked into a fixed-rate plan. He ended up paying Xcel nearly $1,000 more than if he would have stayed on the budget plan.
"I just can't imagine why we would want a program like this to continue for so many people who I'm sure paid more. You're paying for gas that you never use. And to me it doesn't sound logical," he said.
Smith was among dozens of Minnesotans who complained to state officials about their natural gas bills.
Both Xcel and CenterPoint Energy offer the fixed-payment plans, which lock in the cost of natural gas before the heating season starts. Customers pay the same monthly amount for a full year. Unlike budget plans, there are no payment adjustments, even if natural gas prices drop.
Attorney General Lori Swanson says the utilities market the fixed plans as a hedge against spikes in gas prices.
"The problem with this... is that most customers who sign up for the fixed-gas programs pay a lot more than if they had they never signed up at all," according to Swanson. "So, it's a little bit like betting on a roulette wheel with a casino that already knows where it's going to stop."
Swanson says CenterPoint and Xcel consumers paid $26 million more over the last six years under fixed billing than they would have paid if they had not participated in the programs. Her complaint asks the Public Utilities Commission to terminate the plans, or at least alter them substantially.
Swanson says another problem is that customers are automatically renewed in the plans at the end of the year with a revised cost unless they withdraw at that time.
One customer complained to the attorney general's office, saying the programs are a little bit like Hotel California, in that you can check in, but you can never leave.
CenterPoint Energy began its No Surprise Bill program in 2001. There were 40,000 participants last year. The Xcel Fixed Monthly Gas Payment program, which is two years old, had 10,000 participants.
Both companies declined interview requests, but e-mailed statements. Xcel officials said it was their intention to offer customers a variety of options for managing their natural gas bills. They said they had not had a chance to review the attorney general's complaint, and they are interested in better understanding the concerns regarding the program.
Xcel also said it will carefully consider the recommendations and will offer changes to the PUC that best meet customer needs.
CenterPoint Energy says its program's value to the customers who enroll is a stable price for natural gas. The company said its promotional materials state that customers could pay more or less under the program than under standard billing.
CenterPoint also pledged to fully address issues regarding the program when they come before by the PUC.
The attorney general's complaint could take as long as a year to resolve.