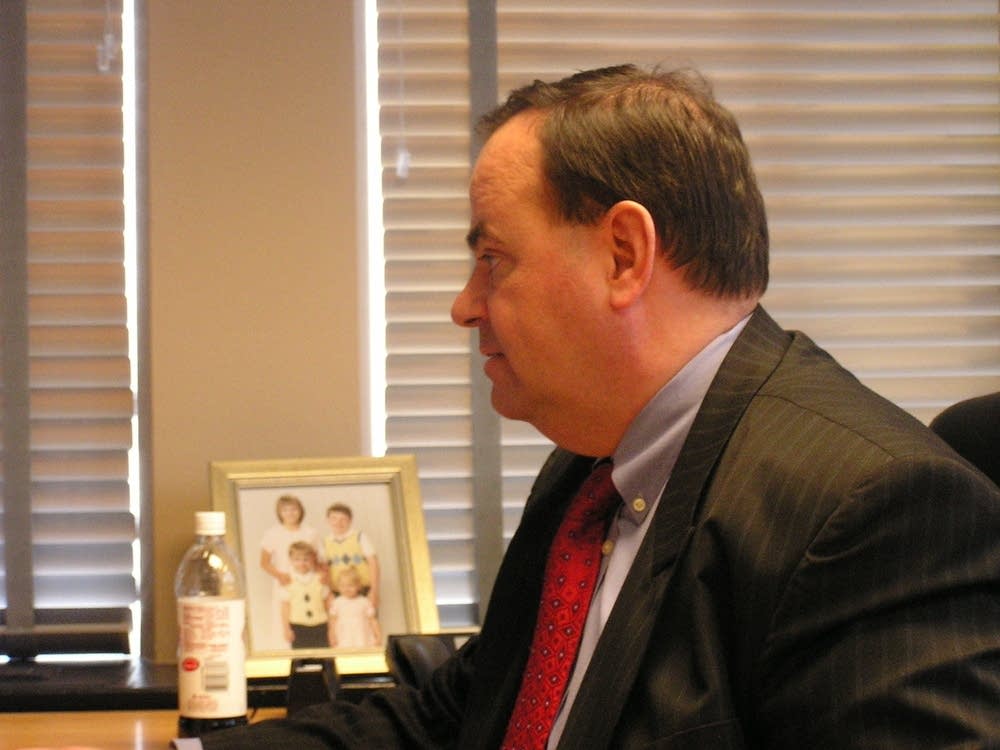 The north side of Red Wing is newest part of town. It looks pretty suburban. The mall is up here and just behind it stands an apartment complex. It's about to be inspected by the city of Red Wing.
In 2005 Red Wing passed an ordinance requiring rental housing to be inspected and licensed every three years.
Deb Jameson manages the apartment complex, and she likes the ordinance. She says the inspection is pretty simple. She walks into one apartment and switches on the light in the bathroom.
"They'll check the faucet, make sure it works hot and cold," she says. "They check under the sink, make sure there is no water dripping. They turn on the faucet to the tub. They turn on the shower to make sure the shower is working."
Jameson says the inspections protect tenants from code violations they don't recognize and from disagreeable landlords. But an inspection to Jameson is a search to landlord Tim McKim.
"It's really coersion," McKim says.
McKim and a group of landlords and a few tenants are suing the city of Red Wing with the Institute for Justice's help. McKim wants the law rescinded.
"They're making our license contingent upon us opening the door to someone else's home. And that's not right," McKim says.
The city is asking a judge to grant an administrative warrant to search rental properties owned by landlords who refused the search so far. That includes McKim. He says the city is taking away constitutional freedoms in the name of safety.
Lee McGrath is the director of I.J.'s Minnesota chapter. He says this case isn't about housing maintenance code. McGrath says the city's ordinance violates the 4th Amendment protection against unreasonable searches and seizures.
"Essential to realizing one's dreams is having a home and being secure from government intrusion," McGrath says.
Inspection laws like Red Wing's are common in Minnesota. Mankato, Winona, Rochester and Minneapolis all inspect rental units. Each city can issue an administrative search warrants to do a building inspection if tenants or landlords disagree.
But McGrath insists the inspections are just a ploy for the city to get 24/7 access to rental property and even private homes. And he says these laws are simple insidious governmental regulations. And he's gleeful at the idea of obliterating them.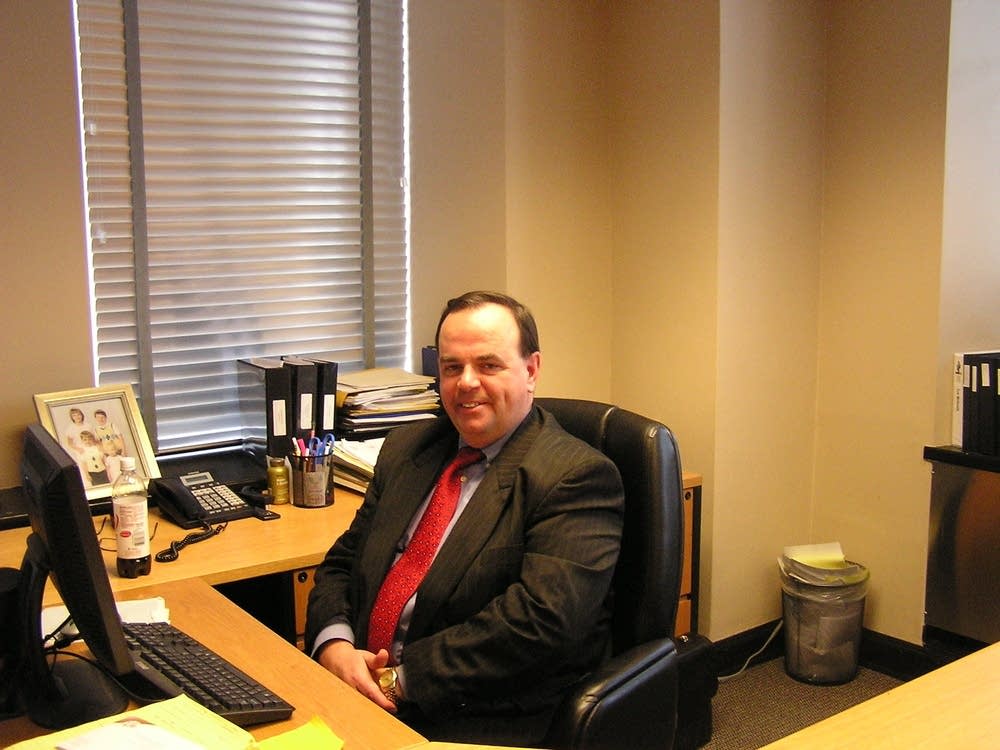 "This is a great job!" Lee laughs aloud.
McGrath is a jolly balding man who worked in finance for years before becoming a lawyer. The law firm's downtown Minneapolis office has an orderly quiet. McGrath's office is almost undecorated, except for one photo of his four children smiling in yellow sweater vests.
I.J. opened a chapter in Minnesota in 2005. Its national office hand-picked three states for such offices. It's a strategy intended to influence the federal government by altering state and local laws.
The Minnesota chapter has filed six cases so far. The group takes cases involving commercial and political speech, business regulations, eminent domain and school choice. Being a libertarian law firm, it believes less government is better. McGrath says government is always regulating away people's freedoms.
"It's a thrill to come in and to work on projects that result in more freedom, more opportunity of advancing liberty and advancing personal freedom," McGrath says.
"They're making our license contingent upon us opening the door to someone else's home. And that's not right,"

Landlord Tim McKim
The Institute for Justice rose to national prominance in 2005. It served as counsel to Susette Kelo in the US Supreme Court case Kelo versus New London.
Kelo's house was about to be taken through eminent domain by the city of New London, Conn. The area was blighted and the city wanted a private developer to rebuild the area.
The Supreme Court sided with the city.
Even though I.J. lost in court it won in the states. By the end of last year over 30 state legislatures had changed eminent domain laws. Minnesota was one of them, and I.J. lobbied heavily to reform Minnesota's laws to favor property owners.
McGrath says Minnesota might not be entirely friendly to all of the group's beliefs, but in his view it has a state constitution that is.
"The beauty of the Minnesota Constitution is that it protects more rights than the Federal Constitution does," he says.
"It protects them in the area of dealing with searches, in dealing with police, and in religious liberties. And it suggests that the Minnesota judiciary is open to arguments that there should be greater protection of freedoms than what the Federal Constitution guarantees."
Minnesota also has a Sunrise Act. Occupations can't be regulated for any purpose other than health and safety.
I.J. used that clause to argue African hair braiders didn't need cosmetology licenses and against limiting the number of taxi cabs in Minneapolis. It recently used the federal commerce clause to argue that, in Red Wing, trash haulers should be able to dump trash in any facility they want.
Attorney John Baker represents Red Wing in the trash hauler case as well as the rental inspection case. He says the city saw a pattern of neglect in rentals and it wanted to protect tenants who don't control the property they live in. He says landlords can't claim a right to privacy on behalf of someone else.
"The Institute for Justice often concludes that people have constitutional rights that do not in fact exist. They have a strong desire to change the law in a way I would describe as conservative judicial activism," Baker says.
Baker says the quality of life for tenants is in jeopardy when the city can't ensure fire alarms are installed and sewer lines are maintained. U. of M. law school professor Myron Orfield says quality of life is an issue.
"People are worried that they may be trying to limit the ability of local government to do things that are necessary for general welfare," he says.
He says a city needs the power to chart its own future and ensure the city survives. At the same time, Orfield recognizes government can be abusive, sometimes it does go too far and rental properties do get picked on. But he says cities are often balancing complicated interests.
He points to Richfield's 2001 eminent domain lawsuit. The city condemned houses and car dealerships so Best Buy could build its headquarters. Orfield says Richfield struggled with poverty and blight. It's schools were segregated. The development increased its tax base and revived itself.
He says I.J. calls that an example as government abuse.
"The Institute for Justice feels that these questions are the issues of individual property owners, that they determine the future of community by each of their individual actions," Orfield says.
"But there isn't a good track record of that," he continues. "Part of that use of government's power for land use and redevelopment is to try maintain the existing value of the residents. And sometimes that interest comes into conflict with the rights individual property owners."
Orfield says I.J. is smart in the way it selects cases that touch a public nerve. He says people are looking for clear answers. And I.J. believes it has one.