Parents describe Liz Wynne as a no-nonsense principal who doesn't tolerate bad behavior. As she walks through Twin Cities Academy, Wynne points out the rules posted in each classroom. Arrive on time, leave your gum at home, comply with the dress code, show respect for others. And a motto: No Student Who Works Will Fail This Class.
"You have to work here," said Wynne. "If you don't work, you will fail."
Wynne believes that work ethic and high expectations are key factors in the success of Twin Cities Academy. The middle school serves 186 students in grades six through eight. Last year, 91 percent of TCA's students were proficient in reading on statewide standardized tests. That compares to 72 percent statewide, and 51 percent in the St. Paul public schools. Wynne said last year's reading test scores are a far cry from when she started the school eight years ago.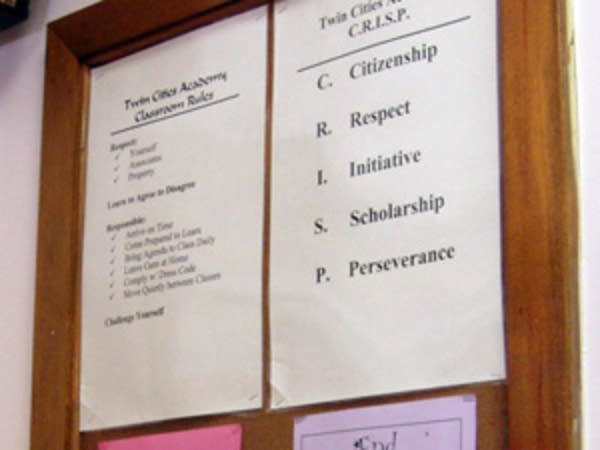 "The reading results were horrific. They were terrible," Wynne said. "I went to staff and said, we can't have this. We can do better. We must do better."
Wynne said the school then added reading classes to the required courseload for every grade for one semester.
"When we put that reading in, our reading scores shot up," Wynne said. "Because we were so successful with the reading, we did it for math, and we saw a similar kind of results."
78 percent of Twin Cities Academy students tested proficient in math last year, much higher than the statewide and district averages. Wynne said the advantage of a small charter school is that she can quickly make curriculum changes without going through a maze of bureaucracy to get approval.
Twin Cities Academy began expanding to a high school last year, adding ninth grade and then 10th grade this year. The first high school class will graduate in 2009. Wynne said TCA may be small, but it offers French and Spanish classes, co-ed sports, and music programs.
Wynne said Twin Cities Academy is financially stable, and hasn't had the fiscal problems that some charter schools have experienced. She said that's because she's frugal, and makes conservative enrollment estimates. Wynne attributes her business sense to working in the Dayton's buying program early in her career.
"So, I learned about budget, financing, marketing, pleasing the client," said Wynne.
Before working at Dayton's, Wynne was a middle school English teacher, and she returned to education after her business experience. Wynne was principal of Friendly Hills Middle School in Mendota Heights when she got a call asking her to lead a new charter school.
"I then asked, what is the mission of the school? And I could buy into the mission of the school. Strong academics, character and citizenship," Wynne said. "And then my number two question was, can I handpick my staff without interference? And it's eight years later."
Wynne believes her work building Twin Cities Academy is the reason she was invited to participate in the Oxford Round Table on Education. Oxford University invited 35 charter school leaders from across the United States to spend five days exchanging ideas. The Round Table has no formal agenda -- the goal is to stimulate debate on education policy.
"I think it's an opportunity for us to share some of our successes here at Twin Cities Academy, but also looking at what is happening in charter schools in other states," said Wynne.
This isn't the first time Minnesota has been represented at the Oxford Round Table on Education. Past participants include former St. Paul superintendent Pat Harvey and former Augsburg College president William Frame.