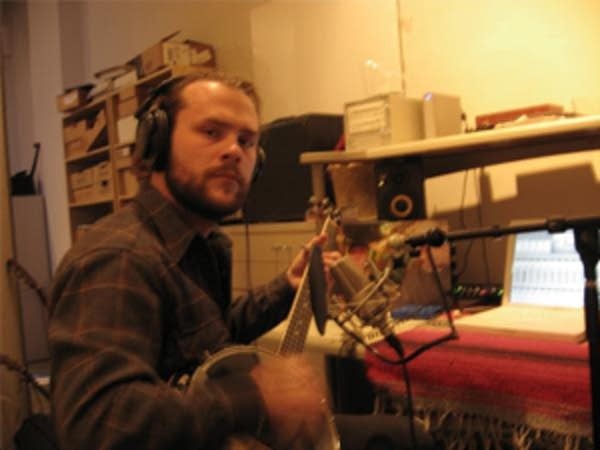 Jason Shannon introduces himself as a songwriter, but his current day job is working as a maintenance man for the Minneapolis marketing agency Yamamoto Moss MacKenzie.
A year and a half ago, Jason wanted to start recording his songs. He bought some equipment and was planning to set up a studio in his apartment. But that didn't work out.
"There's air holes and leaks in the room," Jason explains. "There's a fridge that buzzes. There's a faucet that drips. There's people upstairs."
The neighbors not only made noise. They also weren't crazy about Jason rocking out for hours at a time. Then Jason realized there was another place -- somewhere he could play late into the night without bothering anyone.
"The space at work was real quiet," Jason says, "and one day I just mustered the guts to go into the owner's office."
"And he said, 'Can I talk to you?'" Miranda Moss recalls, "and usually when somebody says that you think 'Oh my God, they're going to quit.' But Jason said..."
Jason: "You know, with my lips trembling, 'Do you mind if I build a recording studio here?'"
"And I thought, 'Oh! That sounds good. Sure!'" says Moss.
Moss loved the idea that the guy who cleaned the carpets and painted the walls was really an aspiring rock star.
"I'm excited," Moss says. "I think one day he's going to be very famous, and we can say, 'Oh, he worked here.'"
So after everyone else went home for the night, Jason would whip out his guitars, his amps, his keyboards, and he rocked the offices of Yamamoto Moss MacKenzie.
"Sometimes I'd record 'til the next morning and sleep in my space," Jason says.
His friends would come by, and lay down saxophone tracks and trumpet parts. I even pitched in once on background vocals.
Jason just moved into an artists' loft and brought his studio with him. But he still loves his job. The people are cool and they support his music.
I know a lot of artists. And most of them have some kind of other job that helps them pay the bills. But Jason is the only guy I know who took that day job and turned it into a dream job -- for now.
Of course he'd still love to be able to make a living just playing music, but right now, he's happy.
"I don't want to be a maintenance person," Jason says. "It's not part of my image, but I can tolerate doing it, because doing that work is letting me do what I love to do."