The pews were full of friends, family and colleagues including Twins greats Harmon Killibrew, Tony Oliva and Jack Morris.
Herb Carneal was eulogized by four men who knew him well.  They praised Carneal's baseball knowledge, his play-by-play skill and his reputation for being a good guy. 
Former Twins pitcher Bert Blyleven met Herb Carneal in 1970 during his rookie season with the club.  Blyleven was 19 and says Carneal was like a father to him.  He called Carneal,  'Pops.'
"In life sometimes, we really never appreciate the talents and the heart of others until we lose them.  There are people who we meet that leave everlasting impressions in our hearts. My parents are my heroes and Herb is right next to them.  Herb will always be the voice the Twins. And his legacy will last forever in baseball history.  The baseball world has lost a great man.  Herb, thank you for loving the game of baseball and giving us all you had," Blyleven said.
Frank Quilici played for the Minnesota Twins between 1965 and 1970.  He also managed the team for a few years in the early '70s before joining Carneal in the broadcast booth.  Carneal taught Quilici how to score a game.  Quilici says Carneal had a meticulous way of scoring a game that involved using three colored pencils. 
"One was to do the game.  He also had one for runs scored and he had one for RBIs.  And that alone was complicated for me.  But what was neat about it was he would make hash marks on the squares of the batter. And he could actually tell you balls that were taken for a strike and balls that were swung at for a strike.  And one of the neat things about it.  You could go 10 years, and grab one of his 10-year-old score cards and do a play by play from it."
And Quilici says, that's just what he and Carneal did one day.  Quilici asked Carneal if they could redo game seven of the 1965 World Series between the Twins and the Dodgers.  Only this time, Quilici wanted to change history and make the Twins the winners.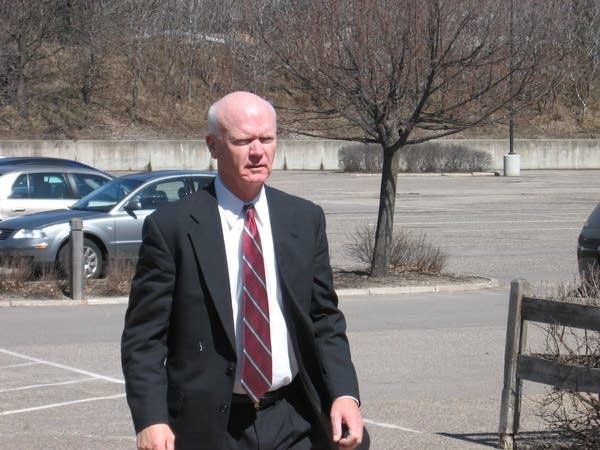 "He says that would be a lot of fun.  And I says, 'here's the kicker, how about if I make the winning hit?' You know his modesty.  He says naw, I don't think that would be the right way to do it."
Carneal put the kybash on Quilici's plan to name himself as the fictitious hero of game seven.  He says Carneal quickly announced that Quilici got called back to the dugout, leaving the pinch hitter to hit a game winning grand slam.  
Quilici said that WCCO's switchboard was swamped with callers who wondered if the Twins really won the World Series.
Until this season, WCCO had been the radio home of the Twins.  And for 20 years John Gordon broadcast alongside Carneal on WCCO AM.
"You know, not many people have the ability to create a legend.  Herb Carneal did.  Life, games and broadcasts will go on, but we all know it won't be the same without Herb Carneal.  Terry, Matthew, Kathy and Joanne.  Our broadcast crew, Danny and Jack.  The WCCO family, the Minnesota Twins family and Minnesota Twins fans everywhere.  Today, we celebrate the life of Herb Carneal.  thank you," Gordon said.
Carneal was well known and respected among baseball fans and broadcasters around the country.  Before today's ceremony, taped eulogies from greats like Vin Scully and Bob Uecker were piped into the church.  One of Carneal's first broadcast partners was the great Ernie Harwell, now the retired voice of the Detroit Tigers.
Harwell and Carneal broadcast games for the Baltimore Orioles between 1957 and 1959.  They remained friends and stayed in contact with each other throughout the years.  Harwell remembered the times on the road with Carneal, when they could sit and have a meal and shoot the breeze.
"And remember Herb, how much he enjoyed those meals.  Especially at night time when we could relax in a fine restaurant.  And I thought I was a pretty good eater. I thought I had a good reputation as a trencherman.  And when Herb Carneal reported and we began to eat dinner at night, I told him after a couple of sessions,  'Herb, I give up.'  I said, I'm going to turn in my napkin and my knife and my fork.  You can out eat me anytime."
Carneal's body was cremated and his ashes will be interred in his hometown of Richmond, Virginia.  His wife Kathy died in 2000.  Carneal is survived by his daughter and grandson.
Gallery
1 of 1