For the past three years, Michael Culloton has led the 40-voice Choral Arts Ensemble of Rochester. His twin brother Matthew directs a similar group based in the Twin Cities called The Singers--Minnesota Choral Artists. So it seems only natural that the two choirs should come together.
"We are twins and we think the same way," Michael jokes in a monotone, robotic voice.
"No, that is not true," his brother laughs. "Thank goodness there is some difference. We're identical twins in the same profession, for Pete's sake."
But Matthew admits he and his brother are like right hands to each other. Even though each has his own separate group and responsibilities, the two of them still work closely together.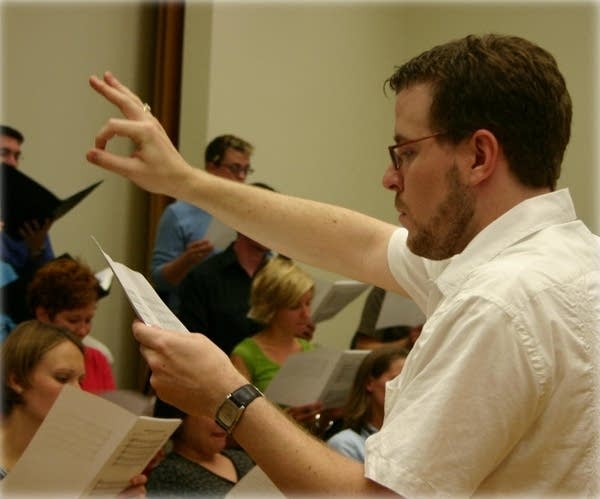 "I think one thing that amazes people is the lack of competitiveness between us," Matthew says.
Michael agrees with his brother: "We speak many times a week and we'll call each other very quickly and say, 'First impression: What do you think of the Choral Arts Ensemble doing this piece and doing it with this piece or this piece?' It's one of the great parts about being a twin and having a twin in the exact same field--quick reactions and quick feedback."
Matthew and Michael Culloton grew up in St. Cloud in a family that wasn't very musical. Their mother Mari Lee jokes that if someone had told her 30 years ago she'd be going to a dozen choral concerts a year, she wouldn't have believed it. But she was aware early on that her twin sons had a special love of music.
"I remember them when I would put all different kinds of music on the stereo," she says. "Mike and Matt would go in the living room and they would dance with their arms straight out in a circle for the whole record, which was a long time. Very early on I started taking them to concerts. The first one, which they laugh about, was an Oak Ridge Boys concert. It just kind of progressed from there."
I would put all different kinds of music on the stereo. Mike and Matt would go in the living room and they would dance with their arms straight out in a circle for the whole record.

Mari Lee Culloton
Matthew and Michael Culloton sang in grade school and junior high choirs and their mother bought a keyboard they taught themselves to play. But they say it was their high school experience that really set them on the path for a life in choral music.
Their choir director, Robert Sieving, had his ensembles sing difficult music by composers such as Brahms, Haydn and Benjamin Britten--pieces that high school choirs rarely perform. But Matthew and Michael were inspired by the challenge. Sieving remembers the two as popular students who never seemed to compete with each other. He says their interest in choral music was unusual for their age.
"For some kids, being in choir is a social thing. They enjoy singing, but the literature itself is probably not the big thing." To the Cullotons, Sieving says, "the literature was the big thing."
Despite their passion for choral music, the Culloton brothers had other plans after high school. Matthew was thinking about becoming a lawyer and Michael wanted to be an orchestra conductor. However, they both went to Concordia College in Moorhead and sang under conductor Rene Clausen. It didn't take long for the twins to realize that choral music was where they belonged.
After college the two lived apart for the first time. But each of them taught high school music and each went on to graduate school. Michael became artistic director of the Choral Arts Ensemble in Rochester in 2004. Matthew launched The Singers in the same year, recruiting former colleagues from the Dale Warland Singers after that group disbanded.
Matthew and Michael Culloton bring their two choirs together for the first time May 5 in Rochester and May 12 at Hopkins High School. While the two say they've never been competitive, Michael admits that for the moment it helps that their choirs are in two different areas of the state, not competing for singers or audiences.
"We're great resources for each other and for our choirs," he says. "It's a lot of fun, but we might not think it was so fun if we were in the same 30-block radius of each other."
There's one other way Matthew and Michael Culloton avoid competition. The two schedule their groups' performances on different days so their mother never has to choose one over the other.