This weekend marks the start of summer for many people. Gas prices are high, averaging between $3.20 and $3.35 a gallon depending on where you live. That's not stopping most people from traveling by car to their favorite weekend get away but it's enough of a hit in the pocketbook to cause some to change their behavior.
The national Ride Your Bike to Work Day seemed like a perfect time to ask people about the high gas prices. These are the hard core cyclists who look for reasons to ride.
Joyce Johnson just recently got a job after being a stay-at-home mom. She substitutes in the lunch room in the Sioux Falls schools. She says she uses work now as an excuse to bike.
"Everyone thinks I'm weird, 'Oh, it's the biking lunch lady,'" Johnson says. "But it's not difficult and I can fold up my uniform and put it in my bag and it doesn't get wrinkled and I can wear my hairnet under my helmet."
Retired Sioux Falls physician Jack Malleck really didn't have anywhere to go on this morning, but he dresses in tan slacks and a button-down shirt and his helmet.
"I wanted to look like someone biking to work rather than biking for recreation," Malleck says.
Malleck says when worked at one of the hospitals he did ride his bike. He says it's much faster in some cases to bike between the two hospitals than to drive and then find a place to park.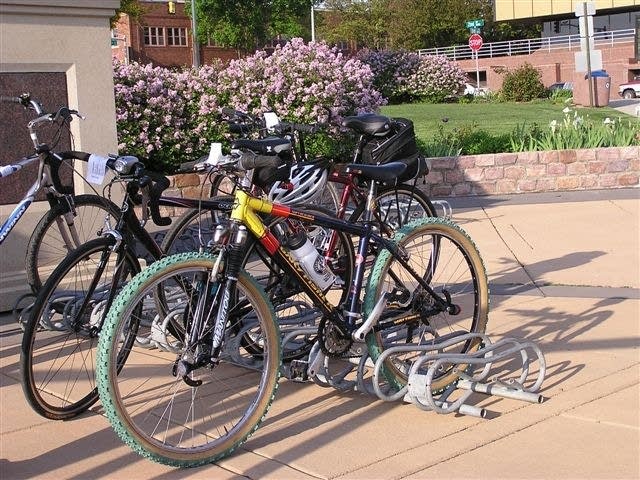 Andy Hine lives and works in downtown St. Paul. He rides a scooter to work almost year round. He didn't buy the scooter because of higher fuel prices - the scooter kind of found him. But he uses it more often now.
"It's really convenient and parking is one of the great highlights," Hine says. "I suppose a person could save $70 a month in parking downtown because I can find little nooks and crannies downtown for free. I suppose some of them are illegal."
But Hine says scooter riders are trying to get legal parking spaces established downtown. He says he can drive a week on a gallon of gas using his scooter. If he rides the bus, it'll cost him $20 a week. If he drives, more like $50 every two weeks. But transportation is more difficult in rural areas. Sharon, who prefers to use only her first name, says she's making significant changes in her lifestyle. She lives in Springfield, Minnesota and does as much shopping as she can online.
She says the price to ship clothing and other necessities is much less than driving 60 miles one way to do her shopping. And Sharon says, some stores have increased prices because of their own shipping costs. Sharon is also making some serious choices about her health care.
"We have a fine local hospital but many diagnostic things have to be scheduled farther away," she says. "In many cases the nearest place is Mankato and some things folks go as far as Sioux Falls or Rochester."
Sharon has cancelled her tests this week because she doesn't want to spend the money to drive.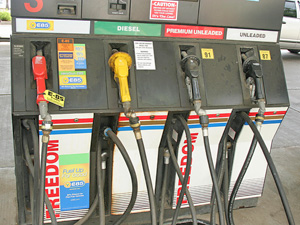 Many families are changing vacation plans, making fewer trips to visit relatives. Some say they may only travel if they have to, like to attend important events.
Jennifer Dame and her husband and two small children recently moved to Minot, North Dakota putting them eight hours from their family. It's likely her family will use Amtrak for their visit. Dame also says their new boat will stay in storage this summer.
"There are other ways to find fun, other ways to save money. I think the train will be fun for my kids," Dame says. "They'll get to see some of the landscape and I think they'll like that. So we don't get to go out on the boat this year, we'll just have to find a different way to have fun. We'll maybe take more walks or more bike rides or go hiking. That's what it's letting us do actually is find different ways to go around it."
Tourism experts expect people to still take a summer vacation but stick closer to home. South Dakota Tourism officials are targeting ad campaigns encouraging people to vacation within the state. A recent Washington Post/ABC News poll found that gasoline would have to reach $4.38 a gallon before Americans would significantly cut back on their driving.