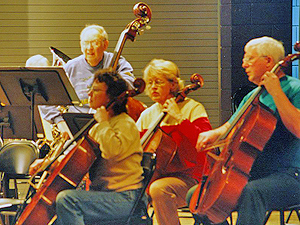 The 3M Club Symphony Orchestra is just one of some 30 amateur community orchestras in the Twin Cities, but the ensemble is unique in the area for its company sponsorship and the number of players who are scientists, chemists and engineers.
"I think it's wonderful. Math, science and music go together," says Marion Owens, a retired 3M chemist and violinist.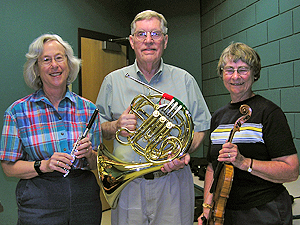 Owens joined the orchestra when the group was formed in 1957 and except for a few years off to raise a family, she's been a member ever since. The orchestra's principal French horn, Jim Cheeseman, is another veteran, joining in 1963, a year after beginning work at 3M. Like others in the group, Cheeseman sees the 3M orchestra as a way to pursue his passion for music.
"I was thinking at one time about going into music," Cheeseman says. "Then I decided I liked mathematics and chemistry better and so I went into chemical engineering. But I keep the 3M Symphony as an avocation."
There are other amateur corporate orchestras in the country including the Hewlett-Packard Symphony Orchestra in San Jose, California and the Microsoft Symphony Orchestra in Redmond, Washington. But those groups' conductors come from within the companies. The 3M Club Orchestra's leader is an independent, professional musician.
Elizabeth Prielozny Barnes has been conducting 3M's orchestra for the past eight seasons. She says that even though she's working with amateur musicians, she has high expectations.
"Part of it is keeping this balance of always aspiring to be worthy of the music that you're doing--because making music is a spiritual practice--but also loving people just because they choose to be there," Barnes says. "And so sometimes we'll just roll our eyes and say, 'Well, this is as good as it's going to be' and we move on."
It's unlikely that anybody would confuse the 3M Club Symphony Orchestra with a professional group, but a member of the St. Paul Chamber Orchestra is on board to help the ensemble sound as good as it possibly can.
Violinist Michal Sobieski has been the group's concertmaster for the past four seasons, essentially coaching the string section to get a full, unified sound. When they're playing more difficult pieces, Sobieski simplifies the parts according to the musicians' abilities.
"More accomplished players can play all the notes and less accomplished players can play certain notes," says Sobieski. "You have to know which are important in the structure of music. If it's done right, you won't even notice."
Original 3M Club Symphony Orchestra member Marion Owens says the group has gotten smaller over the years. The orchestra had 60 to 70 musicians when it began in 1957. Today there are 45 members, half of whom are 3M employees or family.
The value of playing music just for the simple love of it is something that Elizabeth Prielozny Barnes says is often overlooked. As the conductor of the 3M Club Symphony, she wants to broaden the idea of what an orchestra can be.
"I'm developing over time this belief that there really are many ways that a group of orchestral musicians can exist," she says. "And rather than always trying to emulate the St. Paul Chamber Orchestra or Berlin Philharmonic, perhaps one of the beautiful things we could do is find what specifically is unique about each group of amateur musicians and capitalize on that rather than always aspiring to be something that by definition we are not."
As the 3M Club Symphony Orchestra prepares to celebrate its golden anniversary later this year, Barnes is considering the group's future. She says with the abundance of community orchestras in the Twin Cities, the 3M orchestra could disappear quietly. But she believes the connection with a scientific company gives the orchestra a unique stature and possibilities that other community orchestras don't have.