Hmong community reacts with alarm to charges against Vang Pao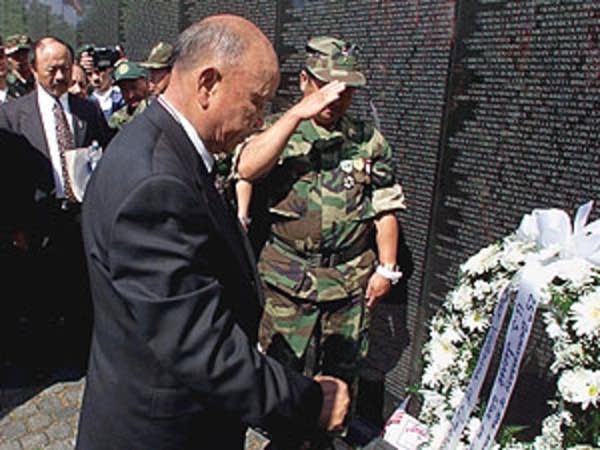 Pao has been in the United States for about 30 years, and even though he's no longer a military leader, he's still an important figure in Hmong history in America.
When the CIA needed help fighting Communists during the Vietnam War, it recruited Hmong soldiers to carry on a secret campaign. Those soldiers were led by Gen. Vang Pao.
When the U.S. pulled out of Vietnam, Pao became one of the first Hmong refugees to relocate to the United States in the mid-1970s. Thousands of people followed him, many of them settling in St. Paul, which has the largest population of Hmong in the United States.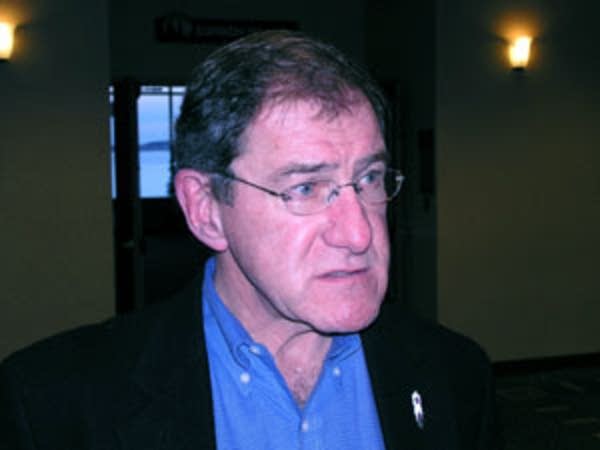 Pao himself has homes in both St. Paul and California. Now he is under arrest -- and the news has hit the Hmong community hard. Ilene Her, director of the Council on Asian-Pacific Minnesotans, likens Pao to the leader of a nation.
"I think he's huge. For my parents' generation, he was the first political leader, as a George Washington or maybe a Julius Caesar, who is more of a military leader," says Her. "I think he's really huge, that he has influence sort of over their lives and their destiny of coming to America.
Her describes Pao as "very charismatic." Even in America, she says Pao has great influence over many people. He's not an elected official, but he's sometimes treated ike one. His appearances in St. Paul draw huge crowds. He gets reserved seating at community events, like the New Year festival.
Pao's followers remain devoted, including some of his former soldiers. The late father of St. Paul community activist Va-Megn Thoj served as a captain under Pao during the secret war.
"The people who served under him were loyal. He was an effective military commander because of the loyalty he had from his soldiers," says Thoj. "My dad was like that, otherwise he wouldn't have been part of his army."
For some soldiers and other supporters, that loyalty translated into donations to an organization whose cause was to overthrow the Communist government of Laos.
"For my parents' generation, [Vang Pao] was the first political leader, as a George Washington or maybe a Julius Caesar, who is more of a military leader."
Pao has long spoken of returning to his homeland, although in 2003, he declared an end to his military efforts to reclaim Laos. While the older members of the Hmong community may hold him in high esteem, Va-Megn Thoj says Pao is not universally liked.
"I'm like a lot of the younger generation, feel ambivalent about his role. I think he was really an effective military leader that was needed during that era," says Thoj. "But at the same time, he has shortcomings as a political leader. By default he also became a political leader, but he was not as effective as a political leader."
Still, Thoj says he respects Pao's contribution to Hmong history.
That sentiment is shared by Chia Vang, a history professor at the University of Wisconsin, who says Pao's arrest is tragic for all Hmong people, regardless of how they feel about the general.
"It's a huge distraction. Friends and colleagues are e-mailing across the country wondering how to digest this," says Vang.
Vang says Pao is a hero to many Hmong people because he represents the freedoms they have today.
Vang Pao has been a source of controversy elsewhere.
In April, a dispute erupted in Madison, Wisconsin, over a proposal to name a new elementary school after him, a move intended to honor the area's large Hmong population. Dissenters said a school should not bear the name of a figure with such a violent history.
In 2002, the city of Madison dropped a plan to name a park in his honor after a University of Wisconsin-Madison professor cited numerous published sources alleging that Vang Pao had ordered executions of his own followers, of enemy prisoners of war and of his political enemies.
Authorities in California acted against Pao and the others because weapons shipments were set to begin this month to areas in Thailand along the Laotian border.
The buildup was in preparation for a coordinated set of mercenary attacks that investigators said were designed to kill communist officials and reduce government buildings to rubble, according to a criminal complaint filed in U.S. District Court in Sacramento.
No actual weapons were in the pipeline, only the samples the undercover agent showed Gen. Vang Pao and former California National Guard Lt. Col. Harrison Ulrich Jack, a 1968 West Point graduate and Vietnam War veteran.
The defendants acted through the Lao liberation movement known as Neo Hom, led in the U.S. by Vang Pao. It conducted extensive fundraising, directed surveillance operations and organized a force of insurgent troops within Laos, according to the complaint.
As recently as May, people acting on behalf of the committee were gathering intelligence about military installations and government buildings in the Laotian capital of Vientiane, according to prosecutors.
The defendants had gone so far as to issue "an operations plan" to a contractor who was to conduct a military strike in the city and reduce government buildings to rubble, the complaint alleged.
(The Associated Press contributed to this report)
Gallery
1 of 1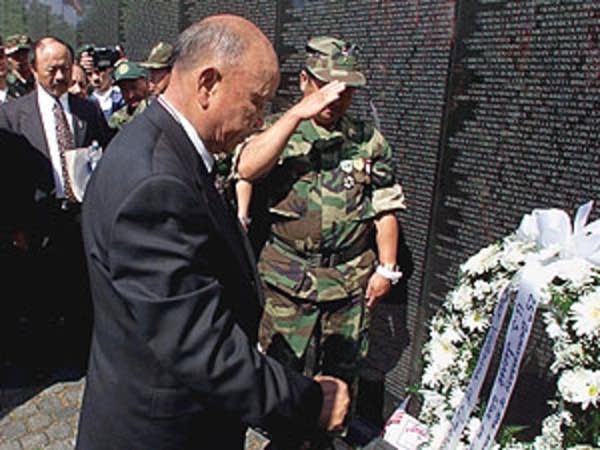 Your support matters.
You make MPR News possible. Individual donations are behind the clarity in coverage from our reporters across the state, stories that connect us, and conversations that provide perspectives. Help ensure MPR remains a resource that brings Minnesotans together.