It's been so hot, some cars are shirking their transportation duties. Just as when it gets really cold, more cars than usual have been heading to the repair shop.
At Goodman Auto in Rochester, owner Dave Boyd says in this, weather a lot of people's air conditioning fails. But that work isn't as uncomfortable as fixing an electrical problem.
Boyd says this time of year alternators have a proverbial meltdown, and mechanics cook right along with them.
"It's kind of like hugging a furnace when it's 100 degrees outside," he says. "So it's not a lot of fun. If the engine is running and you actually have to work on it, doing some diagnostic work or something, that radiator is taking in 90 or 100-degree air and probably giving off 150 or 160-degree air."
During summer, Boyd puts in 12 hours a day. But his repair guys are the ones pounding at the brakes and gears. In one bay hammering away is former owner Pat Goodman.
"If it gets any hotter, I'll be making noise, there's no doubt about that," he says. "It's a good time to be working on air conditioning. You can sit in there and make sure it's working good. Otherwise, it's just put up with it, I guess. Can't change it."
This is a repair shop full of Minnesota stoicism. The fans are blowing, the garage doors are open and a couple mechanics are lingering with their paperwork in the air-conditioned office.
People in Duluth aren't used to hot weather. They can usually rely on a Lake Superior breeze to cool things off. Some people say Lake Superior is made up of ice -- and melted ice.
But sometimes the wind comes from the west, off the land, and then it's hot -- all the way down to the edge of the water. Put your feet in the water, though, and you cool off fast.
Michelle Seery has brought the kids from the YWCA day camp to Duluth's downtown beach.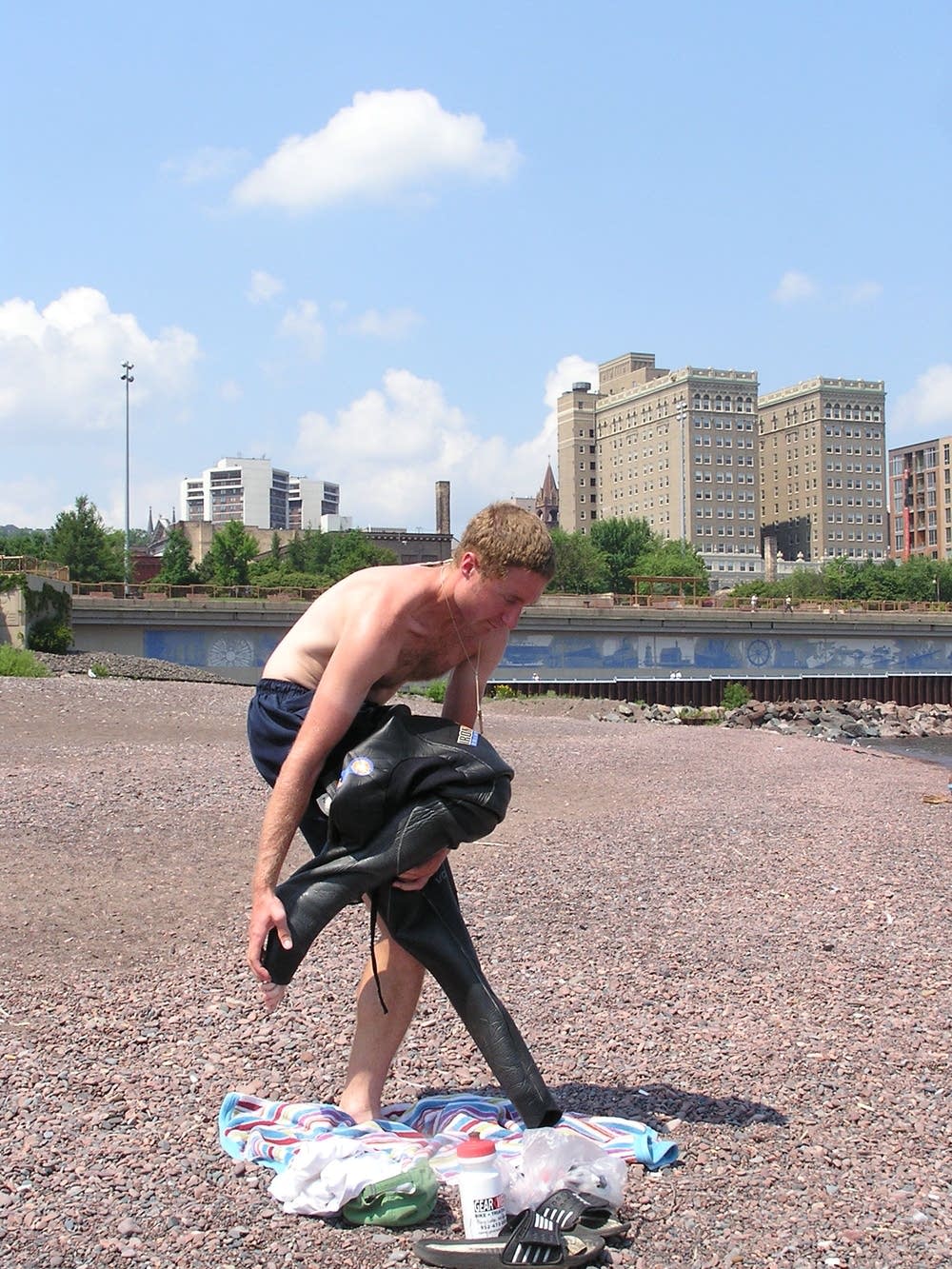 "We're here because it's hot," Seery says. "And the kids need to be in the water when it's hot."
Lora Darling, from southwest Iowa, is standing with her feet in Lake Superior -- apparently it's a bit like Mount Everest.
"Because it's there," she says, "and I'm here."
She says Iowa people would be happy to have Duluth weather.
"I know you say you're having a heat wave, but this is nothing," she says. "No, we're not hot."
Ben Hadrich is pulling on a wetsuit. He plans to stay in the water longer than the 10 minutes most people manage. He's training for an Iron Man triathalon in British Columbia. The mountain lake he'll be swimming in there is probably close to Lake Superior's icy temperature.
"I have a wetsuit to wear, and a swim cap as well, so it should be all right," Hadrich says as he heads into the water.
Larry and Luiza Carcoana, from Fargo, are vacationing in Duluth. They've walked across the pebbly beach from their hotel, to stand and sit in the water.
"I just talked to my mom on the phone. They are at 100 degrees in Fargo," Larry says. "So we feel very lucky that we are in Duluth right now. If you feel it's too hot, I have an antidote for that: Just think about December."
In St. Cloud where it's been sunny, hot and humid, some people found the perfect place to be on a hot sticky day -- the indoor ice rink at St. Cloud State University. It's probably about 40 degrees.
This week the hockey center is playing host to more than 200 of the nation's top 15-year-old hockey players, as they're evaluated by scouts for college and professional hockey teams.
Hogan Schmelker from from Anchorage, Alaska is here to watch his daughter play hockey.
"Anchorage is not as humid and not as hot," Schmelker says. "So luckily we're in an ice rink at this point, because we're not used to this heat or humidity."
Nearby, Lisa Murray from from Saratoga Springs, New York, is bundled up against the cold.
"I'm wearing a North Face fleece and I feel pretty good. But when I go outside that comes off right away, and I strip down to bare basic minimum," she laughs.
Murray says this is a perfect place to be.
"In fact, the man that drove me here from the Holiday Inn from the shuttle, he was joking with me about it when I told him were I needed to go," she says. "He was asking if he could come in with me and watch the game. He said, 'I really don't know that much about hockey, but I'd like to cool off.'"