More people paddle in to the Boundary Waters Canoe Area Wilderness in the last half of August than at any other time. And they love their campfires.
But this year the region is parched. There's been no significant rain in much of northeastern Minnesota all summer.
John Wytanis is district ranger at the U.S. Forest Service office in Tofte. He says the trees and other plants are suffering from the drought.
"The leaves are starting to curl up, they're starting to turn brown," he says. "Actually the colors are starting to change right now: they're turning yellow, which is earlier than normal. The leaves are falling off the trees. When you walk through the forest, it's very crunchy at this point in time."
Nearly two weeks ago a thunderstorm passed through. There wasn't much rain, but lighting started about 20 fires. Some of them take days to build into anything visible from the air. Both the Forest Service and the Minnesota DNR are flying lookout planes.
Wytanis says they have their hands full keeping those fires caused by lighting under control. That's one reason for the ban on campfires.
"We don't want to be chasing these lighting fires and human fires at the same time," he says. "We want to be able to focus on the fires that we get that are caused by nature."
People stopping to get their Boundary Waters entry permits at the Tofte office watch a short orientation video. It talks about fire safety.
"Campstoves are your best option for cooking and heating water," says the video narrator. "But if you decide to have a campfire, keep the fire small and within a fire grate..."
But there's a different message when the video ends. Part of Information Officer Paulette Anholm's job is to quiz campers to make sure they understand the rules.
"Are you permitted to burn trash in your fire grate?" she asks.
"No!" say the campers in chorus.
"And especially not now," Anholm continues. "Because you are all entering during total burning restrictions. That means no campfires at all, whether in the National Forest or in the Boundary Waters. No campfires, no charcoal grills. Stove use only during the complete stay."
And that's no problem for Dave Young and his family, from Dundas, Minnesota.
"The boys will be disappointed that they won't get to roast marshmallows or hot dogs," he says. "But when we came up here I knew we would probably be under a fire restriction, but we like to get into the outdoors just to enjoy it."
Up at Sawbill landing, a popular entry point for the Boundary Waters, the weekend was very busy -- people going out and coming in all day.
Bill Greenwalt and some friends spent a week in the Boundary Waters. The fire restriction only kicked in for their last night. That's lucky, since they brought food that takes a long time to cook: beans and rice.
"It's mesmerizing to sit and watch a fire in the quiet and peace of the Boundary Waters," he says. "It's nice to come up here this time of year, when the water's warm, and it's nice to swim, but it's a risk you take with the fire restriction."
Most people say there's plenty to see and do without a campfire. Jo Sgro came from South Carolina for a two-night trip with her daughter.
"We saw loons and eagles, but no bears," she says. "It would have been nice to have a campfire because it did get so cool at night, but we knew there was going to be a ban before we started out, so were prepared. We had a couple of the Sterno camp stoves, and we had precooked our meals."
Jeff Huspeni came from Denver for a family trip in the Boundary Waters.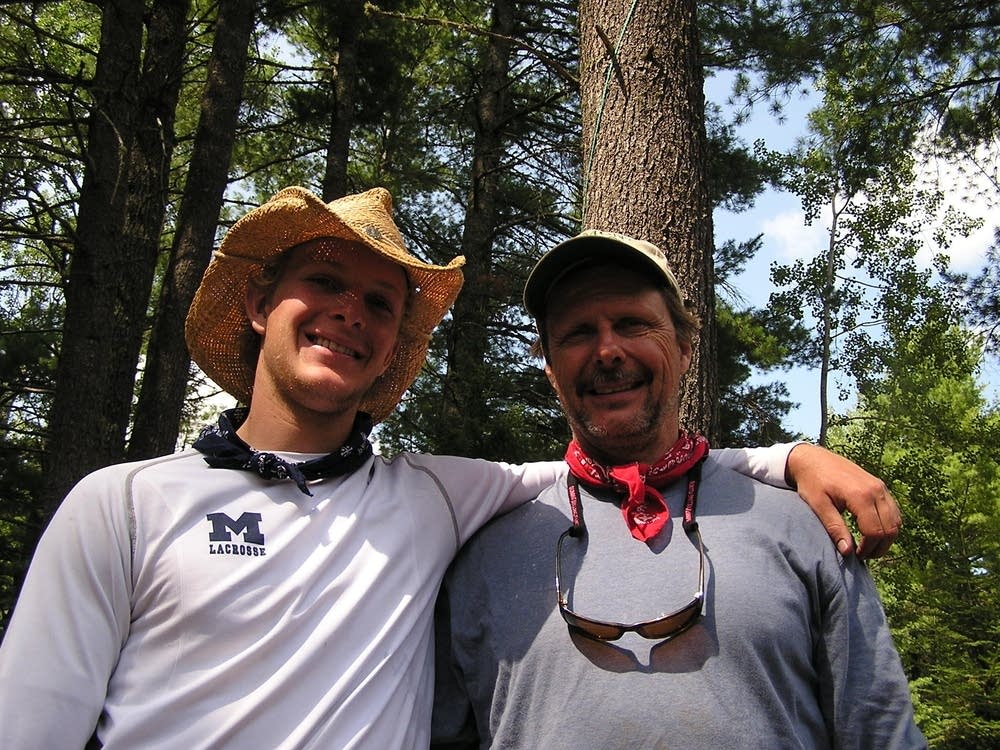 "There was a couple of nights that it was cool, and a couple of times that we got wet," he says. "One time it was raining, and another time with a boating accident, so we got a little wet. But we still had a lot of fun."
That rain didn't amount to much.
During the past year, the region has built up a twelve-inch deficit in precipitation.
Soil moisture is 40 percent below normal, so it'll take more than a few showers to make the woods less prone to fire.
And climate experts are predicting lower-than-normal rainfall through Labor Day.