It's been nearly five years since Norm Coleman won election to the U.S. Senate following the plane crash death of incumbent DFLer Paul Wellstone. Democrats want the seat back, and they're working hard for that right now -- even though the election is more than a year away.
At the DFL Party's State Fair booth, Barbara Snow has just added her note to an oversized "Top Reasons to Dump Norm Coleman" bulletin board.
"My reason was because he's Bush's lap dog. He'll just sign up -- whatever Bush says he will do," says Snow.
There are a few dozen anti-Coleman notes on the bulletin board, with such sentiments as "Minnesota can do better," "He's eating our children," and "You can say flip-flop for no reason."
Snow concedes another note that says Coleman is "ugly and stupid" is mean-spirited and crosses the line.
Coleman says he's always anticipated a tough re-election campaign, but that he thinks some of the early rhetoric may backfire come November 2008.
"I think that board is a sad reflection of almost all that's wrong in politics today," says Coleman. "And I think if my prospective opponents somehow reflect what's on that board, I think Minnesotans will reject them. I don't think that board is very Minnesotan."
A poll released earlier by the Democratic Senatorial Campaign Committee found 41 percent of Minnesotans approve of Coleman's job performance. A Minnesota Public Radio poll in May showed 48 percent of respondents said Coleman was doing a "good" or "excellent" job.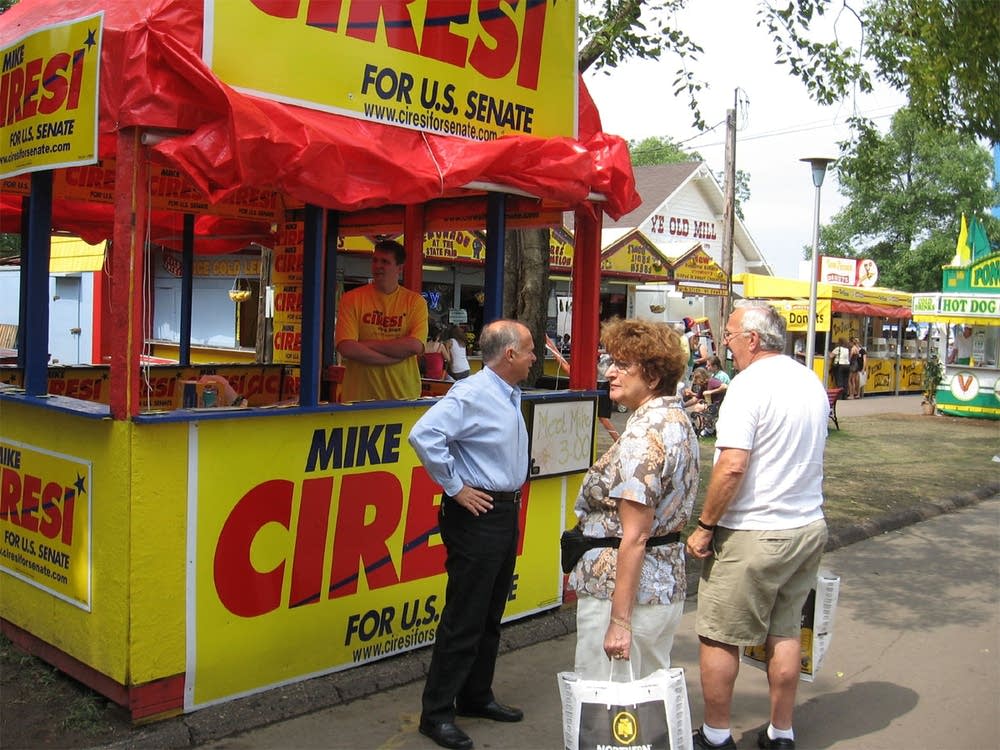 Democrats consider Coleman to be the most vulnerable Republican senator up for re-election next year.
The race among DFLers for the party endorsement to run against Coleman is in full swing, and that's evident at the fair.
At Comedian Al Franken's booth the other day, a crowd of about 50 gathered to hear him speak.
"I want to go to the U.S. Senate because I don't think Norm Coleman has been working in the interests of average Minnesotans," Franken said.
Franken champions programs he says would help the middle class, from universal health care to more college assistance.
He accused Coleman of being aligned with big business and the Bush White House, and he calls Coleman a "cheerleader for the war."
Franken also talked a lot about himself and his family. He grew up in a middle-class St. Louis Park home. His wife's family relied heavily on government programs when her father died in car accident, leaving her mother widowed with five children.
Franken was swarmed by enthusiastic supporters. Many wanted his autograph or their picture taken with him. Nancy Larson said she might try to go to the state DFL convention as a Franken delegate.
"He reminds me a lot of good old Senator Wellstone -- honest, open, for the people," Larson said.
Before Franken can take on Coleman, he must secure the DFL Party endorsement. Just down the block from Franken's booth is the display of one of his DFL opponents, attorney Mike Ciresi. Both men have said they will drop out of the Senate race if the other wins the endorsement.
Ciresi's booth doesn't seem to be as busy as Franken's. And unlike Franken, Ciresi is not regularly giving stump speeches. Instead, he's talking with people one on one.
When a fairgoer asked about the I-35W bridge collapse, Ciresi promotes spending more public money on roads and bridges.
"Policy has consequences. And my sense is that in terms of the infrastructure -- not just in Minnesota but across the country -- we've been living off our grandparents investment," said Ciresi. "We have to find a way to reinvest in this country in a way that makes sense."
When another fairgoer asked Ciresi how he's different from Franken, Ciresi cited his legal accomplishments.
"I think the big difference is that I've been working for Minnesotans my entire life, and I have made a meaningful difference in their life," said Ciresi. "I think we have to take a look at not just what we're all saying, but what we've done in the past."
Owen Erstad met Ciresi at the fair, and describes him as intelligent and responsible. He said he thinks Ciresi's legal background has prepared him to be a good senator.
"I think the problem with Al Franken is that he has a reputation of being a comedian - which he is, of course -- and I'm afraid that it's too much of an opportunity for the opposition to kind of ridicule him as just being a funny guy," Erstad said. "He is a funny guy. Ciresi may have a sense of humor -- I'm sure he probably does -- but I think he's a little more capable of doing the job."
While Ciresi is happy to talk about Franken, Franken does not mention Ciresi. But Franken is prepared to counter the argument that a background in comedy does not prepare someone for the Senate.
"Let me tell what a satirist does," Franken told fairgoers. "A satirist looks at a situation and sees the inconsistencies and hypocrisies and obscurities, and cuts through all of the baloney and gets to the truth. And I think that's pretty good training for the U.S. Senate, don't you?"
Al Franken isn't the only one popular with fairgoers. Many folks seem to want their picture taken with Coleman, as well. Walking through the fair, visitors constantly approach Coleman, some with policy questions, criticism and suggestions -- others just to say hello.
Robert Skarda of Columbia Heights had no questions for Coleman, just a "thank you."
"I think he's doing what he thinks is right. I mean, he's called President Bush on things that are not right, when he made a mistake. That's cool," Skarda said. "He's also backed up the right things that he's doing. That's also cool. It's an election, I mean, and what are you going to do?"
With President Bush's poll ratings low, Coleman also stands ready to rebut the charge he's been rubber-stamping Bush administration policies.
"In regard to the president, he's not on the ballot," Coleman says. "When he says that we need to keep taxes low, I support that. On the other hand, I, you know -- Alberto Gonzales should have resigned, and I've told him we shouldn't drill in ANWR, and I told him we shouldn't cut community block grant funding."
But on the key issue in the race -- the war in Iraq -- Coleman stands firm that pulling troops out of Iraq is not the answer to problems there.
Coleman won't say much about the field of DFLers vying for his job.
Franken and Ciresi are the best known and best funded Democrats seeking the party's backing to run against Coleman. But they're not the only DFLers looking for the endorsement.
Jim Cohen doesn't have his own State Fair booth, so he's trying to meet party activists at the DFL's fair headquarters. Cohen, an attorney and environmental activist who lives in south Minneapolis, calls himself a pragmatic progressive.
Much like Franken and Ciresi, Cohen is campaigning on middle class issues and calling for more domestic spending.
Cohen acknowledges it's hard to be heard over his better-known competitors. After speaking with Cohen for several minutes at the fair, DFLer Joyce Roycraft said she's glad he's in the race.
"I'm not just sold on the two," Roycraft said. "I'm very open. I will listen,. and I will read his brochures and give it serious consideration."
One thing voters from across the political spectrum will have is plenty of time to scrutinize Minnesota's 2008 Senate race. And if the Democrats stick with their pledges to honor the party endorsement, Coleman's competition should be much more clear come next year's state fair.