A coffee house near the University of Minnesota's West Bank has become a frequent off-campus site for classes. University students and their teachers on a recent afternoon pulled tables together and huddlex in discussions of Stephen Jay Gould's book "The Measure of Man" and race and gender in the workplace.
History professor Anna Clark conducted part of her class in the coffee shop's basement room after her students narrowly voted to meet off campus. Clark also helped organize an event where U of M faculty expressed solidarity with the strikers.
"We really wanted to show our support, but also get the students responding to what's happening around them as an educational experience, which this really is," she said.
Clark, who has tenure, is not concerned by threats from the administration that they're keeping track of instructors holding classes off campus, but she notes others are.
"I know the untenured faculty are really feeling frightened by this and hesitating about responding to the strike," said Clark, who notes her effort is largely symbolic. She won't continue holding remote classes because changing locations and meeting in spaces not designed to hold large groups can get in the way of students learning.
Such logistical problems and fear of retribution are keeping some instructors from moving their classes to avoid crossing the picket line.
Sociology teaching assistant Arturo Baiocchi holds classes technically on campus but conducts them at picket sites where students are encouraged to speak with the striking workers. He says many of his teaching assistant colleagues are reluctant to show sympathy for the strike. Teaching assistants are graduate students who frequently rely on money they earn from teaching to supplement their own tuition costs.
"We've been getting e-mails from the dean and other HR personnel explaining the increased liability that we're exposing our students to by taking them off campus -- although we've had field trips -- before and I've never gotten any of that concern," Baiocchi said.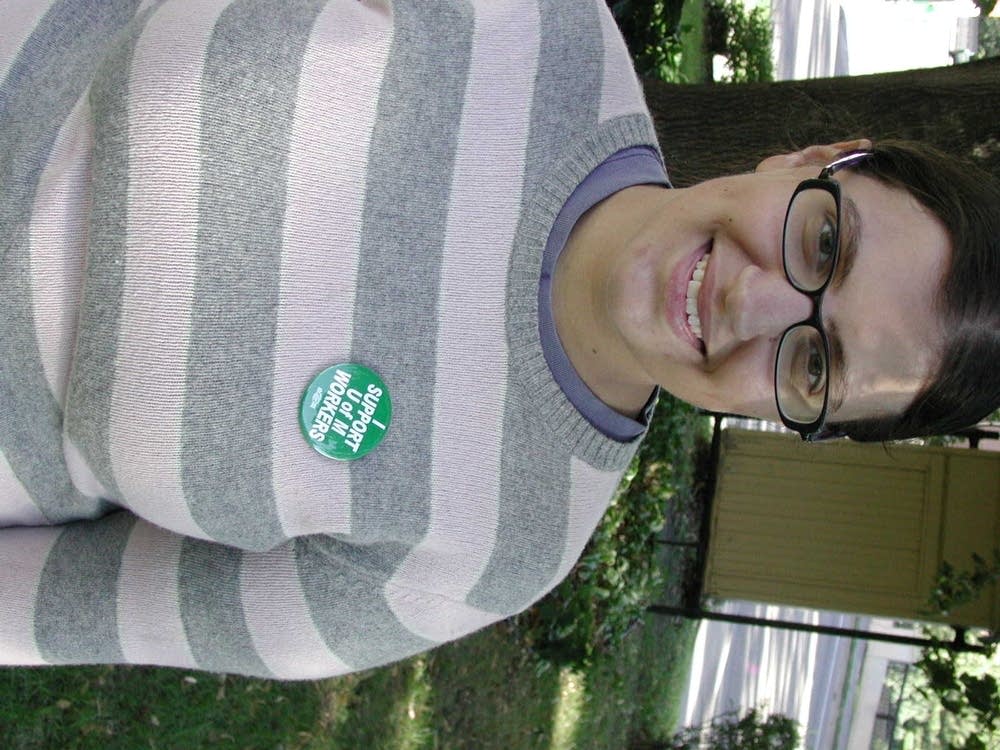 Another teaching assistant, Dani Indovino, comes from a working class and union background. She walks picket lines, wears strike buttons and writes letters in support of the strike. She wanted to avoid crossing the picket line, but couldn't find space off campus to accommodate the large class she teaches.
"I have made sure to spend some time in the beginning of my classes letting them ask me questions about how I feel and my take and I've been open that I have a one-sided view -- I have a bias. I also try to make available the university's view. I think this is a really great learning opportunity," she said.
Indovino says many teaching assistants she's talked to worry about risking their jobs by taking students off campus.
University spokesman Dan Wolter says not only is it university policy to hold classes on campus, but doing otherwise could be considered a sympathy strike, which state law prohibits public employees from doing.
"I would just urge faculty to think beyond just their personal beliefs. They can make their statement by buying a bumper sticker and putting it on their car, not by disrupting the educational mission of the University of Minnesota," Wolter said.
Sophomore Kevin Anderson has yet to deal with a class moving off-campus. But he's worried it would be a hassle.
"The teachers make it sound like it wouldn't, but I think it would because if it's off campus, off campus is close to some part of the campus but not all of it. I kind of need to hurry to those classes. I guess we'll see," he said.
University officials say the administration hasn't decided how or even whether to discipline faculty for going off campus.