Whistleblower highlights concerns about atrazine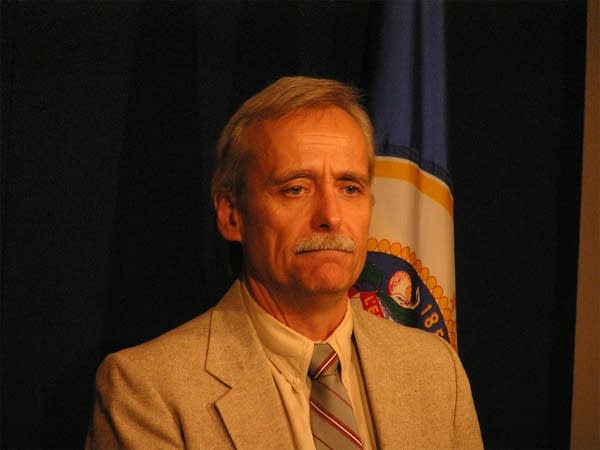 Paul Wotzka is a hydrologist who worked for the Department of Agriculture for 16 years and then moved to the Minnesota Pollution Control Agency. Last spring, he was invited to testify before a different legislative committee, but his superiors refused permission. Shortly afterward he was fired.
The state maintains Wotzka was fired not for his interest in testifying, but because he took files from the Agriculture Department to his new job.
Sen. Betsy Wergin says that's reason enough not to have him testify.
"And Senator Marty I'm going to ask that you not have this person testify because I think it's wrong," she said.
Grow the Future of Public Media
MPR News is supported by Members. Gifts from individuals power everything you find here. Make a gift of any amount today to become a Member!
Committee chair Sen. John Marty said Wotzka was there to talk about his research, not about his firing. And for Marty, the fact that his superiors didn't want Wotzka to testify was all the more reason to hear from him.
"I know a lot of state employees who are not allowed to talk to legislators, they're not allowed to talk to media. I know at least one who's been fired for work like this, and I'm just saying that it's really troubling that state employees are discouraged from testifying here, even on their own time," Marty said.
Once he was allowed to speak, Paul Wotzka summarized his research about atrazine, a herbicide that some researchers have linked to deformities in frogs and to reproductive and other health problems in people.
"I know a lot of state employees who are not allowed to talk to legislators, they're not allowed to talk to media. It's really troubling that state employees are discouraged from testifying here."
"Atrazine is in our rain. It is in our trout streams, in our urban runoff from our largest metropolitan areas," said Wotzka. "It is in our cold, clear springs and our muddiest rivers. It is in our aquifers used for drinking water and our lakes used for recreation. It is detected in streams in the dead of winter, many months after it was applied. It has been omnipresent in our state's waters for many years."
And because it persists in the environment, it will be there for many more years, even if farmers suddenly stopped using it, or used it a lot less.
The part of the state Wotzka is most concerned about is the southeastern karst region, where the porous limestone bedrock allows water and whatever it carries to flow easily across the landscape. The concentration of atrazine there is the highest in the state, Wotzka says.
The Minnesota Department of Agriculture, or MDA, advises farmers to use best management practices, or BMPs. And the agency is supposed to enforce proper use of the herbicide, following special labeling. But Paul Wotzka says those measures must not be working.
"After 15 years of MDA promoting these BMPs and label changes, how do we have the highest amount of atrazine being used, resulting in the highest concentration in streams, in the part of the state that is the most vulnerable?" he said.
Some researchers have found effects on lab animals at concentrations as low as one tenth of a part per billion. In Minnesota, the drinking water standard is three parts per billion. Paul Wotzka says he's seen levels approaching 30 parts per billion.
Dan Stoddard testified after Wotzka. Stoddard is assistant director for the Pesticide and Fertilizer Management Division of the Ag Department. He says state law requires the department to try to avoid degradation of water quality, but only so far as that can be practically achieved.
"What we find in our monitoring is that it's unusual to have one part per billion," he said. "I shouldn't say it's unusual; it's very unusual to exceed a drinking water standard, including the three parts per billion. And usually where you do find elevated levels they're in vulnerable aquifers; they're not in deeper aquifers."
Stoddard denied a suggestion that the department is ignoring the problem.
"The monitoring data from the central sand plains, where we've done continuous monitoring for many years, shows that the levels of Atrazine are dropping. But in groundwater you don't get rapid change. It takes time. But they are dropping."
The central sand plains area is in east-central Minnesota. Paul Wotzka says it doesn't reflect the trends elsewhere in the state.
Sen. Marty plans to introduce legislation in the next legislative session requiring the Health Department to study atrazine and certain other herbicides and decide whether they're safe.
Gallery
1 of 1