The delegates from Minnesota Gov. Tim Pawlenty's first trade mission to India stayed Monday at an upscale New Delhi hotel, where rooms start at $400 a night. Business-class Indian hotels come with prices that are high, even by American standards.
At the Hyatt Regency Delhi, rooms feature LCD televisions mounted on the walls. Guests may choose from Chinese, Italian and Indian restaurants. In back is a pool, gardens and tennis courts.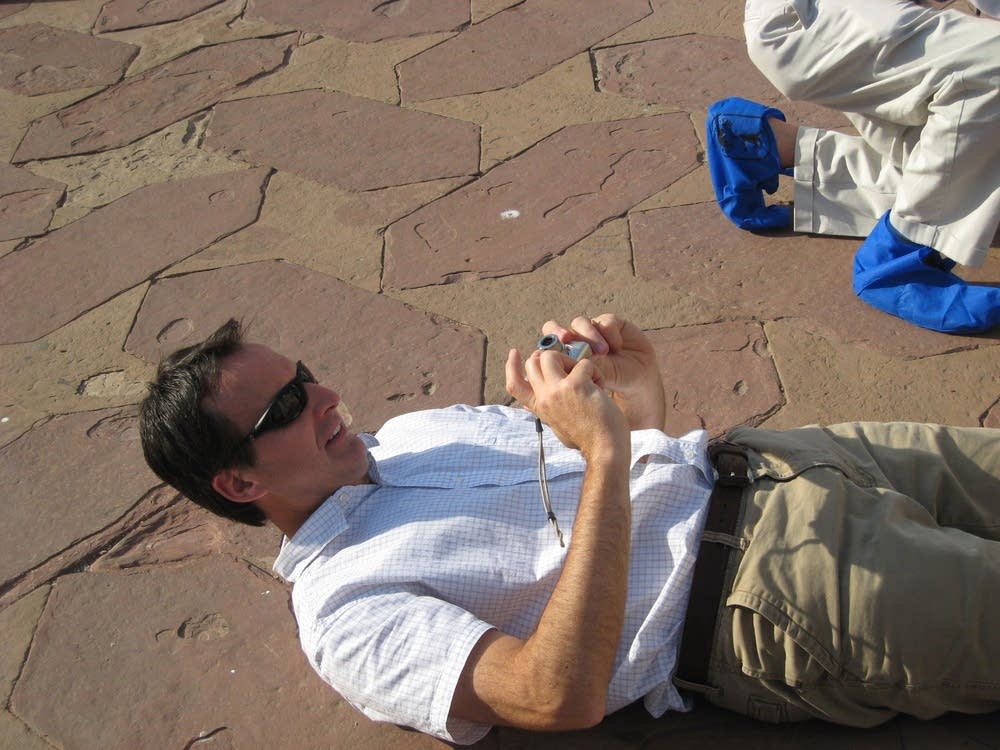 But the members of the delegation are getting a look at the other India, right across the street. More than 500 million Indians earn $2 or less each day, and a small fraction of them live in tents across from the hotel.
And on a day trip to the Taj Mahal on Sunday, delegates were stuck in traffic for an extra two hours when a protest march clogged the highway, an illustration of the congestion and infrastructure weakness that makes business a challenge on the Asian subcontinent.
Paul Tomsche, a Medina international business development manager for Polaris Industries, said despite his worldwide travels he was shocked by the abject poverty in India.
"We're staying at a five-star hotel, and across the street, people are living in tents," he said. Tomsche and the rest of the delegation had come to India to network, to see whether they could export their goods to a country with more than a billion people, where the gross domestic product is growing at a rate of 9 percent, and the middle class totals more than 300 million.
That's what they did Monday. Tomsche was going to be at the grand opening celebrations this week of two Polaris stores, one in New Delhi and the other in Bangalore. The all-terrain vehicles his company sells are in demand by wealthy business and landowners.
"It's really an emerging market," Tomsche said. "That's why we wanted to be here."
Darlene Miller, president and chief executive of Permac Industries, a precision manufacturing company in Burnsville, will meet with an Indian firm in Bangalore in search of a source for medical products. She's open though.
"I'd welcome the opportunity for it to go both ways," said Miller.
Ralph Imholte, president and chief executive of Bepex International particle processing technology firm, was seeking sales channels in India, and perhaps a partner who might also have an interest in exporting technology to the United States as well.
"There are some smart people here," said Imholte during a networking reception with Indian business owners and executives at the U.S. Embassy. "It's condescending to come here and, really, to think we're the only ones with technology to share."
Gov. Pawlenty acknowledged the controversy about the outsourcing of American jobs to India. He stressed Monday that he wants to see mutually beneficial outcomes from the trade mission to India. That means increasing Minnesota's already fast-rising exports to India by building business relationships.
"We're not interested in exporting more jobs," Pawlenty told MPR. "We're interested in increasing our exports to India, to create more jobs in Minnesota."
Pawlenty has also been a supporter of allowing more temporary worker visas to meet demand for engineers at U.S. companies. In the short term, he said he'd rather see companies import engineers than move their entire operations overseas because of employee shortages in key areas in the United States.
When a person of Indian descent makes it big in America, it's a major story in India. Bobby Jindal's win as the Louisiana governor was front-page news here, and was noted several times during delegation meetings. Jindal, a Republican, is the first Indian-American to reach that post.
The Hindustan Times was among the Indian dailies to feature the story on its front page, declaring, "ARISE, GUV JINDAL OF LOUISIANA."
Minnesota State. Sen. Satveer Chaudhary, who's on the delegation, was the first politician of Indian descent to win a state Senate seat in the U.S.
I've already broken one of the cardinal rules for Americans on business trips to India: Never drink the water. Actually, I just brushed my teeth with the water, but I'd been told by Minnesota Trade Office officials that even that could make me sick.
When I got to my hotel room, I found sleek furniture and an LCD television mounted on the wall. It all reminded me of a hotel room at a swank hotel in San Francisco, Minneapolis or London. So when I slipped on a plush bathrobe, I momentarily forgot that I had anything to worry about. It's nearly 24 hours later and so far, so good.