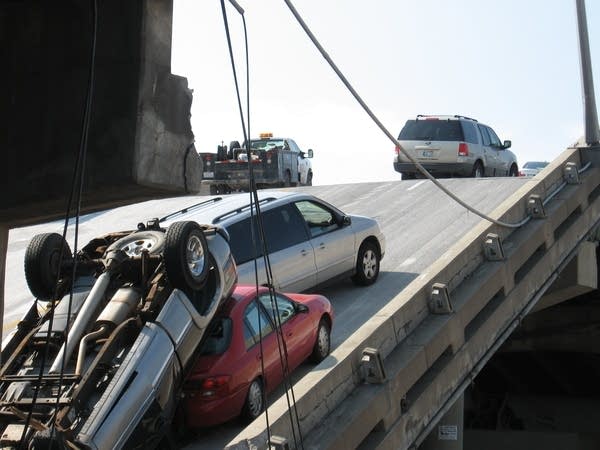 Within hours of the Sept. 11, 2001 attacks, the FAA ordered all planes to land at the nearest airport. For structural engineer Manny Velivasakis, that meant his flight from New York to Vancouver was diverted to Minneapolis.
After he got off the plane, he watched airport TVs showing black smoke enveloping the Trade Center site.
"I have dozens and dozens of friends who work in the World Trade Center, at the Port Authority -- all of my friends the engineers there. I'm incredibly worried and concerned that they didn't make it," Velivsakis said on that day in 2001.
Velivasakis was soon working among the ruins at ground zero. His firm, Thornton Tomasetti, specializes in stabilizing disaster sites and determining why structures collapse.
For nine months following 9/11, Thornton organized and supervised more than three dozen engineering firms to ensure the safety of all those who recovered bodies and moved debris, as well as collected information about how the towers fell.
Six years later, fate, in the form of the I-35 bridge collapse, has drawn Velivasakis back to Minneapolis. The Robins Kaplan law firm hired him and his company to give them an answer as to why the I-35 bridge fell on Aug. 1.
"We normally don't like to get involved unless we have assurances that we are given a free hand to really perform a thorough and totally unbiased investigation. We were in this particular case," Velivasakis says.
The firm is only weeks into its investigation. It is gathering documents about the bridge's design, construction, maintenance and upkeep. It's hoping to access the site of the crumpled wreckage, but the National Transportation Board says that's off limits, at least for now.
Three other entities are conducting separate investigations -- the NTSB, the state of Minnesota, and another Minneapolis law firm, Schwebel, Goetz and Sieben. The NTSB has been the principal investigator so far. It controlled the disaster site during recovery, and controls the site where the bridge pieces were taken.
Velivasakis says it's imperative that investigators have access to the bridge components, particularly those that fractured. He says his firm not only needs to visually examine them, but also conduct laboratory tests on the critical pieces.
The process of testing samples often destroys them, and Velavasakis worries that he and his firm won't be able to run their own tests.
"My serious concern is that if the NTSB takes the material and they do the testing, then we will not have the opportunity to actually repeat that testing," Velivasakis says. "If they don't share the results with us -- I mean not their interpretation of the results, but their raw data -- that would be a potential problem."
He says, however, that's only if the amount of critical material is limited. Velivasakis says he hopes that the multiple investigations could agree on one independent testing facility, where each could order separate tests and collect raw data.
"We feel that this is such an important issue that it is not only, 'Let's find out what happened,' of course. But the people of Minnesota, and the United States for that matter, they need to know. We need to know, individually and collectively. Because we need to develop the comfort and the trust, every one of us, that we should have in using this superstructure, this bridge or any other bridge," he says.
Velivasakis says he'll be back in Minneapolis again when the NTSB allows him and his firm access to the I-35 bridge wreckage.