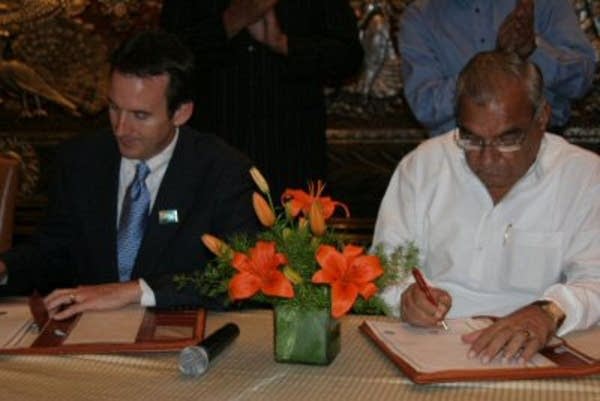 While Pawlenty is not actually making deals, his presence does help get them done, said Kim Pearson, chief executive of New Boundary Technologies in Minneapolis.
"When the companies here see you're part of the governor's trade mission, you get more interest," Pearson said. "His being here opens the doors to then be able to do the deals. That's pretty universal."
Pearson, who's traveled with Pawlenty during three previous trade missions, participated this week in business matchmaking between Minnesota companies and potential Indian partners. Thanks to these meetings, Pearson expects to be selling his software technology in India within four months.
Pearson has been talking with potential distributors who would sell in India his company's software that secures private information from being removed from computers.
Since many back-office operations of American companies are conducted in India, he's been receiving interest from Indian firms wanting to deliver consistent privacy protection of medical and financial records increasingly demanded by clients.
Pearson is a firm believer that the governor's overseas trade missions will pay off.
"If we can sell products in other parts of the world, that brings money into Minnesota," he said. "That's good for all of us."
The trade mission to India is already paying off for Boris Miksic, chief executive of Cortec Corp. Miksic has already sealed a deal to sell the recyclable plastic bags his company manufacturers in Minnesota to a South Indian state.
The state of Kerala plans to purchase 2.5 million bags a month from Cortec, as part of a program in which they'll be distributed to poor women who will gather organic waste and then receive money for filled bags. A Catholic charitable organization is assisting with funding the program, which helps the women make some money while protecting the environment.
"We have a hard time selling them in Minnesota," he said. "For sure, I didn't expect it to happen here."
Pawlenty signed a sister-state agreement Tuesday with the chief minister of Haryana, a North Indian state heavy on agriculture that's also become home to locations of General Electric, Suzuki and Whirlpool.
While largely ceremonial, it's only the second sister-state agreement a Minnesota governor has ever forged. The choice of location was inspired by State Sen. Satveer Chaudhary's family ties to Haryana.
On the way to India, Pawlenty stopped in Shaanxi province of China to commemorate Minnesota's 25-year-old sister-state agreement with that province.
Meanwhile, Pawlenty spread the word through Minnesota Trade Office officials that he wanted to see delegates show up for the lunchtime signing of the sister-state agreement with Haryana.
And the governor apparently didn't want to see delegates in casual Friday wear. Many delegates were checking out of the hotel and planned to dress casually for the afternoon trip to Bangalore. Instead, most respected the governor's wishes to put on a good show for Indian officials.