Bill Marchel is the perfect person to ask about trail cameras. Marchel is a hunter and a professional outdoor photographer. There are 10 trail cameras spread out on his land, 70 acres of woods and swamps south of Brainerd.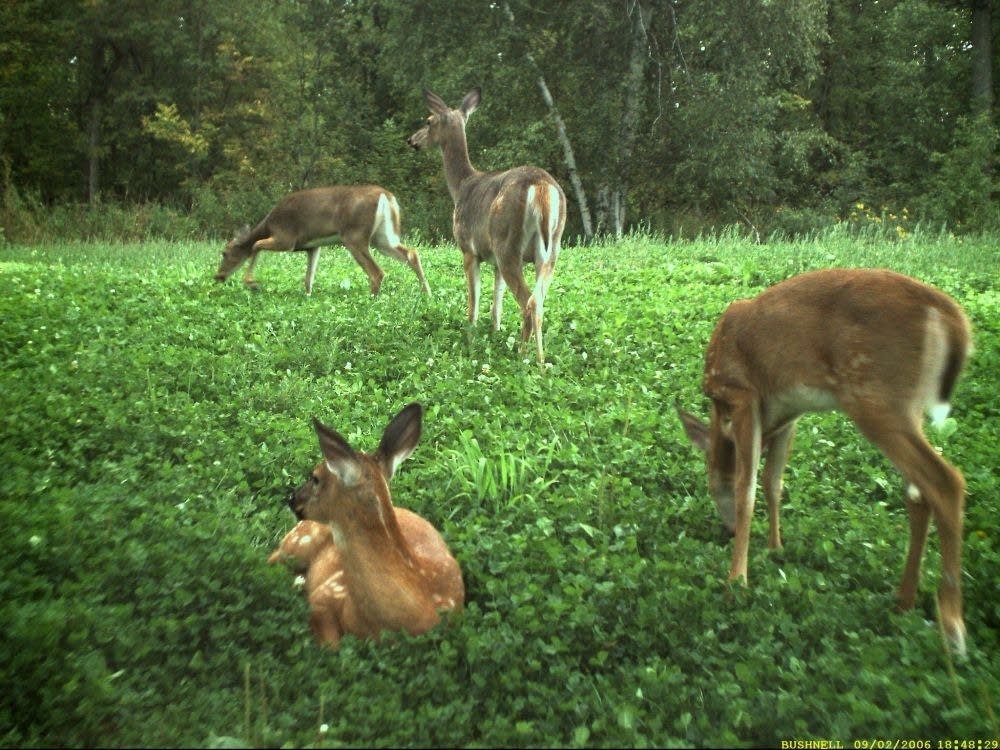 A trail camera is simply a digital camera in a shoebox-sized weatherproof case, that can be attached to a tree or a fence post. They cost anywhere from $100 to more than $500.
They're equipped with infrared sensors that tell the camera to take a picture of anything that walks by.
"It's got to be a warm subject and it's got to be in motion," says Marchel. "So the combination of the two, warm and motion, prevents you from getting a lot of images of other things, like leaves falling or branches."
One of Marchel's cameras is on the edge of a swamp near a deer trail. The camera is a couple of feet off the ground attached to wooden post.
Marchel kneels down, pulls out a small viewfinder and plugs it into the camera to check the most recent pictures. He sees several pictures of does walking past the camera. All of the pictures were taken after dark. The pictures are stamped with the date and time, so Marchel knows exactly when the deer walked by.
Digital trail cameras are being touted as the new way to scout hunting spots for deer. Instead of spending preseason mornings shivering in a deer stand, hunters can set up a camera and gauge what their prospects might be from the resulting images.
Head to an outdoors store and you'll get a sense of just how popular trail cameras have become. At the Gander Mountain store in Brainerd, there's an entire aisle dedicated to digital trail cameras.
The Minnesota Department of Natural Resources doesn't track how many hunters use trail cameras, but Lou Cornicelli with the DNR's big game program says those store shelves are probably a good indicator of widespread use.
"Based on the number of companies that make them, and the variety of product that's out there, they've become increasingly popular. I don't think you'd see so many on the shelves if people weren't buying them," Cornicelli says.
Cornicelli says a lot of non-hunters buy trail cameras too. They use them for wildlife watching or as an inexpensive security system to catch trespassers on their property.
There are purists who say trail cameras give hunters an unfair advantage. But Cornicelli says it's still the hunter who has to make the kill.
"It certainly doesn't make you a better hunter. I think spending time in the field and spending time at the range makes you a better hunter. I think this is just another tool that is out there," Cornicelli says.
Outdoor photographer and hunter Bill Marchel doesn't think trail cameras give hunters an unfair advantage. But he says the latest technological advance on the market just might. It's a trail camera that takes a digital picture, and immediately sends the image to a hunter's cell phone.
"In my opinion that goes beyond fair chase. If you had cell phone ring and tell you there was a deer in a certain spot, and you grabbed your gun and went out there ... I'm not telling other hunters how they should feel about things but that's the way I feel about that. It's going one step too far," Marchel says.
Marchel uses trail cameras mainly to see what kind of deer are on his property so that come hunting time, he can be more selective about which deer he kills. He says hunters who think they can pinpoint a deer's whereabouts and activities with a digital camera need to remember, deer don't live by schedules.