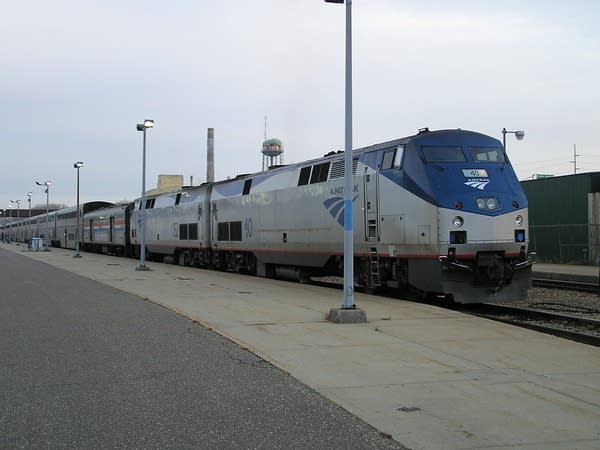 The most popular overnight train service in the country is Amtrak's Empire Builder, the train from Chicago to the West Coast by way of the Twin Cities.
Amtrak spokesman Marc Magliari predicts the Empire Builder will be full Wednesday, as it often is, even during non-holiday travel periods.
Rail ridership in this country is surging. Magliari says it's up 6 percent for the year ending Sept. 30. Amtrak could sell more tickets, but Magliari says it lacks the equipment to meet the demand.
"We don't have a lot of spare equipment waiting to be assigned so what we have to do is juggle carefully the cars and locomotives we have."
There's another problem.
Amtrak doesn't own most of the track its trains use. In much of the country Amtrak leases track time from the big freight hauling rail companies. Andrew Selden says, "In almost all cases Amtrak is an unwelcome mandated tenant on the railroad's property."
Andrew Selden is a self-appointed passenger rail advocate. By day Selden is an attorney for a big downtown Minneapolis law firm. The balding, bespectacled, mild mannered lawyer advises clients on franchise agreements.
In his spare time Selden is part of a network of passenger rail boosters in this country. He and others publish a newsletter and a Web page bristling with opinions on how to run a national rail service.
Selden says his passion for saving passenger rail blossomed 30 years ago as the system was being dismantled after Congress and president Jimmy Carter balked at spending more money on it.
Amtrak's Empire Builder, Selden says, is a model of how to run a railroad. The passenger service gets high marks for on time service between Chicago and the West Coast.
Selden praises the owners of the track the train runs on, Burlington Northern Sante Fe, BNSF, for the efficiency of the service.
One of the company's predecessors, Great Northern, once operated the Empire Builder.
Selden doesn't predict rising gasoline prices will pull us out of personal vehicles and prompt us to ride the rails anytime soon at least for shorter distances.
"If you're making a 200 or 300 mile trip, a car is the perfect solution because it leaves exactly when I want to leave and it takes me door to door to exactly where I want to go," he says.
Rail is a better option for long distances, Selden says, or for people not on a tight schedule.
Taxpayers contributed about $1.3 billion this past fiscal year to Amtrak operations. Congress has not agreed on a new funding package but one view is the federal subsidy will come in at about the same or a slightly higher amount.
During the tenure of President George Bush Amtrak funding has doubled. This is despite repeated calls from some elected officials and others to cut the service loose and see if it can survive on its own.
Andrew Selden doesn't think it can.
He believes Amtrak will continue to need public investment to help pay costs. However, Selden argues it's time to allow the private sector, perhaps including rail companies, to bid for the rights to run Amtrak's service.
"Give them a five-year franchise, say, to go in there and operate that and see how they can do. Maybe even one of the private railroads, maybe even BNSF would look at the Empire Builder and say, 'Hey for 20 or 30 million dollars we'd take it back and do a better job.' But you don't know that until you try it and see who responds to it," he says.
High speed rail is the current darling of some rail advocates and elected officials. Gov. Tim Pawlenty and state lawmakers last session approved spending $2 million to study a high speed rail link between the Twin Cities and Chicago.
Andrew Selden says the money would be better spent on improvements to help existing trains reach 90 miles per hour and on expanding the network that feeds the main line service.
"What would happen if we were to put a few million dollars into fixing that railroad so that we could operate three or four local trains a day that would maybe come from Duluth and Fargo through the Twin Cities to Chicago so that we had a real regional service and build up a traffic base before we start talking about high speed," he asks.
Selden says France and Japan invested in high speed rail only after demand for their extensive regular speed rail service outstripped supply.