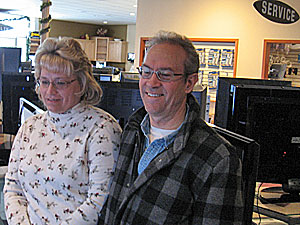 Vickie and Les Milverstedt of Hastings are about to take the plunge.
"We're kind of getting ourselves a Christmas present -- after Christmas," Les says.
The Milverstedts were recently at Robert Paul TV in Roseville, trying to decide which sleek, high-definition, flat-panel TV to bring home.
They settled on a more than three-foot-wide screen and they're excited by the brilliant picture. New televisions, like the one the Milverstedts are buying for $2,000 are equipped with digital receivers -- ready and waiting for digital broadcast signals.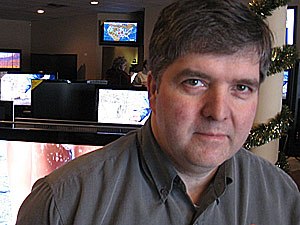 But the Milversteds have a few older TVs that are not digital-ready. Even so, like the vast majority of Americans, the Milverstedts will be ready when all TV stations move from analog to digital broadcasting.
They have cable and their provider will take care of the conversion for them.
TV watchers who use antennas and who have TVs that are not equipped with digital receivers will have to install converter kits to continue viewing free broadcast programming.
"I don't think this can liken itself to anything," says Robert Paul TV owner and president Ben Albaugh.
Albaugh says broadcasting upgrades have long been a part of TV. But he says never before has technology threatened to make existing equipment obsolete.
"They added color in the 1960s. They added stereo sounds in the 1980s, but the old TVs continued to work," Albaugh says. "This is the first time where the product that you have will no longer function without something to go in between."
"I would caution people to not be too nervous. They do have a long time to get this."

Robert Paul TV owner Ben Albaugh
To help consumers with the government-mandated switch to digital TV broadcasting, Congress allocated nearly $1 billion to subsidize the cost of the converter kits. Each household can get up to two coupons worth $40 toward the purchase of a small box that will translate digital signals, so analog TVs will be able to understand them.
Anthony Wilhelm of the U.S. Department of Commerce says the easiest way for people to get the coupons is to call the program's toll-free number or to apply via the program's Web site.
"It'll be a card like a gift card, so it will be a plastic card. You can swipe it at the point of sale, so it's something that consumers are used to," Wilhelm says. "It will have a 16-digit number on it like a credit card. You can also use it in an online environment by putting in that number."
The catch, Wilhelm says, is the coupons are only good for 90 days. And since the switch is more than a year away, he suggests consumers wait to see if the price of converter kits, which are currently selling for about $60 to $70, goes down.
Wilhelm says there's plenty of money allocated for the coupons, and people who wait to apply need not worry about the government running out of money for the program. He says the government is relying primarily on the television industry to get the word out to the public about the converter kits.
The President of the Minnesota Broadcasters Association, Jim du Bois, says surveys suggest many Americans don't understand the implications of the switch to digital broadcasting.
But du Bois expects that will change soon.
"I think you'll see in 2008 a greater number of public service announcements, more programming on stations to call this to the attention of viewers. And look for our association to be doing more too, to help promote this transition," says du Bois. "But I do have some concerns. I think that people have a vague understanding of what's happening, but they may not know the specifics."
Back at Robert Paul TV, owner Ben Albaugh says he's hearing from customers who want to know what's going on with the upcoming conversion, particularly, he says, older people with older TVs. His advice is to pay attention, but don't rush to buy.
"I guess I would caution people to not be too nervous. They do have a long time to get this."
Albaugh also says he suspects that even people with cable or satellite TV will likely need one or two converter boxes -- say for that old TV in the garage or the basement that's not hooked up to the service.