Minnesotans who died in 2007 in Iraq and Afghanistan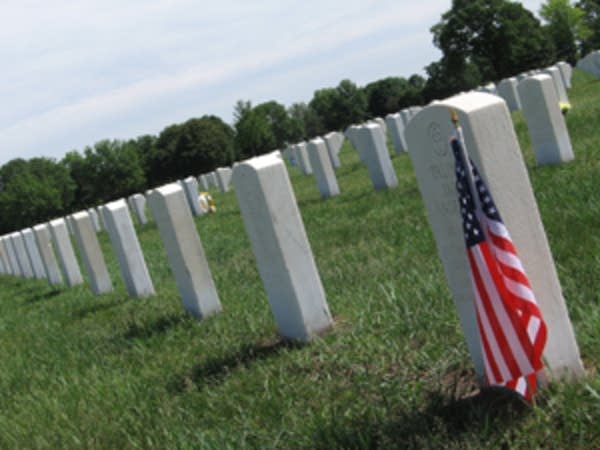 National Guard Sgt. James Wosika, 24, of St. Paul, was killed in combat while traveling on a foot patrol mission near Fallujah, Iraq. An improvised explosive device detonated near his vehicle on Tuesday, Jan. 9, 2007. Sgt. Wosika was assigned to B Company, 2nd Combined Arms Battalion, 136th Infantry, based in Crookston.
Army Sgt. William J. Beardsley, 25, of Coon Rapids, was killed in Iraq when a bomb exploded near his vehicle on Monday February 26, 2007. He died in Diwaniyah. He was assigned to the 260th Quartermaster Battalion, 3rd Sustainment Troop Brigade, 3rd Infantry Division of Fort Stewart, Ga.
Marine Sgt. Chad M. Allen, 25, of Maple Lake, was on his second deployment in Iraq when he was killed February 28, 2007. Allen joined the Marine Corps in 2003. His father, Steve Allen, of Danbury, Wisconsin, described his son as a "very well-loved young man." Allen's mother, Deborah, said he joined the service because "he was going to save his family from harm." Allen was assigned to the 2nd Light Armored Reconnaissance Battalion, 2nd Marine Division, II Marine Expeditionary Force at Camp Lejeune, N.C.
National Guard Sgt. Greg N. Riewer, 28, of Frazee, was killed while on patrol Friday March 23, 2007, in Fallujah with soldiers from the Bemidji-based Company A, 2nd Battalion, 136th Infantry when his vehicle was struck by a roadside bomb, the Guard said. Two other Minnesota National Guard soldiers were injured in the attack.
Grow the Future of Public Media
MPR News is supported by Members. Gifts from individuals power everything you find here. Make a gift of any amount today to become a Member!
Army Spec. Sean McDonald, 21, of Rosemount, died Sunday March 25, 2007 Sunday in Baghdad of wounds suffered when a bomb exploded near his vehicle. McDonald was assigned to the 9th Engineer Battalion, Second Brigade Combat Team, First Infantry Division In Wiesbaden, Germany.
Marine Lance Cpl. Daniel Olsen, 20, of Eagan, was killed when he was shot in the back in Anbar Province on Sunday April 1, 2007. Eagan High School band director Jim Jacobsen said music was a big part of Olsen's life when he was a student. He played the bass drum and the triangle as a member of the school's award-wining drumline. In the marching band, he played cymbals.
Army Spec. Conor G. Masterson, 21, of Woodbury, died April 7, 2007, of wounds he suffered when an improvised explosive device detonated near his vehicle in eastern Afghanistan. Masterson, a medic, joined the Army in February 2005 and went to Afghanistan in September 2005. "He was a comedian," said his mother, Sandra Masterson. "And it didn't matter what was happening, he made you laugh." Masterson's family said he had been married less than a year. He was third-generation military and a 2004 graduate of Woodbury High School.
Army Sgt. Joshua Schmit, 26, of Willmar, was just 10 days away from leaving Iraq when he was killed by a roadside bomb. He had been uninjured in three previous bombings that hit a vehicle in which he was traveling on April 14, 2007. His father, a National Guard soldier heading to Iraq, said his son was a big sports fan. He played varsity football in Willmar and was also on the traveling hockey team.
Army Spc. Robert Dixon, 27, of Minneapolis, died Sunday May 6, 2007 in Baghdad. He was the gunner on top of a Humvee when it was hit. He and his wife were married for fewer than two years. His wife said their last conversation was the night before his death, when they spoke about their future. She just graduated from business school, while he wanted to stay in the Army.
Army Sgt. Jason Schumann, 23, was killed on May 19, 2007 when a bomb exploded near his vehicle in Ad Diwaniyah, Iraq, about 100 miles west of Baghdad. Hawley High School Principal Mike Martin called his former student a "delightful young man in every regard," known by some as "Tuba" for the instrument he played in the high school band.
Army Pfc. Tony Hebert of Lake City, and four others died June 21, 2007 in Baghdad, Iraq, of wounds suffered when an improvised explosive device detonated near their vehicle. They were assigned to the 1st Battalion, 26th Infantry Regiment, 2nd Brigade Combat Team, 1st Infantry Division, Schweinfurt, Germany. Jim Heise, who taught Hebert literature and history, says those weren't his favorite subjects. He preferred more technical classes. "I think he was composed of, what was best from being from Minnesota. He had a quiet dignity to him. He was honest, he was too young to die in the sand, I'll tell you that. Way too young," Heise said.
Army Staff Sgt. Jacob Thompson, 26, of North Mankato, was killed on Monday, August 6, 2007 when a bomb exploded as he was searching a house in Baqubah. Thompson's first deployment to Iraq lasted from November 2004 to October 2005. He spent much of that time in urban combat missions in Mosul and suffered minor injuries in a bomb explosion. Thompson, who graduated from Mankato West High School in 1999, still lived at the home in which he grew up with his parents and two older brothers. He was an avid fisherman who fished close to home, or in far-off places like Canada and the Gulf of Mexico.
Army Sgt. Andrew Nelson, 22, was killed on Wednesday August 29, 2007, while on patrol near Tikrit in Iraq. Nelson enlisted in the Army immediately after high school. He also served one tour of duty in Afghanistan. He graduated from Shanley High School in Fargo, N.D., in 2003 and also attended St. Joseph's Catholic School in Moorhead. Nelson was an altar server at St. Joseph's Catholic Church in Moorhead, where Monsignor Mike Foltz remembered him as a young man with a big heart who was dedicated to serving others, his community, his country and his church.
Army Sgt. 1st Class John Tobiason, 42, died in late November under uncertain circumstances. People say Tobiason was quiet, hard to get to know. But American Legion Post Commander Dennis Lindquist says once you knew him you couldn't say a bad thing about him. Tobiason collected military memorabilia. The military was his life. His sister, Nancy Mitchell, said her brother was was in his 14th year in the military and had planned to serve 20 years before retiring to a cabin in Minnesota.
NON-COMBAT DEATHS
National Guard Sgt. Maj. Michael Mettille, 44, of West St. Paul, died at Camp Adder in Iraq. He was found in his room in his barracks on Feb. 1, 2007 after apparently suffering a heart attack or aneurysm. Mettille, who had been with the Guard for more than 26 years, was serving as the company first sergeant with soldiers of the Brooklyn Park-based A Co., 134th Brigade Support Battalion. Mettille was an organizer for Operation Uplink, which worked with the Veterans of Foreign Wars to provide phone cards for soldiers to call home. Elizabeth Mettille said her father was home for a brief leave in December and told her how much he loved being a soldier.
Army Spec. Randy Pickering, 31, of Bovey, was killed December 9, 2007, in the Baghdad area. The Department of Defense says Pickering died of injuries sustained in a non-combat incident. The military says the circumstances surrounding his death are under investigation.
NON-MILITARY DEATH
William Juneau, 36, of Rush City, was working for the government contractor Dyncorp. He was killed November 26, 2007, when a bomb exploded near his convoy. Juneau began working for Dyncorp in 2006 after a four-year stint with the Chisago County sheriff's department. He got his start in law enforcement in the small southern Minnesota town of St. James in the mid-'90s. A former colleague described Juneau as an easy-going guy who was well-liked. He said it was the prospect of new experiences that attracted Juneau to Iraq.
Gallery
1 of 1