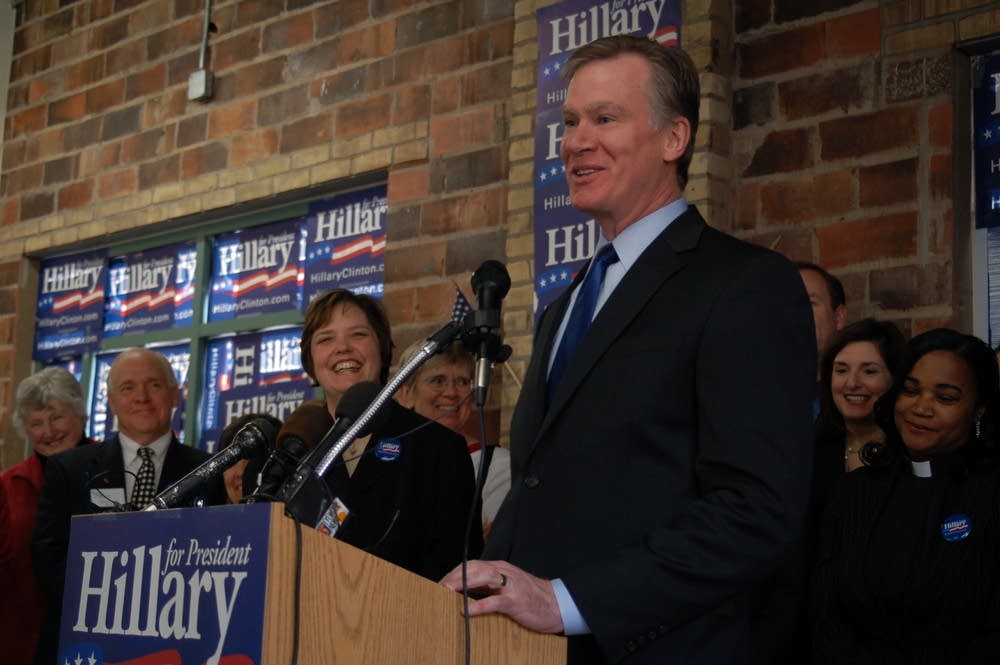 Supporters of Hillary Clinton say her Minnesota campaign office had a different feel this morning after the New York Senator won New Hampshire's primary.
Several dozen supporters attended the official opening of Clinton's campaign headquarters at an office building near downtown Minneapolis.
Former U.S. Sen. Mark Dayton, Minnesota House Speaker Margaret Kelliher and St. Paul Mayor Chris Coleman were just some of those who talked about why they think Clinton is the best candidate. They said she has the most experience, that her chances of becoming the first female president would be groundbreaking and that she would stand up for middle class voters. Coleman said Clinton's New Hampshire victory slowed down the perceived momentum of Iowa caucus winner Barack Obama.
"A funny thing happened on the way to a coronation. We had an election. I want to thank the voters of New Hampshire for giving the voters of Minnesota a chance to weigh in on who's going to be the next president of the United State of America."
The chair of Clinton's Minnesota campaign said Hillary Clinton and her husband, former President Bill Clinton, are likely to campaign in Minnesota before the caucuses.
There is also the possibility that Minnesotans will see Clinton on the airwaves. WCCO-TV's public file shows that Clinton's campaign has inquired about buying ad time. She is the only presidential candidate so far to make such a request.
Minnesota organizers for Barack Obama's campaign announced Wednesday that they will open new campaign offices in Minneapolis and Duluth to go along with their St. Paul office. Campaign organizers say they have already contacted 25,000 people who may attend the caucuses.
DFL Congresswoman Betty McCollum, who endorsed Obama in December, said she is undeterred by the New Hampshire results.
"We would have liked to be number one? Sure. Are we pleased we came in as close as we did compared to a month ago? We're very happy that we came in that close."
On the Republican side, Gov. Tim Pawlenty says he is pleased that Sen. John McCain, R-Ariz., won New Hampshire. Pawlenty is co-chairing McCain's presidential committee and has campaigned on McCain's behalf in Iowa, New Hampshire and Michigan. He said McCain's victory reenergized the campaign and is prompting voters to give McCain a second look.
"Everybody had written him off for dead a few months ago and now he's like Lazarus, he's come back from the dead. This victory is very important. It gives people a sense that he's back but clearly he needs to parlay this into victories in some other places."
One of those places is Michigan, which holds its primary Jan. 15. Pawlenty says he expects to campaign there this weekend on McCain's behalf.
Michigan may also be a critical state for former Massachusetts Gov. Mitt Romney. Romney finished second in Iowa and New Hampshire and won Wyoming's caucuses.
Brian Sullivan, co-chair of Minnesotans for Romney, said on a conference call that there is no clear favorite right now for the GOP. He said Romney has been doing better across the board than the other candidates.
"What's becoming clear is that this campaign isn't going to be a knockout it's going to be a slog and so the guy who can get the broadest support over a wide range of primaries and all of the quirks that each of the primaries have is going to be the guy left standing and I think that's going to be Romney."
Sullivan said Romney has "penciled in" a visit to Minnesota before Feb. 5. The Minnesota organizers for Mike Huckabee's campaign said earlier this week that they were hoping the former Arkansas governor will campaign in Minnesota. A member of the leadership team also said they are working to contact Evangelical pastors and conservative groups with the hopes of identifying evangelical voters. He said those voters were key to Huckabee's victory in Iowa.