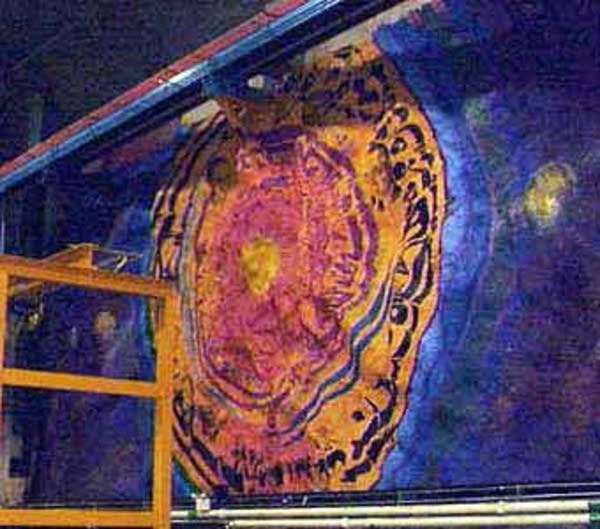 The NOvA project is an extension of a physics experiment underway in a below-the-surface laboratory in the Soudan State Park Underground Mine.
There, a series of huge plastic discs trap tiny energy particles. The particles are shot in a beam from the Fermi National Accelerator Laboratory hundreds of miles away near Chicago.
The NOvA project is to sample that same beam, but with a massive mineral oil detector, in a building almost as wide as a football field and 70 feet high.
There, surrounded by the woods of Ash River Township, scientists would study neutrinos -- high-energy particles from nuclear reactions or radioactive decay.
Soudan Lab Manager Bill Miller says, beyond the science, the new lab would have been a big economic plum for a very rural part of northern Minnesota. Constructing the project's building and road would have pumped almost $47 million into the area.
"There's a large impact on the local community in jobs, and housing, and money spent in the community," Miller says. "So, not having these things happen is obviously a big blow to the future of those areas, where there's not a lot going on in the Ash River area."
The Soudan lab draws a parade of physicists and visitors who stay in area hotels and eat in area restaurants. It has nine full-time employees, and it spends $1.5 million a year, much of that in northeast Minnesota.
"This was such a big bomb dropped on us right before Christmas."

Bill Miller, manager of the Soudan lab
Miller says the new project -- the NOvA project -- would have that same kind of impact. Just building it will be huge and expensive, and employ mostly local workers to build the structure the detector goes in.
"Once we get to the stage where we're building the detector, we would have roughly around 30 full-time people for about two years to build the detector," Miller says. "And then it would take somewhere between five and eight people to run the detector, and we'd have to take data for roughly around 10 years. So, some people would have jobs for, kind of, 15 years."
As of December, everything was a go. Construction was expected to begin this spring. And then, a nasty surprise, tucked into an omnibus spending bill.
Congress stripped money for high-end physics, hitting the Fermi National Accelerator Laboratory particularly hard. Fermilab pays for the Soudan lab and the NOvA project. Now, NOvA is on hold, and Miller says the Soudan lab is taking a 10 percent hit.
"This was such a big bomb dropped on us right before Christmas. But we think we have enough ways of making budget cuts without having to lay anybody off here at the lab," Miller says.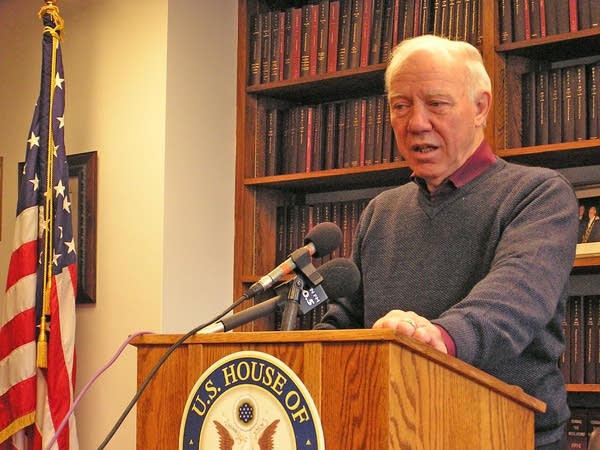 The Soudan lab and the NOvA project are both in Minnesota U.S. Rep. Jim Oberstar's home district, but he too was taken by surprise.
"The neutrino research is the most advanced of particle physics in the world, reaching into the very origins of the universe 15-plus billion years ago," Oberstar says. "It's disappointing that the Subcommittee on Energy and Water Appropriations, in the pressure to cut funding, chose to make this cut."
Oberstar says he'll try to restore funding, possibly in the coming year.
"There's always a supplemental appropriation bill, and we'll seek to restore funding in it, or in the permanent appropriation bill for fiscal '09," Oberstar says.
Both projects are managed by the University of Minnesota. Marvin Marshak is a professor of physics there, and principal investigator for the Soudan lab.
Marshak says at this point the lack of funding will only delay, but won't kill the NOvA project. But there are similar experiments underway in Japan and China, giving researchers in those countries an edge in new discoveries.
"From the point of view of science, it doesn't matter who discovers what," Marshak says. "But from the point of view of personal satisfaction, you really hate to be on the sidelines and watch someone else win the football game."
There's some money left from the last appropriation to keep NOvA's planning alive. But construction on the massive building in Ash River township will have to wait for the big bucks from Congress.