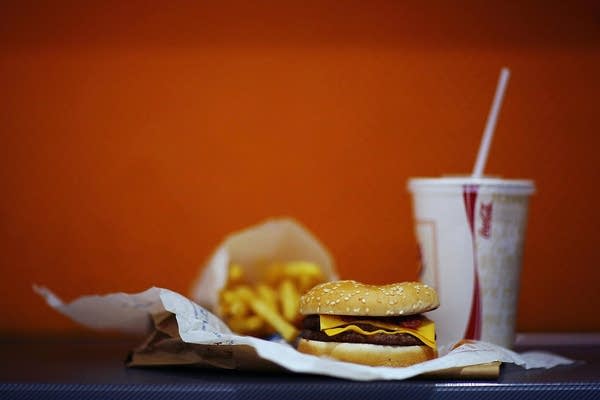 A new University of Minnesota study links consuming fast foods, even diet soda, to a medical condition that can lead to diabetes and cardiovascular disease.
The authors studied the eating habits of almost 10,000 people. They concluded that consuming two portions of red meat a day increases a person's risk of developing what's known as metabolic syndrome by 26 percent.
"So limit the amount of red and processed meat per day," says Lyn Steffen of the U of M's School of Public Health, who co-authored the study. "I'm not saying don't eat it at all, but eat a variety of foods in moderation."
Diet soda, which typically has few, if any, calories, increases a person's risk 34 percent.
Steffen says the study doesn't pinpoint whether it's an ingredient in diet soda or the other foods that causes the problem.
"Another reason could be that there's some behavior we haven't measured associated with diet soda consumption that's actually contributing to the increased risk of metabolic syndrome," says Steffen.
Steffen adds that fried foods are also a risk factor.
"Fried foods are typically synonymous with commonly eaten fast foods, so I think it is safe to say that these findings support a link between fast-food consumption and an increase in metabolic risk factors," she says.
Dairy products, by contrast, appeared to offer some protection against metabolic syndrome.
Metabolic syndrome develops if a person has three of five conditions, including excess belly fat, high glucose levels, elevated blood pressure or undesirable cholesterol levels.
The syndrome further increases a person's risk of developing more serious conditions.