Dan Schak runs a trucking company based in the southwest Minnesota town of Tracy. Schak's drivers spend a lot of time on State Highway 23, especially near the area of Tuesday's fatal bus accident.
"When I heard there was an accident on 23 I thought right away, I bet it's by Cottonwood," Schak said.
Highway 23 is the main artery for southwestern Minnesota, and most of it is two lanes wide. When Schak's drivers come off the road, their stories usually involve what they've seen 10 miles either side of the town of Cottonwood.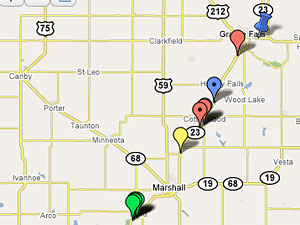 "Close calls," he said, "a lot of close calls. People turning in front of them. I think it's the road is wide enough in those areas, but it seems like people are just not paying attention."
Other drivers have seen similar risky behavior. Mary Beth Faiman lives in Marshall, and drives on Highway 23 from her town to Granite Falls once a week.
"People do scoot across those roads," Faiman said. "So I'm very careful about watching when I hit those intersection and say, 'OK, are they going to try to get across before I get there?'"
Marshall resident Stephen Davis said before he drives on Highway 23 he considers the dozens of intersections with rural roads, and the numerous semi-trucks and agricultural vehicles that share the highway.
"I try to avoid 23 and take County Road 19 when I'm going to the Cities or other places, just because it is such a heavily travelled piece of road," Davis said.
"When I heard there was an accident on Highway 23 I thought right away, I bet it's by Cottonwood."

Dan Schak, trucking company owner
MnDOT classifies Highway 23 in southwestern Minnesota as a high-volume road. About 4,000 vehicles travel between Cottonwood and Marshall every day. But Tom Behm, a MnDOT engineer in Marshall, said by all standards 23 is a very safe road.
"The roadway is pretty much flat, the shoulders are 10 feet wide at least, so we feel that design-wise it's a very adequate road," he said.
Behm said MnDOT records specifically covering the site of Tuesday's crash show no major crashes at that intersection in the last decade.
"What we found were three minor property damage accidents at that location, so definitely not a high-risk, high-accident rate intersection," he said.
Even so, there are some who say MnDOT could do more to make the stretch of road safer.
David Sturrock, a professor at Southwest Minnesota State University in Marshall, serves on a transportation committee for the local chamber of commerce. Sturrock said increasing traffic on Highway 23 in recent years has made rural intersections like the one near Cottonwood more dangerous.
"The real real risk you have is there's less margin for error," Sturrock said. "The more traffic, a higher rate of speed, the less window there is to correct for misjudgment."
Sturrock has asked MnDOT to take a second look at the safety of some Highway 23 intersections in Marshall, after several serious accidents in recent years.
While Sturrock said no one is sure what caused Tuesday's bus accident, he thinks simple things such as better road signs and more turn lanes could help prevent future accidents on Highway 23.