A public records search turned up a 23-year-old woman named Alianiss Nunez Morales in Chester, Connecticut. The records indicate her Social Security card was issued in Puerto Rico.
Alianiss is not a common name. Two Spanish linguistics professors contacted for this story say they've never heard of it. They say it could be a name created by parents.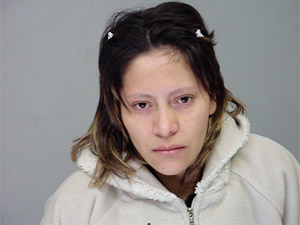 Friday the prosecutor in the Cottonwood case said immigration officials went to Puerto Rico to talk to the grandmother of a person named Alianiss Nunez Morales. They showed her a mug shot of the woman now sitting in the Lyon County jail.
"He showed me an ID with the picture of a dark woman with dark eyes," says the grandmother, Alejandrina Correa. "And he asked me if that was Alianiss, and I said, 'No, that's not Alianiss. Alianiss is blonde with green eyes.'"
Correa told Minnesota Public Radio she raised Alianiss from the age of 1 after her parents died. Correa doesn't know where her granddaughter lives, only that she moved to the continental U.S. with her two daughters and a friend. She doesn't know her granddaughter's phone number and doesn't have a way to make contact.
He showed me an ID with the picture of a dark woman with dark eyes, and he asked me if that was Alianiss, and I said, 'No, that's not Alianiss. Alianiss is blonde with green eyes.'"

Alejandrina Correra of Puerto Rico, grandmother of a woman named Alianiss Nunez Morales
The grandmother said the investigator who came to her door said Alianiss had apparently lost some documents and that another person used them.
The Web site MySpace has a page belonging to an Alianiss Nunez who lives in the same Connecticut town, Chester. She lists her age as 23 and describes herself as a single mom from Puerto Rico who likes soap operas.
In photographs, the woman partially fits the grandmother's description. Her eyes are green, but her hair is brown, not blond. The page is decorated with pink fairies. This Alianiss says she wants to give her two children opportunities she never had.
We received no response to several emails to the MySpace account. Outside of Puerto Rico, there is no working listed phone number for Alianiss Morales in the U.S.
Authorities won't say if there's any link between the Alianiss in Connecticut and the woman who drove a mini-van into the school bus in southwestern Minnesota on Tuesday.
That woman told officers she lives in a Minneota trailer and is originally from Mexico. She was driving without a license. Authorities say she has been uncooperative in revealing her true identity.
Immigration officials haven't said for sure whether this is a case of identity theft. But Puerto Rico is a big source of fake documents for illegal immigrants in the United States.
Tim Counts with the U.S. Immigration and Customs Enforcement wouldn't give any specifics on the Morales case. But he did say identities from Puerto Rico are highly sought in the underground identity trade.
"Many times illegal aliens will assume the identity of a Puerto Rican U.S. citizen because of the commonality in the language and will use that identity. It's difficult to say exactly how it happens, how those identities are channeled here, but we do find that's a fairly common occurrence," he says.
In 2006, a Worthington man was indicted on charges that he was selling Puerto Rican birth certificates and Social Security cards to illegal immigrants in search of work.
Authorities say sometimes the identities are stolen. In other cases, the true owners of the identities will sell their documentation for a few hundred dollars to illegal immigrants or document dealers.
"The reason Puerto Rican birth certificates are so valued in the community is that enables the person to claim they're a United States citizen," says Mark Cangemi, a former ICE special agent who now works as an attorney focusing on immigration issues. He says illegal immigrants can buy packets of Puerto Rican documents that he calls "legitimate paper."
"And what I mean by that are legitimate Puerto Rican birth certificates that have the appropriate biographical data, with a supporting Social Security number issued to that individual. These packets were being sent to Worthington and other areas in that part of the state and being sold for upwards of $1,700 a package," Cangemi says.
Speaking generally about stolen-identity cases, Cangemi says officials must thoroughly investigate a suspect's background. He says while all of a suspect's documents may be consistent with one another, it still doesn't prove that's the person's true identity.
Investigators will ask where someone went to school, and for parents' names, and will interview neighbors. Then they'll compare what they've learned to information in federal government databases.
"There's a lot of information that can be verified, and with some effort, you can determine whether the person is the rightful holder of that identity. Or if not, you can establish that that is not the person to whom the identity was issued. But it still does not tell you who that person is," Cangemi says.
Investigators apparently will need to consider the possibility there are two women who share the name of Alianiss Nunez Morales--one in Connecticut, and one in the Lyon County jail.