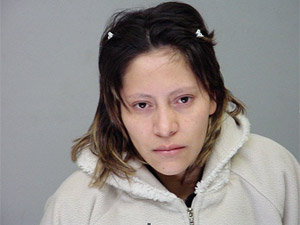 Guatemala native Olga Marina Franco del Cid is being held in the Lyon County jail in Marshall, Minn. An arrest warrant has been issued for her boyfriend, who remains at large.
The federal charges address the alleged identity theft, which kept Franco del Cid's true name a mystery for almost a week.
At the time of the accident, she told authorities her name was Alianiss Nunez Morales. Within a day or so, investigators had determined that was not her real name.
Minnesota Public Radio reported last week that a woman of the same age, and with the same rare name, was apparently living in Connecticut and had a Social Security number issued in Puerto Rico.
Friday officials said investigators had located the true Nunez-Morales in Connecticut, who said her purse and identification documents were stolen more than six months ago while she was living in Puerto Rico.
The federal charges allege Franco del Cid used the Nunez-Morales name and her Social Security number on Franco del Cid's Minnesota job applications.
Agents searched Franco del Cid's trailer home in Minneota, Minn., a few days after the crash. There they found her Guatemalan birth certificate and other documents. Correspondence found in the trailer showed Franco del Cid had often sent money home to her mother in Guatemala.
Also found in the Minneota trailer were identification papers for her boyfriend, Francisco Sangabriel-Mendoza, a native of Mexico.
He was the registered owner of the van which struck the Lakeview school bus.
The charges also allege he was using the identity of a native of Puerto Rico. Sangabriel-Mendoza also allegedly used the false identity on job applications.
He married a U.S. citizen four years ago, but later he was divorced. Because of the divorce, immigration officials denied his petition for permanent legal status last September, and he was ordered to leave the country.
Both the van driver and her boyfriend worked at a cabinet factory in Cottonwood at the time of the accident.
The bus crash happened about a mile south of town. The four students killed in the crash ranged in age from 9 to 13 years old.
Franco del Cid's next scheduled court appearance is April 21 in Marshall.