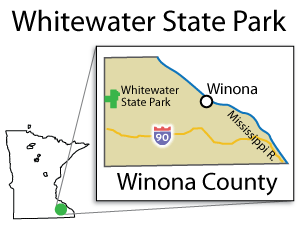 Last August's floods in southeastern Minnesota devastated Whitewater State Park - washing out 11 bridges, wiping out roads and camping areas, destroying buildings and killing three-fourths of the fish.
Now, the park is slowly rebuilding and getting back to normal activities, including springtime maple syrup tapping.
Over the weekend, families took part in the tradition of tapping trees, collecting sap and boiling it into maple syrup. Participants got to taste both the watery sap and the maple syrup.
"When I start that tap I get excited because spring is coming," said park naturalist Julie McCormick, who led a demonstration on Saturday.
In the spring, sap that has been hibernating in tree roots during the winter is forced toward the top of a tree, giving buds nutrients to grow leaves. The syrup season lasts anywhere from two to six weeks, and depends on the weather.
Saturday's weather conditions were perfect, McCormick said. About 30 people followed her to the sugar bushes where they saw buckets hooked onto tree trunks, collecting sap one drop at a time. In the middle of the grove, a large metal pot boiled sap.
Jeff Johnson, who brought his family from Rochester, said he didn't expect the sap to drip from the tress like it did, at a rate of about one drop per second. He dipped his finger into the sugar water and found it didn't taste all that sweet.
Kids took turns drilling into the trunk of a maple tree, and the group also brought buckets filled with sap to the boiling pot, where it takes between four and five hours to make syrup.
But the best was saved for last, when everyone got to taste syrup-covered ice cream.
"All of it was pretty fun," said 6-year-old Ben Johnson.
And more summer fun is on the way, as Whitewater State Park continues to rebuild. The park will open for hiking and fishing April 1 and open for camping on April 11. --------
Information from: Winona Daily News, http://www.winonadailynews.com