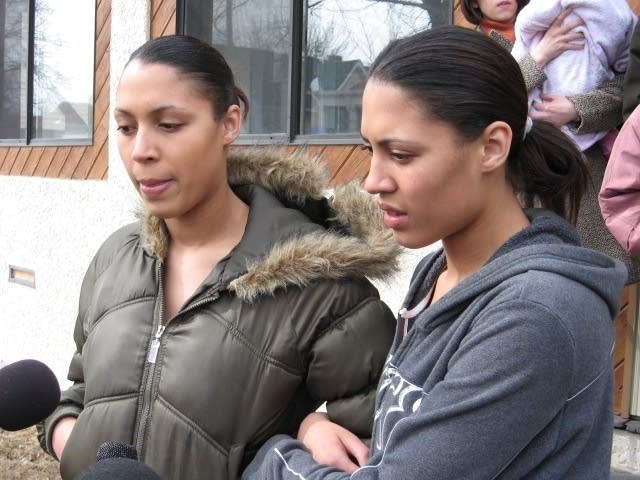 Members of Paul Johnson-Reuben's family shed few tears in front of the cameras and microphones which circled the front his grandmother's south Minneapolis home. Kathy Reuben, Paul's ex-wife and mother of his twin daughters, stood on the front step.
She said she got a call last night from the FBI telling her Johnson-Reuben's body had been positively identified as one of several recently found in Iraq.
"Today we do get to -- we get to grieve, to feel better. It's over. Paul is in heaven. He's a happy man today," Reuben said.
Johnson-Reuben was working for Crescent Security Group, a Kuwait-based security contractor operating in Iraq. Johnson-Reuben had previously served in the Marine Corps and as a police officer in St. Louis Park until 2003. Kathy Reuben said Paul was always willing to get into the middle of things and try to help.
"One time, the girls can tell you about this car accident. They pulled over, and Paul held this lady's neck until the ambulance arrived, and he held her neck for how long? 30 minutes to stabilize her neck," Kathy Reuben told the group. Johnson-Reuben's daughter Bree said she wasn't surprised that her father wound up going to Iraq. She said not only did he like to help people, he was a risk-taker. But Bree said her dad began to get nervous about what was happening around him.
"The last time we talked to him, he said it was getting really dangerous out there. He was really scared for his life. And he just wanted to -- stop doing this after a while. Because he was so scared because there was a lot of car bombings, just a lot of things going on over there," Bree said.
Johnson-Reuben went to Iraq in 2004. He'd recently left the St. Louis Park police department after a drunken driving arrest. Johnson-Reuben eventually joined Crescent Security Group. That company shut down after running into trouble with the U.S. military. Last year, the Washington Post reported that Crescent violated U.S. military regulations and sacrificed the safety of its employees in order to cut costs. According to the Post, Crescent understaffed the mission which ended with the abduction of Johnson-Reuben and his colleagues.
Company officials quoted in the Post's article deny that charge and put some of the blame on the men themselves.
But some former employees of Crescent said the company did a poor job of screening and training their personnel.
"This company is taking people, with no background screenings, and giving them guns," said Jamie Gaygon, who worked for Crescent Security Group in 2005.
Gaygon is a former Marine and a combat veteran of the first Gulf War. He left Iraq before the abduction and he doesn't know the men who were taken. But Gaygon said he feared something like this would happen. That's because when he worked for Crescent, the guards weren't told what to do when confronted by Iraqi police. He said he learned from a buddy to always keep his gun pointed at anyone who tried to stop them.
"Because you just don't give up your weapons. The way these guys were abducted should never have happened," Gaygon said.
Minnesota Public Radio tried unsuccessfully to contact Crescent officials.
Crescent's managing partner, Franco Picco told the Washington Post that he'd spent 300 thousand dollars in an attempt to find his captured employees. He was quoted as saying "Whether it takes me 10 years or a month. That's just the moral thing to do. . . . These guys are part of me."
But that's little comfort to members of the Paul Johnson-Reuben's family who await the return of his body, so they can have a funeral.
Johnson-Reuben's younger brother Quinten said he'd heard allegations that Crescent was cutting corners that could have resulted in his big brother's kidnapping and death. But he said right now his family needs time to heal.
"I just want to take this time to thank everybody, the families who've pulled together. Obviously, this has been a really hard time for our family. We're just really thankful for all the support we've gotten from family and friends. It's been really critical to our strength as a family," Quinten said.
Paul Johnson-Reuben is survived by a host of family members, including his five-month old granddaughter Ka'Leah, whom he never got a chance to meet.
TCF bank has set up a fund in his name in order to collect donations for his family.