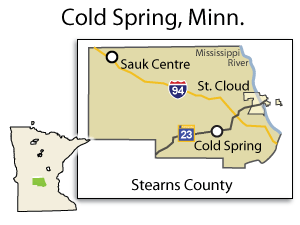 Talk to students from Rocori High School's freshman phy ed class, and they'll tell you something strange happened Wednesday. Just after they got into the school's pool, its water jets spurted to life.
"Fast. And it was loud. It kind of felt like they just turned the jets on, but it was different," said Devon Schutz, 15.
"If you looked at one of the jets, there were like bubbles coming this far out of the water, I didn't really know what was going on," said Tressa Theis, also a 15-year-old freshman.
Theis described what happened next.
"After the jets went on kind of a haze came up off the water, and some it got in your mouth and it was just bitter, a bitter taste on your tongue and in your throat," Theis said. "And everybody started coughing, and so we swam to the other side of the pool just to get away from it,"
The whole class, that's 37 students, started coughing violently. Thinking it was some sort of chemical that made the kids sick, the teachers told them to head to the showers and clean off. That's when Devon Schutz said the worst hit him.
"As I was walking down the stairs to the locker room, I threw up," he said. "And my friend Alex, he was throwing up to so we just sat by each other with a wastebasket."
Firefighters came to the scene, gave the students oxygen and then sent them off to hospitals in the nearby towns of Paynesville and St. Cloud.
The St. Cloud Hospital had the students shower in a decontamination tent, and then gave them oxygen and breathing treatments to sooth their symptoms.
The St. Cloud Hospital treated 30 individuals. 16 were held overnight, but they've all been released.
Now here's where things get a bit confusing.
Rocori superintendent Scott Staska says a Hazmat team from St. Cloud did a sweep of his school shortly after it was evacuated, and they found nothing.
"There were no signs of any chlorine leak," he said. There were no hazardous chemicals in the air. We're at a loss to explain what happened, I have no idea"
All of the pool's equipment has been investigated and found to be in working order by school officials, a pool supplier, county officials, state officials and even federal investigators. Staska says the symptoms the students experienced seem genuine, but they can't find a reason why they became ill.
When Gary Edwards heard news coverage of the incident, he had his doubts that it was a chlorine gas leak.
Edwards supervises swimming pool inspectors for the Minnesota Department of Health.
"I was a little skeptical that that could happen," he said. "Because the way chlorine gas is stored and delivered the chance of that happening is reduced. I'm not going to say it's impossible, but the odds of happening it are remote."
That's because Edwards says chlorine gas isn't used at Rocori, it's in a liquid form.
While he's still investigating what exactly happened, he does have a theory. The water pumps at the pool were shut down right before the gym class, for about 10 minutes or so, for maintenance. During that time bleachy smelling chloromine may have built up in the pipes.
"And then when the system got turned on chloromines were pushed out at a little higher level than normal and caused a temporary irritation to the kids," he said.
Edwards said that could be the reason for the itchy eyes and coughing some of the kids experienced. But it's pretty mild considering what pure chlorine gas would have done. Chlorine gas mixes with water in the lungs and becomes hydrochloric acid, causing permanent damage and possibly death.
Investigators say they'll continue looking into what, if anything, made the students at Rocori sick.