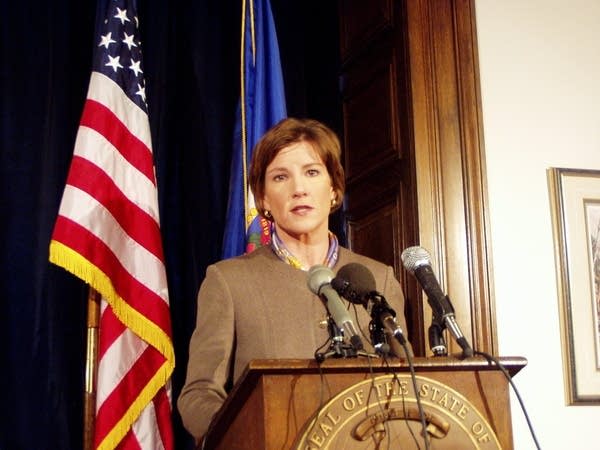 James Nobles agreed to launch the inquiry Friday after meeting with a panel of state lawmakers. Nobles says the preliminary findings will help him decide if a bigger investigation is warranted.
The state Senators and Representatives who make up the Legislative Audit Commission spent nearly two hours debating the merits of investigating the attorney general's office.
Current and former attorneys in the office have accused Lori Swanson and other top administrators of pressuring them into ethical compromising situations.
Rep. Steve Simon, DFL-St. Louis Park, who spent five years working in the office, called the allegations unsettling.
"The people in that office, everyone from top to bottom, has to be held not only by us but has to hold themselves to the highest possible ethical standards each and everyday," he said. "And corner cutting and winking and nodding is simply not appropriate."
Simon repeated allegations made public recently by Amy Lawler, an assistant attorney general who was suspended from her job earlier this month for failing to report an ethical concern through proper channels.
Lawler claimed she was directed to file lawsuits with high publicity potential even though defendants had not been identified. Other lawyers have claimed anonymously that they were pressured to give bad advice to state agency clients or to add false information to consumer affidavits.
Swanson has denied the allegations.
But Simon said an independent investigation by the Office of the Legislative Auditor could put the matter to rest.
"I don't think it's in anyone's interest for us to have an attorney general's office that is stained by allegations of ethical misconduct," he said. "And in fact I think it would be best for the public if after an exhaustive review and after interviewing people under oath compelled testimony if need be, if the attorney general's office gets a clean bill of health."
Simon described Swanson's recent decision to bring in a local law school dean to conduct an investigation as a flawed approach. But other commission members had misgivings about their own intrusion into another branch of state government.
The panel declined to vote on authorizing an investigation and instead let the legislative auditor move forward under his own statutory authority.
Sen. Ann Rest, DFL-New Hope, argued that a broad search for potential wrongdoing would be unfair to the attorney general.
"Does that mean that you're going to talk to every single attorney and staff person in the attorney general's office? And what will the question be? Will the question be is there anything bad going on in this office? That's the kind of fishing expedition that has nothing to do with partisanship, but it's very political," she said.
The attorney general's office has been divided the past year over an effort by some attorneys to form a union. Swanson has blamed union organizers for trying to embarrass her and the office.
In a written statement, Swanson said she welcomes the legislative auditor's investigation and once again pointed the finger at union leaders as the source of the ethic allegations.
Legislative Auditor James Nobles assured legislators that his investigation would deal with allegations of improprieties, not labor issues.
"Sometimes you have to do these inquiries because so much controversy has been created," he said. "And the public has been told so many things that are left in doubt that somebody needs to step forward and do a credible inquiry and either say the allegations are true or not true."
Nobles said he should know within the next few weeks whether a larger investigation is needed. He says that work would take several months to complete.