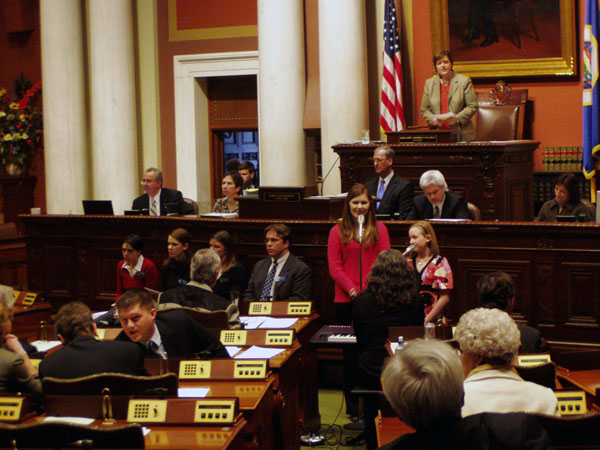 Lawmakers in the Minnesota House and Senate worked late into the morning to pass bills that erase the state's $935 million projected budget deficit.
The House and Senate passed different budget bills in the hope that their plan will bring the 2008 legislative session to a close. But Gov. Tim Pawlenty said the bills are unacceptable.
The two finance bills target funding for nearly every aspect of Minnesota state government.
There is money to monitor bovine TB and grants to create films and shows that will end up on TV. The Senate bill includes funding increases for schools and cuts spending for hospitals, the courts and public colleges.
Senator Dick Cohen, DFL-St. Paul, said the Senate bill is a reasonable approach to meeting the Legislature's constitutional obligation to balance the budget.
"We at times have to do some things that we don't like. We have to do things that are difficult. And we have to do things that we know won't please all of our constituents. And unfortunately, this is a day that falls into the latter, because this bill is not a pleasant bill. But it's a bill that we have to pass," Cohen said.
Lawmakers are required to balance the state's budget by June of 2009, but lawmakers want to act soon since they have greater pots of money to deal with.
"The Legislature is putting together bills that they know are not acceptable to me."

Gov. Tim Pawlenty
Democrats in control of the House and Senate say their bills protect funding for schools, nursing homes and local governments.
The two bills also rely on the state's budget reserve to offset deeper spending cuts. That worries Senator Geoff Michel, R-Edina.
"I find it frightening to think we are emptying our cash flow account, that we are tapping our budget reserve. Because what we're doing there by using that amount of one-time money, it's just going to be tougher next year," Michel said.
The Senate gave preliminary approval to the bill on a divided voice vote. The debate in the Senate lasted six hours. In the House it was much longer.
That body considered amendments on everything from gun rights to abortion to cleaning up landfills.
The bill would change the name of the state boxing commission to the Combative Sports Commission to showcase mixed martial arts.
Lawmakers also voted to remove a provision that allowed bars within ten miles of the Xcel Energy Center to stay open to 4 a.m. during the Republican National Convention.
Representative Brad Finstad, R-Comfrey, objected to the size of the bill.
"This is a garbage bill," Finstad said. "There is more pages of policy, I mean, I'm not going to ask for a show of hands, but I would be willing to bet there's a large majority of people in this body that have not read the 300 plus pages of this bill. You look at the finance sheet of it, it's about a small novel. This is a garbage bill, members."
Several Republicans also complained that the bill will be vetoed in its current form. They say it spends too much and is focused on the wrong priorities.
But House Majority Leader Tony Sertich, DFL-Chisholm, said their bill includes many of the governor's proposed budget cuts but doesn't wield as large a budget axe on certain sectors.
"Members, this House budget proposal is responsible; it's balanced, and it reflects the critical priorities of our state," Sertich said. "The plan has a reasonable combination of budget reductions, use of reserve funds and increased revenues by closing corporate tax loopholes."
But the bills also target many of Governor Pawlenty's key initiatives.
Lawmakers take funding from Q-Comp, a merit based teacher pay system, to give more money to general school spending. They also cut funding for the governor's rural small business development program.
The governor said he didn't like the bills.
"The Legislature is putting together bills that they know are not acceptable to me. And the question will be whether they're willing to compromise and put them into acceptable form in conference committee. But it doesn't appear like they're going to do that coming off the House floor," Pawlenty said.
The governor also said Democrats aren't going far enough to address the budget deficit in the way he would like.
He has proposed spending cuts, using a portion of the state's budget reserve and transfers from a health fund to balance the budget.
A joint House and Senate conference committee will begin negotiating their differences on the budget bill. They have until May 19th to finish their work.