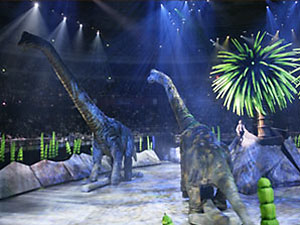 While the show's title, "Walking with Dinosaurs, The Live Experience," might make you might think you're actually walking through a dinosaur exhibit, that's not quite it. You'll be sitting in the Xcel Energy Center in downtown St. Paul. Above -- and in front of you -- will be massive, moving dinosaurs.
Fifteen life-size dinosaurs will come to life through animatronics and special effects. This is a theatrical version of a BBC documentary series called "Walking with Dinosaurs." The plot will involve carnivores trying to eat vegetarians.
Twenty fourth graders from Horace Mann Elementary School in St. Paul got a sneak peak of the show. A short film at a press conference showed the fourth graders what the performance will look like live.
The students told their teacher, and so far, they're impressed.
The people who designed the dinosaurs have worked on creatures for movies like Star Wars. They tried to make the dinosaurs look as accurate as possible, including the skin, muscle, and movements.
One student, Noah, was so anxious to see what the show would be like that he turned to the Internet to get a preview.
"When I saw the YouTube video and saw how swiftly they moved, it was just amazing," he said.
It took six years and $20 million to create these dinosaurs. The show first launched in Australia and will tour North America for two years.
The show's director, Scott Farris, told the news conference by phone that audience will be able to look either down or straight up at the dinosaurs from the arena.
"The Brachiosaurus are up over 30 feet with their heads and they're about 70 feet long, so if you're sitting up even on the second tier, those Brachiosaurus can look right up at your face," Farris said.
The Xcel Energy Center's Director of Sales and Marketing, Kelly McGrath, said this will be an educational experience for adults, too.
"The show has been carefully written and produced so that it is as accurate as current science allows, making it a wonderful learning experience for the entire community," McGrath said.
A narrator will walk show-goers through the dinosaurs' evolution. Tickets will go on sale this Saturday, and will range from $30 to $75.