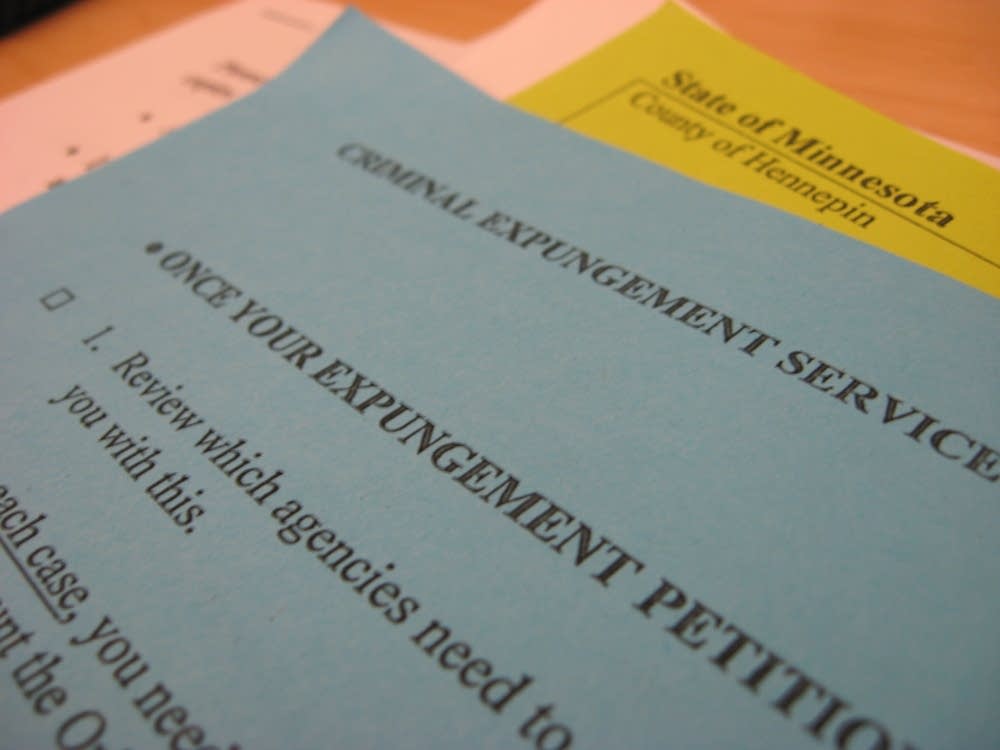 The problem for Lisa isn't finding a job, it's getting her old job back. The mother of two loved driving a bus for the Headstart program.
"Right now you can throw a number out and I'll tell you exactly where it's at," she said during a recent interview in her home in St. Paul. "I don't remember the kids' names but numbers and streets, I'm on 'em."
But Lisa was let go a few years ago, after Headstart ran a background check and found her cocaine conviction from the early '90s. It didn't help that the search also mistakenly tagged another Lisa with the same name and a much worse rap sheet.
MPR is not using Lisa's full name because it might affect her ability to find work.
She's one of many people whose college-aged drug bust or bounced check has caught up to them. Her story is more common now, because of more post-9/11 security, but also because of a boom in websites that now do many of the background checks that used to require a trip to the courthouse.
Lisa is doing carpentry work, but would much rather drive that bus. She served six months in prison for her cocaine conviction. And while she didn't come out a new woman, after a while she says she got tired of being tired and turned herself in after breaking parole.
"The officer said 'this is the easiest arrest ever, I'm not even going to put handcuffs on you.' and I said 'thank you,' " she said.
Lindsay Shaw, who works for Southern Minnesota Regional Legal Services in St. Paul, said Lisa and others like her can get an expungement, but it's not complete.
"Your records are held by about 12 state agencies," Shaw said. "So when the judge grants an expungement he only seals one of 13, so if you go to the courthouse, I can't see your records, but if I go online, I can."
Courts in Minnesota have in recent years almost consistently ruled that they can expunge records that are housed in the judicial branch, which usually means the courthouse.
But not records that are filed at state agencies, like the Bureau of Criminal Apprehension or the Department of Corrections because they're in the executive branch.
"Why do they call it an expungement if they don't seal anything?"

Lindsay Shaw, SMRLS lawyer
In other words, the judicial branch can't tell the executive branch what to do, which Shaw said is frustrating.
"The majority of the time they say, 'Well that won't help me - why do they call it an expungement if they don't seal anything?' and I say, 'I don't know.' " Shaw said. "So that's what we're up against."
The case before the Supreme Court centers around a woman known by her initials - S.L.H. - a single mother of four who can't become a Head Start teacher because of a 15-year-old drug conviction.
Lawyer Kim Ruckdaschel-Haley, who represents S.L.H., is worried that if courts don't have the power to expunge all records in all branches, people like S.L.H. won't have any options.
"If they have nowhere to go there's going to be recidivism, there's going to be unemployment, there's going to be situations where people are just desperation, given their stead in life," she said. "That's why this is so important."
Even those who've argued against S.L.H. agree she shouldn't be kept from a job. But they wonder whether expungement is the best solution.
Hennepin County attorney Mike Freeman says expungements are expensive, and they don't do the complete job - thanks to all those privately-run websites that compile records.
"You can get your records expunged but there are still a lot of people who know what happened," he notes. "You can get arrest records expunged, but a lot of employers and data miners already have that information."
Freeman thinks a better solution is to ban private employers and landlords from rejecting someone based on those old records.
The Court of Appeals told S.L.H. it could only expunge those judicial branch records, but the same court recently ruled in another case that the record of another person - initials V.A.J - could be expunged from all branches.
The Supreme Court hasn't said whether it will hear that newer case, but it's possible the two could be merged and heard together.
Even as the court battles continue, some advocates say the best solution is for state lawmakers to settle the matter with a law that sets out which records can be expunged.
Legislation to do that has been at the Capitol in recent years, but is unlikely to pass this year.