16-year-old Jesse Kirschner, 21-year-old Chris Kirschner and 19-year-old Noel Lauer are sledding in a park on St. Cloud's east side.
It seems like a good way to find fun in a spring storm that's dropped eight inches of snow on the area.
But it appears three cases of spring fever make it hard for this group to see any beauty in the heavy, wet snow.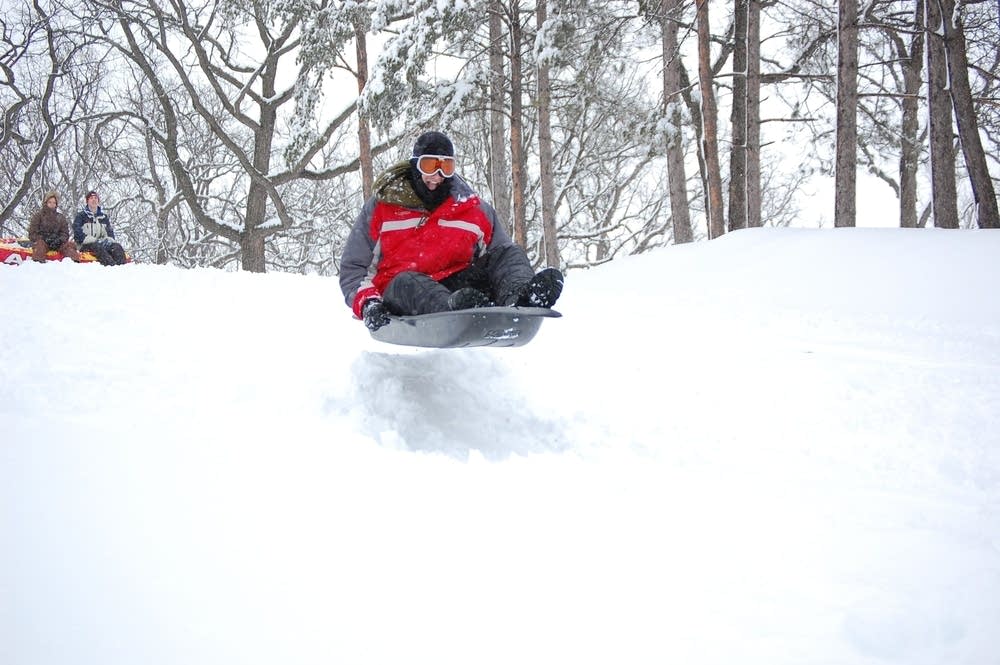 "I don't like it," one of the said.
"I don't like it either, it's not fun," interjected another.
"I want to start heading out the lakes, get the boats out, so I'm not really happy about it," the third one chimes in.
Whether you like them or not, big April snow storms are fairly common in Minnesota.
Assistant State Climatologist Pete Boulay says April is a month when strong storms can run into left over winter air, making a day with six inches of snow less than surprising.
"For places in Minnesota, like the Twin Cities, St. Cloud, Rochester, getting six inches or more happened about once every 10 years or so. If you go up around Duluth, International Falls, it increases to about 10 or 11 times in the last sixty years or so," Boulay said.
One of the biggest April snow storms in state history happened just last week, when two feet of snow fell across a wide swath of north central Minnesota, with more than 30 inches reported in some spots.
There have been other April whoppers over the years. Thirty inches fell in St. Cloud in late April of 1893. In 1933, 28 inches of snow fell in one day in Cook county, that's still the one day April snowfall record for the state.
And in mid-April 1983, the Twin Cities took a hit when more than 13 inches of snow buried the metro area.
Here's a bright spot to the recent rough weather, the areas hit with most snow in the last few weeks are in need of moisture. Central and northern Minnesota have suffered through drought conditions in recent years.
And climatologist Pete Boulay also likes to remind people that April snow just won't stick around that long.
"The sunshine in April is about the same strength as in August, so it has lot of power to melt snow when the clouds break," Boulay said.
The forecast calls for a break in the clouds in coming days. By early next week temperatures are expected to be in the mid-40s in northern Minnesota to near 60 in southern Minnesota.