Jerry Washenberger just moved to Big Pine Lake as a year around resident last fall. He cherishes the family atmosphere in the summer, and in the off-season, the peace and quiet. That was broken early Saturday when another neighbor woke him up early.
"He called about a quarter to five and said that they're burning. So we got up and walked down there, and, at the time we got down there there was two places burning," Washenberger said. "We just watched them burn, one to the next. Propane tanks would explode, and kind of the next one would ignite. We didn't realize at the time that there was five different locations burning."
That's five cabins burning near Washenberger's cabin and at least four other buildings burning elsewhere around Big Pine Lake. Someone broke into cabins; and set buildings on fire late Saturday night. Volunteer fire departments were unprepared to battle multiple blazes, and many cabins were a total loss.
Big Pine is a typical summer resort lake with just a handful of year around residents like Washenberger. He calls the place serene serene.
"And that's what it's like here. Quiet, never ... I mean you even almost don't have to keep your doors locked. That's our feeling up here, you know. Not any more," Washenberger said.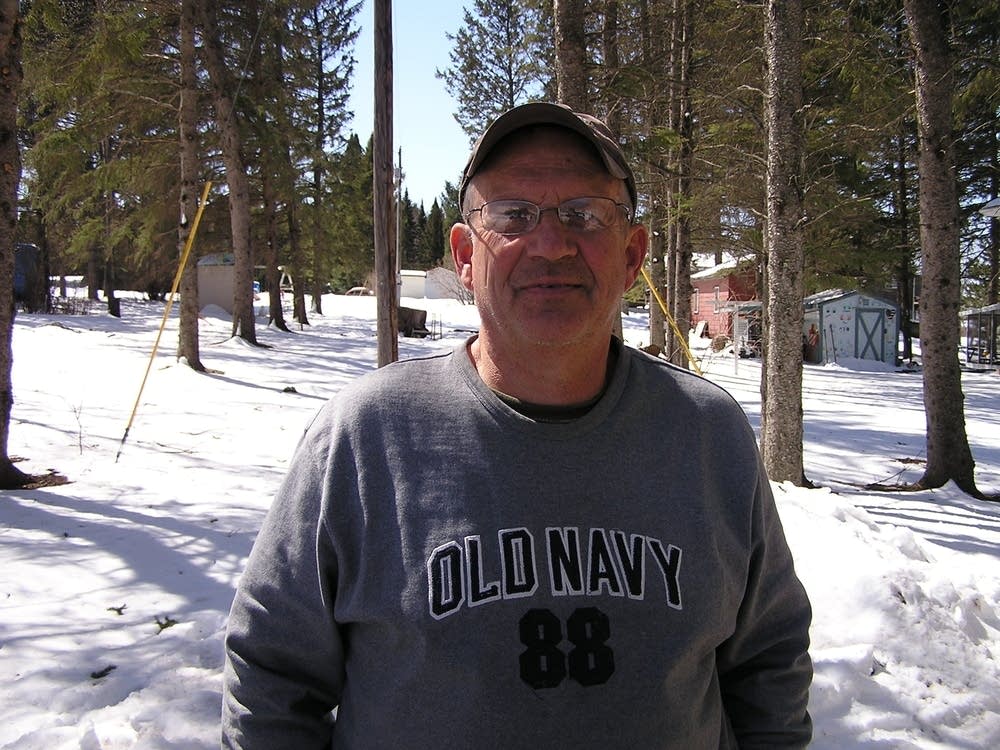 The five cabins burned near his place belonged to a single extended family. Eighty-one year-old Bill Luedtke and his wife of Roseville bought the property in 1952. Eventually his family had six cabins there. He couldn't explain today just how he felt.
"That's what they keep asking, "How are you feeling?" There's no way to explain that. It's a loss. (pauses and cries) It's like losing a part...a piece of yourself. It's a son of a gun. 56 years, that place was there," Luedtke said.
It's where his kids spent every summer, including a son who's now in his 50's.
"Yeah, how old is he 57? Well, so see we're there 56 year, why he pretty much grew up there too. So all of them did, yeah," Luedtke said.
Cops see a lot of things, but even the local Sheriff officials were stunned by the magnitude. Steve Ovick is Pine County Chief Deputy.
"It's so senseless. You know, do we have a bunch of meth heads that were just on a rampage; a possibility? Were they just vindictive people? We don't have any motives at this point," Ovick said.
Big Pine is on the western side of Pine County and borders Aitkin County. Whoever burned the cabins had apparently been up to an awful lot of mischief Sunday morning.
"We'll be working with Aitkin County Sheriffs office; and the Kanabec County Sheriffs office. I believe Kanabec had four break-ins and arson attempt, and Aitkin County had two, putting this whole crime spree up to about 16 different victims," Ovick said.
There's a $5,000 reward for information that leads to an arrest. So far, Ovick says, there's not a lot to go with. There were some foot prints in the snow. Otherwise, investigators have been talking to neighbors to determine whether they saw or heard anything that could help identity who did this.
Rural cabins have always been an easy target for burglars, or the occasional vandal. Now, for a neighbor like Jerry Washenberger, the place just doesn't feel as safe.
"You know, and they've taken care of that. They've changed my whole outlook of being here, right now. I hope it goes away. But it's scary, I guess," Washenberger said.
Meanwhile, the Luedtkes are trying to think what to do next about their burned cabins. But their kids are already talking about rebuilding.