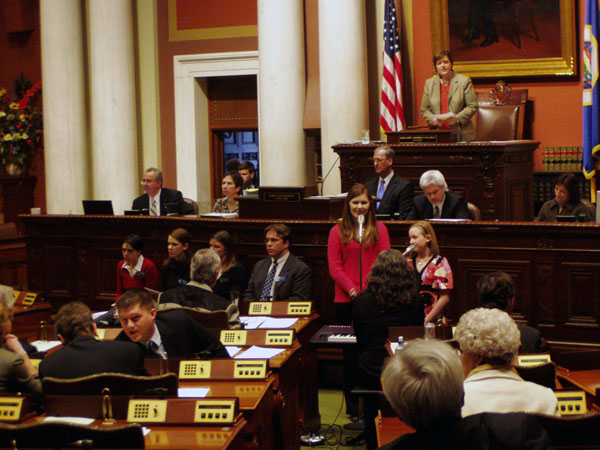 The bill requires public school districts to offer "responsible family life and sexuality education" in grades 7 through 12.
Districts can independently establish the curriculum in consultation with parents. The content must be age appropriate and medically accurate, and it must include information about an abstinence-first approach, as well as the use of protection and contraception.
Rep. Neva Walker, DFL-Minneapolis, said the measure expands a current requirement that school districts educate students on STDs and HIV.
"I don't want early pregnancy. I don't want STDs. I don't want any of those things," Walker said. "But unfortunately, whether this bill becomes law or not -- we can be in rabbit holes if we want -- almost 50 percent of our kids by self disclosure are leaving high school sexually active. They're having sex with or without us."
"Almost 50 percent of our kids are leaving high school sexually active. They're having sex with or without us."

Rep. Neva Walker, DFL-Minneapolis
Most of the state's public school districts are already offering comprehensive sex education. But supporters favor a uniform approach.
Rep. Tina Liebling, DFL-Rochester, doesn't want any students missing out on valuable information.
"This is a very important piece of a child's education. Children in Minnesota need sex education. They need family life education," Liebling said.
Critics say the bill goes too far by imposing a one-size-fits-all approach to a delicate subject.
Rep. Mark Buesgens, R-Jordan, said parents and local school leaders should decide what children are learning about sex.
"I see nothing wrong with it being an elective if a local district wants to go that way, then that should be up to the local school district board and the community that the board represents," Buesgens said. "But to thrust something like this as a mandate on all of our schools, all of our public schools across the state, is egregious and terribly wrong."
The legislation allows parents to excuse their children from the sex education program. And some opponents predict families will stay away.
Rep. Sondra Erickson, R-Princeton, finds much of the material objectionable. Erickson read examples from a sex education curriculum.
"Barriers and methods for preventions. Is the condom going to be used for anal sex, vaginal sex or oral sex? Parents, I hope you're listening. That's what can be in these curricula that parents may choose, some parents choose that you don't want. Your children need to be excused. Under safer choices explicitly how to put a condom on. What's that about for 7th through 12th graders," Erickson said.
The state Department of Education also opposes the measure, because it would make parental review of sex education materials optional for districts.
Gov. Tim Pawlenty hasn't yet threatened a veto. But earlier in the day he said he also prefers an approach that leaves decisions to local leaders.
"Different parts of the state, different parts of the country have different appetites for sex education in schools and how it gets taught and what curriculum to use," Pawlenty said. "And I think rather than having the state or federal government weigh into that, those are better decided at the local level and with parents first and foremost involved."
House and Senate negotiators will now have to iron out the differences between their education policy bills in a conference committee.