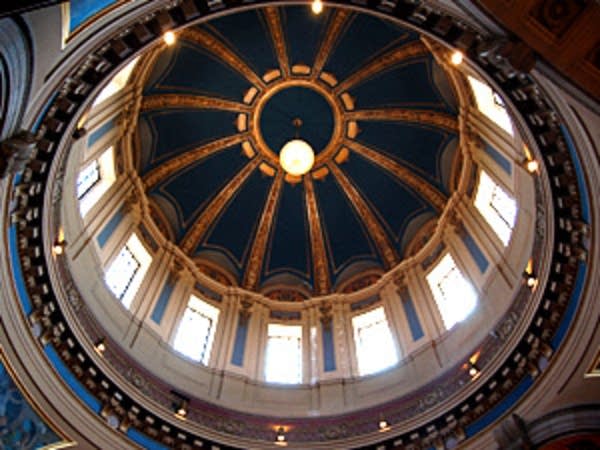 Minnesota lawmakers slid Friday into a working weekend, hoping to move closer to agreements on the state budget, health care changes and property tax assistance.
Ample differences remain between the Democratic-led Legislature and Republican Gov. Tim Pawlenty. The top lawmakers from both parties were scheduled to sit down with the governor on Saturday and possibly Sunday.
The Legislature has a little more than two weeks to finish up. Lawmakers want to reach a negotiated deal on patching a $935 million budget hole.
If they can't, Pawlenty has the power to shave spending and tap into reserves without their consent.
On his radio show Friday, Pawlenty raised the specter of solving the problem unilaterally through a process called unallotment. He would first have to drain the state's $653 million reserve, but then could withhold payments for an array of programs to cover the rest.
"We can do that now, but we're hoping we can reach a compromise," Pawlenty said.
Top lawmakers didn't take Pawlenty's comments as a serious threat.
With weeks instead of days to go, House Speaker Margaret Anderson Kelliher said it's a natural stage where those at the bargaining table "puff up and show their sort of walkaway positions."
"I don't think it's necessarily out of line that the governor reminds us that he has some tools in his toolbox," said Kelliher, DFL-Minneapolis. "Once again, there may be a large ax and most Minnesotans wouldn't like how he would use that tool on the budget."
Assistant Senate Majority Leader Tarryl Clark, DFL-St. Cloud, ran through a spreadsheat that showed overlap between the varied positions. She said lawmakers want to avoid unallotment. "We want a budget deal," she said.
Other big items still unresolved are a subsidy package for a Mall of America expansion, a bill that aims to slow the rise in health insurance costs and a plan that reins in local property tax increases.
The governor again raised doubts about a property tax proposal due for a vote Monday in the House. It would bump up state allowances to buy off taxes that consume too much of a household income, but would subtract deductions for people paying less than 2 percent of their income to property taxes.
Pawlenty reasserted his view that the state should put a cap on how much local property taxes can climb each year. Democrats, and some legislative Republicans, have rejected the approach before.
"It's not a plan. It's not a solution. It might sound good, but it would create more problems than it would help," Clark said.
(Copyright 2008 by The Associated Press. All Rights Reserved.)